Land Rover Servicing, Parts & Repairs
Our centres are all Land Rover Manufacturer Approved and operate to the highest standards of quality in the industry.
Premium Land Rover Service at Lloyd Motor Group
Located beside some of the country's top locations, including World Heritage sites and the Lake District National Park, Lloyd Land Rover has centres in Carlisle, Ripon, York, Leyburn, and Kelso - serving Cumbria, Yorkshire and Scotland.
When you buy a new or approved used Land Rover from us you want the peace of mind that our expertise and training provide. All our Land Rover retailers offer Land Rover servicing and repairs to our manufacturer's high standards, including Range Rover servicing and Land Rover Discovery servicing, to ensure that your car gives you miles of trouble-free motoring.

Our Land Rover warranties give additional reassurance, but regular scheduled Land Rover servicing and maintenance are essential to keep your car running in perfect harmony. We also have Land Rover MOT testing facilities, which ensure that any resulting repairs will be done with genuine parts to comply with your Land Rover warranty. No one knows your Land Rover better than we do.
Book Your Land Rover Service Online
Schedule your Land Rover car service with just a few clicks, ensuring first-class care for your vehicle.

BOOK ONLINE

Land Rover Servicing, Parts & Repairs
Why choose Lloyd Land Rover for vehicle servicing?
Collection and delivery service*
This service eliminates the hassle of bringing your car to the service centre.
Courtesy cars available (booking required)
In cases where your car requires extensive servicing or repairs, having access to a courtesy car ensures that you can continue with your daily activities without interruption.
Courtesy shuttle service*
When your Land Rover is with us for its service, courtesy shuttle transportation is available within the local area.
Your Land Rover returned to you washed and vacuumed*
Following your Land Rover service, we want to go the extra mile by presenting your vehicle freshly washed and vacuumed. adding a touch of luxury to your service experience.
Only Genuine Land Rover Parts used (if required)
Using genuine Land Rover parts and oil during servicing to ensure quality, safety, and performance.
Comfortable waiting area with WiFi
For customers who prefer to wait while their vehicle is being serviced, a comfortable waiting area equipped with WiFi ensures you can stay productive or entertained during your wait.
Complimentary refreshments
Whether it's a quick coffee or a snack, we hope our thoughtful amenities contribute to your comfort and satisfaction whilst you wait in one of our service centres.
Complimentary vehicle quality enhancements where applicable
Keeping your car up-to-date with quality enhancements is crucial for maintaining safety, performance, and compliance with any necessary updates.
Complimentary Vehicle Health Check with all maintenance bookings
A complimentary vehicle health check involves a comprehensive inspection of various systems in your car.
*Subject to availability.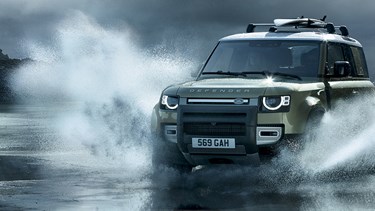 Four Packs, Unlimited Opportunities
We understand you didn't compromise on your choice of car, so why not complete the look and tailor your Defender to suit your lifestyle.
Discover More
Visit Our Land Rover Service Centres
Complimentary Electronic Vehicle Health Check
As part of our supreme level of service, we offer a comprehensive assessment of the overall condition of your Land Rover with a complimentary Electronic Vehicle Health Check.Lasting approximately 15 minutes, the Electronic Vehicle Health Check includes a Service Advisor taking you through a report of the results.Benefits include:Detailed Inspection,Multi Point Vehicle Check,No Service or Maintenance Required,Thorough and Prioritised list of items are addressed.
Service your Land Rover at Lloyd Motor Group
How do I check my Land Rover service history?
If you own the vehicle and you have had it serviced with us in the past, you can check your Land Rover's service history by contacting your local Lloyd Land Rover centre.

1. Contact Your Nearest Lloyd Land Rover centre: Reach out to our service department. Find your nearest Lloyd Land Rover service centre

2. Provide Vehicle Information: When you contact us, we will ask for your vehicle's information to help us locate your vehicle's service history accurately.

3. Request Your Land Rover's Service History: Let us know that you would like to access your Land Rover's service history, and we'll guide you through the process and might request some additional information for verification purposes.
How much is a Land Rover service plan?
Our Land Rover Service Plans are available for all new Land Rovers, allowing you to spread the cost with monthly payments. You can service your Land Rover from only £45 a month, and you can choose the length of time and level of cover your plan includes depending on the age and mileage of your vehicle.

Discover more about Land Rover Service Plans.
Customer reviews
Rating based on 5,005 verified reviews

Really nice dealership with knowledgeable and friendly staff.
David Hughes
Ripon Land Rover - March, 2023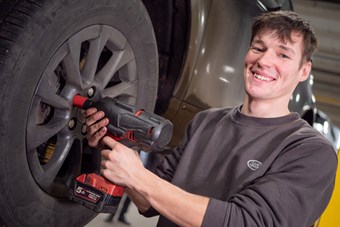 We are Lloyd Land Rover
At our Lloyd Land Rover centres in Carlisle, Kelso, Ripon and York, our dedicated service teams are proud to offer Land Rover Servicing, maintenance and repairs. Any work carried out by us is completed to the highest of standards, upon which we have built our excellent reputation.
Lloyd Land Rover
Get in Touch
Lloyd Land Rover Service
Simply fill in your details below and we'll get back to you. Alternatively, you can call your local centre by telephone.