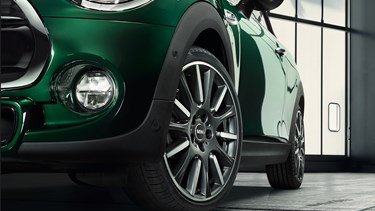 MINI Servicing, Parts & Repairs
When you buy a new or approved used MINI from us you want the peace of mind that our expertise and training provide.
MINI Servicing with Lloyd MINI
All our MINI retailers offer MINI servicing and repairs to our manufacturers' high standards, ensuring that your MINI gives you miles of trouble-free motoring.
Our warranties give additional reassurance, but regular scheduled servicing and MINI maintenance are essential to keep your car running in perfect harmony. We also have MINI MOT testing facilities, which ensure that any resulting repairs will be done with genuine parts to comply with your warranty.

Our MINI service departments are here to assist you with all your MINI-related needs, including warranty inquiries, service scheduling, and any other maintenance or MINI repair concerns you may have. No one knows your MINI better than we do.

Schedule your MINI car service appointment now – click here to organise your next MINI service booking and keep your MINI running smoothly.

BOOK YOUR SERVICE
MINI Servicing, Parts & Repairs
*Subject to availability.
Why choose Lloyd MINI for Vehicle Servicing?
Collection and delivery service*
This service eliminates the hassle of bringing your car to the service centre.
Courtesy cars available (booking required)
In cases where your car requires extensive servicing or repairs, having access to a courtesy car ensures that you can continue with your daily activities without interruption.
Your MINI returned to you washed and vacuumed*
At Lloyd MINI, we want to go the extra mile. When you choose us for your MINI Servicing, we want your beloved car to be returned to you not just serviced but also freshly washed and vacuumed.
Only Genuine MINI Parts and oil used (if required)
Quality is our top priority, and using genuine MINI parts and oil will keep your MINI performing at its peak.
Comfortable waiting area with WiFi
For customers who prefer to wait while their vehicle is being serviced, a comfortable waiting area equipped with WiFi ensures you can stay productive or entertained during your wait.
Complimentary refreshments
Whether it's a quick coffee or a snack, we hope our thoughtful amenities contribute to your comfort and satisfaction whilst you wait in one of our service centres.
Saturday servicing available
Many of you have busy workweeks, making it challenging to schedule vehicle servicing.
Complimentary vehicle quality enhancements where applicable
Keeping your car up-to-date with quality enhancements is crucial for maintaining safety, performance, and compliance with any necessary updates.
Complimentary Vehicle Health Check with all maintenance bookings
A complimentary vehicle health check involves a comprehensive inspection of various systems in your car.
Lloyd MINI Service Offers
At Lloyd MINI, we aim to make servicing you car as affordable as possible, with offers and deals to suit a variety of budgets.
Visit one of our centres for your MINI service booking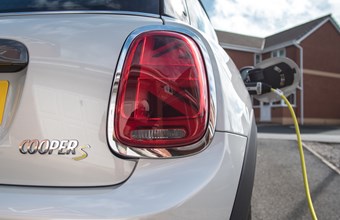 Servicing MINI Electric
Did you know, because there are fewer parts to maintain, servicing MINI Electric is actually simpler than with petrol and diesel cars. Just another perk of going electric!
Book Your MINI Electric Service Online
Service your MINI at Lloyd Motor Group
Perfect peace of mind
MINI Advanced Eye
Is the security of your MINI on your mind? Well, with new Advanced Car Eye 3.0, you can add an extra layer of surveillance.
Discover More
Contacting the dealership from which you purchased your MINI is one of the best ways to check your MINI's warranty status, and they will be able to provide you with information about your warranty coverage. If you purchased your MINI with us, we can provide you with accurate and up-to-date information about your MINI's warranty status and help you make informed decisions regarding your vehicle's care. Find your local Lloyd MINI dealership
How can I check my MINI's service history?
To check your MINI's servicing history, reach out to your MINI dealership or service centre, such as Lloyd MINI if we have serviced your MINI before. Provide them with your vehicle's VIN or registration number, and request your servicing history. For the most comprehensive and accurate records, it's best to contact your servicing centre directly, as they can provide detailed service records and address any queries regarding your MINI's maintenance.
Where can I buy genuine MINI parts?
Genuine MINI parts can be purchsed from your local Lloyd MINI centre. Find out more about genuine MINI parts and enquire
How do I change a flat tyre on a MINI?
We've covered all of the essential equipment you'll need, safety precautions, and the step-by-step process for changing your MINI's tyre in our 'How to Change a Flat Tyre' guideIf you need help with your tyres, we offer complimentary tyre safety checks, along with a tyre price match promise to try and make buying tyres for your car as affordable as possible.
Lloyd MINI Customer Reviews
Rating based on 5,005 verified reviews

Staff are very helpful, very friendly and make each visit a pleasant experience.
Maureen Horner
Colne MINI - August, 2023

Great service 👏 👍
Manuel Lopez
Newcastle MINI - October, 2023

Great customer service. not too pushy. very genuine and caring
Frank O
Colne MINI - August, 2023
We are Lloyd MINI
At Lloyd MINI, we're proud to be your go-to destination for MINI servicing excellence, with six convenient locations across Cumbria, Lancashire and the North East. Our dedicated teams, fuelled by a passion for MINI vehicles, are here to ensure your MINI receives the utmost care and the attention it deserves.
Lloyd MINI
Get in Touch
Lloyd MINI Service
Simply fill in your details below and we'll get back to you. Alternatively, you can call your local centre by telephone.