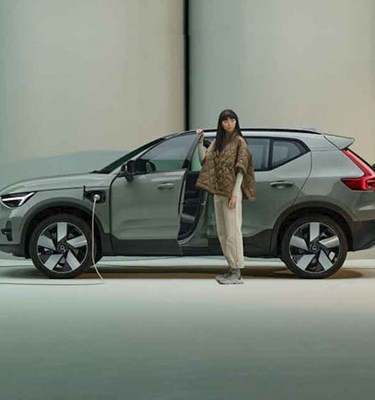 Care by Volvo
One fixed monthly fee, no hidden costs and only 3 months notice.
Instead of committing to a lengthy leasing contract of 36-48 months, we offer a flexible alternative with just 3 months' notice. You also have the choice of a fixed term for a lower monthly cost. What's included for leasing can often vary, and the hidden costs of those add-ons or initial deposits can make the monthly price look cheaper at first glance.


Subscribtion benefits

All inclusive
Your subscription includes service, maintenance, wear & tear cover, vehicle tax, and more. You have the option to add insurance or choose your own.

No hidden costs
With your subscription car, no deposit or negotiation is required. Instead, you pay a fixed monthly fee that covers most practicalities.

Freedom to choose
Subscribe flexibly to change car or cancel whenever – with just 3 months' notice. Alternatively, subscribe for a fixed 36-month period and pay a lower fee.

Choose a stock car for fast delivery, or place a custom order today.

BROWSE CARS

Subscribe or buy online

3 months' notice
36 months fixed
Online purchase
Service & maintenance (Pure electric only)
✓
✓
3 years

2

Complimentary insurance
7 days

1

7 days

1

7 days

1

Vehicle tax
✓
✓
1 year
Home delivery
✓
✓
✓
Wear & tear (Pure electric only)
Incl. tyres
Incl. tyres
Excl. tyres 2 3
Warranty
✓
✓
✓
24/7 roadside assistance
✓
✓
3 years
Dedicated customer care
✓
✓
✓
Change of car
✓
X
X
Collection and Delivery
✓
✓
X
MOT inspection
✓
✓
X
¹ Insurance subject to acceptance criteria from the insurer being met. ² 3 years or 60,000 miles, whichever comes first. Service & maintenance is only included for pure electric cars. ³ Wear & tear for online outright purchase is limited to wiper blades, brake discs and brake pads. Wear & tear is only included for pure electric cars. Your subscription excludes consumables such as fuel, AdBlue, washer fluid and oil (unscheduled refills) and charges for speeding, tolls and parking. Read more in our FAQs.


What's the difference between traditional car financing and car subscription?
| | Traditional car financing | Our flexible subscription |
| --- | --- | --- |
| 3-month notice period** | X | ✓ |
| Vehicle tax (VED) | X | ✓ |
| Service & maintenance | X | ✓ |
| Warranty & mechanical repairs** | X | ✓ |
| Wear & tear cover (incl. tyres) | X | ✓ |
| Dedicated customer care | X | ✓ |
| 24/7 roadside assistance** | X | ✓ |
| Volvo Cars app** | X | ✓ |
*Trial insurance is conditional on completing a subscription order, and eligibility criteria includes min. age of 25, min. 12 months with full UK or EU driving licence, max. 3 fault claims and max. 3 minor convictions in the past 5 years. Visit our FAQs for more information.
**These features are included for the length of your Care by Volvo subscription, whereas traditional car financing includes them for a limited time only.

How do I subscribe to Care by Volvo?
Discover
Browse cars to get started.
Choose
Design your car or select a ready-to-deliver car, then pick your preferred subscription.
Delivery
Your car is ready! We will contact you to schedule your delivery. Choose a retailer for pickup, or get your car home-delivered.
Drive!
Congrats and enjoy your new, hassle-free car experience. Tip: download the Volvo Cars app to easily manage invoices, service appointments, safety features – and more.
Get in Touch
ENQUIRE NOW
Simply fill in your details below and we'll get back to you within 24 hours. Alternatively, you can call your local branch by telephone.
Lloyd Recommends
At Lloyd Motor Group we aim to make driving a new car as affordable as possible with new car offers and deals to suit every budget.