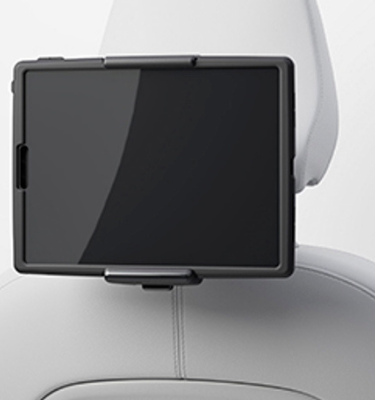 Volvo Tablet Holder
Make journeys smoother
Make journeys smoother

We're offering a Volvo tablet holder for your C40 or XC40 for £149 - a 50% discount on the RRP of £300 until 31st March 2023. So, if you have more than one regular passenger, you can get two for the price of one.

Swipe in comfort

Use your iPad or Samsung tablet apps in comfort whilst travelling in the rear seat, with Volvo's ergonomically designed tablet holder.

Switch it up

Set up in both portrait and landscape views. Simply angle the holder to the desired position and listen to music, watch a video, read emails, or surf the web with the tablet securely and conveniently held in place.

Easy install

Installing the tablet holder onto the head restraint is simple and straight forward. All you need to do is to fit the bracket to your head restraint rods and attach the holder. Then you're ready to tap, swipe and scroll.

---
Offer available until 31st March 2023. The holder does not have an integrated power supply and the normal 12V socket or the USB ports in the car should be used for charging. The tablet holders current RRP is £300 per unit and includes fitting and VAT. Tablet holders are currently only available for C40 and XC40 and can fit the below tablets: iPad Air, iPad Air 2, iPad Mini 4, iPad Pro 9.7", iPad Pro 10.5", iPad Pro 11" (Generation 1), iPad 5+6 9.7", Samsung Galaxy S2, Samsung Tab A, Samsung Galaxy Tab S4 10.5", Samsung Galaxy Tab A 10.5" Terms and Conditions apply.
Get in Touch
Want to know more about Volvo Tablet Holders? Fill in your details and our team will be in touch.
Simply fill in your details below and we'll get back to you within 24 hours. Alternatively, you can call your local branch by telephone.
Lloyd Recommends
At Lloyd Motor Group we aim to make driving a new car as affordable as possible with new car offers and deals to suit every budget.