BMW Motorrad Seasonal Advice
Tips for riding in all weather conditions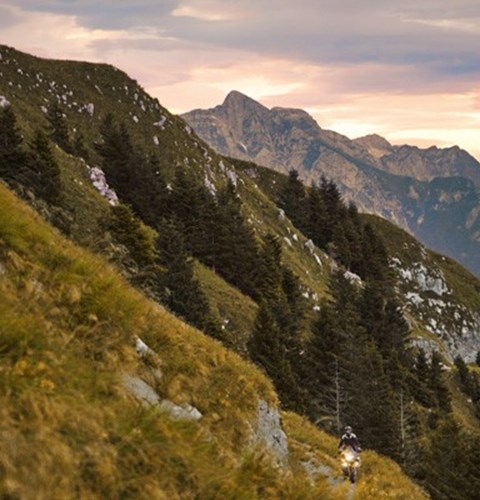 Riding Safely in Winter
As the seasons' change and the fair-weather comes to an end, we know many riders prefer to put their bike into hibernation for the next few months. However, if you prefer to ride all year round, making sure you and your bike are ready for the extra demands that come with cold, wet, and icy conditions is essential. Consider our advice and take your time to ensure that you are ride-ready.
10 Simple Tips for Riding Safely in Winter
1: Check the weather forecast
Most of us, by choice, wouldn't set off in the snow unless we had to, which is why it's wise to check the weather forecast ahead of any winter ride. If you do need to travel in challenging conditions, it's sensible to stick to the main roads which will more likely be gritted and kept clear.

2: Ensure your bike is fit for the road
One of the most important things you can do to make sure you reach your destination safely is to check over your bike. Assuming you have been regularly riding your bike and maintained its service history, you need to have a look over your bike, looking at the condition of the chain, the tyres and how worn they are and check the air pressures. If you wanted to, you could also go around making sure all the nuts and bolts are nice and tight.

You should also give your battery a good check over as your battery will be affected by the cold weather and may not work as efficiently. If it's an older battery it might be good to get it checked over by a mechanic, but as a starting point, check for any damage to the terminals or any cracking or rupturing of the casing and ensure there are no leaks. In especially cold weather it might be a good idea to either disconnect it (so it doesn't run down) or hook it up to a float charger if you have one to keep it topped up to the brim.
3. Tell someone where you are going
This is basic but important, especially if you are heading off the beaten track. If you're riding across country on quiet roads, it's especially sensible to tell people where you're going and when you expect to be there, so they can raise the alarm if there's an unusual delay.
4: Wear the right gear
Every rider is different and will have a different bike, so it's important to invest in riding gear that best suits you and your riding habits. You need layers and good quality outer clothing that's robust. Some bikes come with heated grips, while you can also buy heated gloves. Also, consider a heated vest or jacket; they're surprisingly affordable now and make a long ride in the cold that bit more comfortable.
5: Be safe, be seen
All modern bikes will have their lights on when riding but it makes sense to switch them on on an older bike. A high-visibility waistcoat or any reflective stickers also helps, but don't forget about your helmet. You should change the visor to a clear lens – if it is tinted make sure your pin lock is inserted or wiped down with anti-fog treatment.
6: Pack a phone
Pack a phone in a waterproof case and ensure the battery is fully charged. Whether it's for making a call to let someone know you've been delayed or calling for assistance should wet leaves get the better of you, it's good to know it's there should you need it.
7: Proceed with caution
Experienced riders will tell you that the rule of thumb is to do everything that the textbook says, so even if it's a stretch of road that you ride a lot, treat it with caution. In the winter, you could have autumn leaves laying in the most inconvenient places, such as on a drain cover, and they can be treacherous. Make sure to adjust your speed long in advance of peeling into a corner, brake in a straight line and never during a corner and make sure you're riding appropriately for the conditions.

Skill factors rarely come into it when there's something you can't see, a hidden hazard, like black ice.
8: Ride defensively
Everyone that uses a bike, be it for social rides at the weekend or commuting on a regular basis, has to expect the unexpected. Be prepared for everything and anything because as much as we all campaign to 'Think Bike' there will be times when other motorists don't see you.
9: Stick to stopping distances
Even with the high-performance brakes on bikes now, it's still very important that riders give themselves additional thinking time when the weather and conditions are difficult. Ensure you create a safe space around you and anticipate danger.
10: Keep your bike clean
Cleaning your bike does more than just keep it looking shiny. The lights, mirrors and number plate will be clear and free from any build-up of ice and snow, something required by law. Once it's clean, treat the bike with a spray-on protective product, which will form a fine barrier between parts of the bike and all the grime that gets thrown up meaning any dirt will come off quickly and easily.

Remember to store your bike under a cover or in a garage or shed to protect it from the elements in when not in use, as this will keep the bike clean and well maintained. Just remember if you're using a cover to make sure your bike is cool before throwing it on.
Get in Touch
BMW Motorrad
Simply fill in your details below and we'll get back to you. Alternatively, you can call your local centre by telephone.
Customer reviews
Rating based on 5,005 verified reviews

Great service from Stephen again 👏 well worth the ride from Newcastle
Peter Waites
Carlisle BMW Motorrad - April, 2023

Good range of kit and friendly staff.
Paul Sloan
Carlisle BMW Motorrad - July, 2023