The MINI Hatch, available in both a 3 and 5 door, embodies our love for fun-filled, joyful driving. It captures our inimitable spirit, as well as our passion for agile handling (and corners, of course). It keeps that well-loved go-kart handling and low-centre-of-gravity, plus more innovations, more game-changing tech and a sleeker design.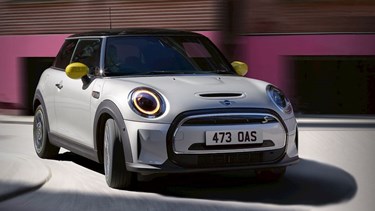 Enjoy the MINI Hatch?
You'll love the MINI Electric.
Let us introduce you to the MINI Electric. With a sharper, sleeker update to its legendary MINI look and, of course, that MINI Electric feeling.
Discover more
Customer Reviews

Amazing experience...very trustworthy....honest and reliable...Thank you so much Nick for a great experience.
Faisal Choudry
Cockermouth MINI - May, 2023

I was kept updated as to when my car was due to arrive. A very professional approach from Jack.
Darren Goodfellow
Blackpool MINI - October, 2022

Great company to deal with, no problems a problem at all.
Susan Jenkins
Newcastle MINI - April, 2023

Great sales team, very informative highly recommended
Eulalie Bryant
South Lakes MINI - March, 2023

Brilliant courteous and professional service as always - a credit to the MINI organisation.
Robert Humphrey
Newcastle MINI - March, 2023