Honda Motorcycles Parts & Accessories
At our Lloyd Honda Motorcycles centre, we offer genuine Honda Motorcycle parts and accessories for all Honda Bikes whether you have a Touring or Streetbike, a Supersports or Scooter.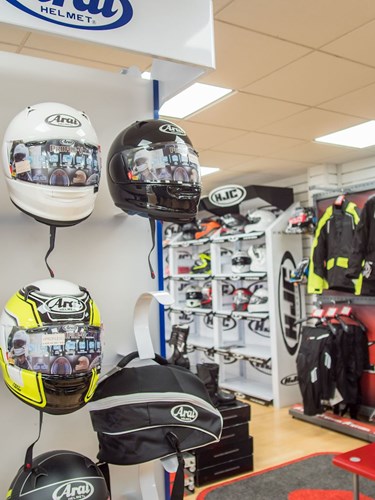 At Lloyd Honda Motorcycles, we aim to satisfy all your motorcycling needs under one roof and add friendliness and excitement to the buying experience. If you're looking to add individual style or practicality you can be certain that you will find everything you need when you choose Honda Genuine Motorbike accessories and parts.

Located beside some of the country's top locations, including World Heritage sites and the Lake District National Park, our centre in Carlisle covers Cumbria and South West Scotland.

For more information contact your local Lloyd Honda Motorcycle Retailer.
Honda Motorcycle Accessories
A perfect fit with a quality finish. Our accessories are made to measure, with an integrated design that won't compromise the look of your dream machine. No matter which Honda you ride - we have some great options for you. Honda Genuine Accessories are built with the same ultimate care and quality as their motorcycles and scooters. Genuine Accessories have been tailored exclusively for the particular Honda model, meaning they integrate perfectly with superb style and seamless function.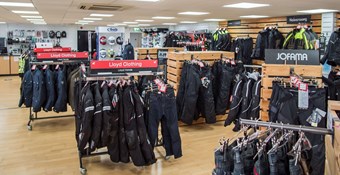 Honda Motorcycle Clothing
We have a great range of motorcycle clothing from leading brands including Alpine Stars as well as accessories from helmets to heated boots. With our expert advice, you can ensure that you choose the right clothing and accessories for your needs, style, and budget. With plenty of men's and ladies' options to choose from, whether it is an essential item, a present for a friend or yourself, you can enjoy browsing our latest range with our comfortable waiting area and fitting room. Whatever you need, we are here to help.
Honda Motorcycle Parts
Our fantastic parts staff have many years of motor trade experience to call upon. Big or small, we'll handle your enquiry with the same care and attention. If we haven't got a part in stock, we'll get it - fast. Normally orders taken before midday will be at our dealership the next working day. Orders before 4pm will also be delivered to us the next day if stocked in the UK. All Genuine Honda Parts fitted by us come with a 12-month unlimited mileage, full replacement guarantee.
Get in Touch
Honda Motorcycle Accessories
Simply fill in your details below and we'll get back to you. Alternatively, you can call your local centre by telephone.
Customer reviews

Great customer service, I contacted the service department for advice on my xadv, which they were very helpful and saved me a journey.
Anonymous
Carlisle Honda Motorcycles - September, 2022

Love looking round this place and "wishing" great bikes friendly staff and very clean inside
Elizabeth Hodgson
Carlisle Honda Motorcycles - November, 2022

Realy nice folk, nice selection.
Mark Longstaff
Carlisle Honda Motorcycles - March, 2022