Jaguar Lifestyle Collection
Distinctive and well crafted, it's a range of apparel and accessories designed for life, wherever it's lived.
At Lloyd Motor Group, we offer an extensive range of lifestyle accessories that reflect the spirit and heritage of Jaguar. From clothing and accessories to bags, luggage, small leather goods, artwork, prints, scale models, and gifts, we have something to cater to every Jaguar enthusiast's taste.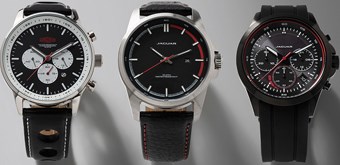 Watches
A range of classic and intricate watches that reflect our dedication to every last detail. Allowing you to seize the moment, in style. The collection ranges from timeless classics to modern solar chronographs.
From £165 - Enquire Now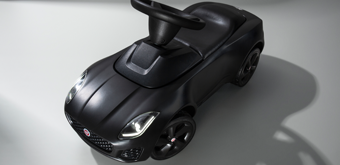 Gifts
From stylish keyrings and premium writing pens to children's ride on cars that are modelled from a real jaguar, complete with working LED lights. This collection of accessories make the perfect gift.
From £15.00 - Enquire Now
Get in Touch
Jaguar Lifestyle
Simply fill in your details below and we'll get back to you. Alternatively, you can call your local centre by telephone.
Discover a World of Lifestyle Accessories
Clothing & Accessories: Explore our collection of authentic Jaguar Heritage clothing, including branded Polo Shirts, T-Shirts, Sweatshirts, Jackets, and more. Immerse yourself in the iconic Jaguar style and showcase your love for the brand.
Bags & Luggage: Whether you're planning a weekend getaway or need a reliable bag for your gym essentials, our range of luggage is designed to meet your needs. Travel in style with our Jaguar-inspired bags, perfect for any journey.
Small Leather Goods: Indulge in the elegance of our small leather goods designed with Jaguar heritage at heart. Discover a selection of leather wallets, card holders, passport holders, and more, crafted to accompany you on every adventure.
Artwork & Prints: Add a touch of sophistication to your space with our captivating Jaguar Heritage prints. Whether you're an avid collector or simply seeking to personalise your environment, our artwork selection will exceed your expectations.
Scale Models: Our meticulously crafted Icon Models are a testament to Jaguar's attention to detail. Each model is brought to life through a collaboration with our vehicle design team, ensuring an accurate and captivating representation of our iconic vehicles.
Gifts: Explore our versatile range of branded accessories, perfect for gifting or treating yourself. From cufflinks to stationery, key rings, and drinkware, our selection has something for every Jaguar enthusiast. Show your passion for the brand in every aspect of your life.
Browse our collection of lifestyle accessories at your local Lloyd Jaguar Retail Centre and embrace the Jaguar lifestyle. Each item is carefully designed to celebrate the legacy and beauty of Jaguar, making them a perfect choice for enthusiasts and collectors alike. Alternatively, you can enquire about our lifestyle collection here.

You can also browse all Jaguar car accessories and Jaguar parts to help you maintain and personalise your vehicle.
Customer Reviews
Rating based on 5,005 verified reviews

I would like to thank Roxana at Jaguar for her fantastic customer service when I was buying my first car.
Prince Magar
York Jaguar - April, 2023

Staff very informative, professional and friendly. Showroom immaculate, as you would expect of a Jaguar showroom.
Deb Ellis
York Jaguar - August, 2023