BMW Personalised Pricing
BMW Personalised Pricing is specifically designed and priced for cars over 3 years old.
If your BMW is over three years old, BMW Personalised Pricing offers up to a 40% discount on any parts needed when your car is serviced at Lloyd BMW.

But while the savings change depending on your car's age, you can be certain we'll only ever use Genuine BMW Parts that have been designed especially for our cars. They will always be expertly installed by our BMW Trained technicians, plus all parts and labour come with a two-year warranty for extra peace of mind.

BMW Personalised Pricing provides perfectly tailored solutions, ensuring that your pride and joy gets the service it deserves.

Enquire Now
What is Personalised Pricing?
Once your BMW turns 3 years old, the benefits of bringing your vehicle to a BMW retailer don't stop there. 
Discounted Labour
Discounted Oil
Discounted Parts
What's included?
Oil and Filters
A manufactuer trained Technician will inspect your vehicle's fluid level and change the oil of your vehicle depending on whats required, using only Genuine BMW Engine Oil*.

They will replace the oil filter, regardless of its condition. Your BMW will be returned to you washed and vacuumed so it looks spotless for your return.
Brake discs and pads
There are four different options for you to choose from:
Brake pads and brake pad wear sensor replacement (Front)

Brake pads and brake pad wear sensor replacement (Rear)

Brake pads and brake pad wear sensor and brake disc replacement (Front)

Brake pads and brake pad wear sensor and brake disc replacement (Rear)
​​​​​​​Whichever option you choose, all parts used are Genuine BMW parts, which come with a 2 year warranty.
Inspections
There are two BMW inspections offered as part of the Value Service. Both of these inspections include:
Oil & filter change
Renewal of your air conditioning & climate control system's micro filters
Inspection of the electric and fluid systems

The extended inspection offers all of the above as well as:
Spark plug or fuel filter changes
Air filter replacement
Whichever option you go for, all work carried out during the inspections will be logged and noted on your BMW service history.
Lloyd Personalised Pricing Benefits
Only Genuine BMW Parts and oil used (if required)
Using genuine BMW parts and oil during servicing ensures the optimal performance and longevity of your vehicle.
Manufacturer trained technicians
We are committed to employing manufacturer trained technicians so that your vehicle is in the hands of experts who have in-depth knowledge about BMW's intricate systems.
2 year parts warranty
Complimentary refreshments and WiFi whilst you wait
Competitive prices
Collection and delivery service*
This service eliminates the hassle of bringing your car to the service centre.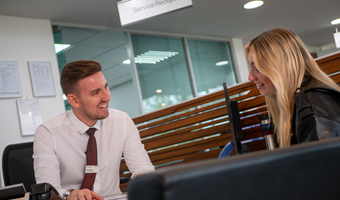 Why choose Lloyd BMW Personalised Pricing?
All parts fitted come with a two-year unlimited mileage warranty and you will receive the same level of technical expertise on your BMW for a competitive rate. We will also apply any quality enhancements that may be due completely free of charge, something only a BMW retailer can offer you. 

Book your Service
Select your nearest Lloyd BMW retailer and book your BMW Service today. Our Online Service Booking form is available 24 hours a day, 7 days a week for your convenience.
Book your Service online today
Get in Touch
Lloyd BMW Personalised Pricing
Simply fill in your details below and we'll get back to you. Alternatively, you can call your local centre by telephone.
Customer reviews
Rating based on 4,960 verified reviews

Professional and open communication.
Barry Cookson
Carlisle BMW - September, 2023

Lovely staff and beautiful cars.
Andrew Williams
Cockermouth BMW - September, 2023

Thank you Jamie, the best customer service. I will buy my next car from this dealer.
Raj Thiru