Used BMW 2 Series
Enjoy £1,000 finance deposit contribution across selected Approved Used BMWs.*
The BMW 2 Series is a compact luxury coupe and convertible combining affordable luxury with driving thrills.
Representative APR
Monthly payment
£288.97 p.m
Amount of credit
£15,995.00
Total amount payable
£26,093.59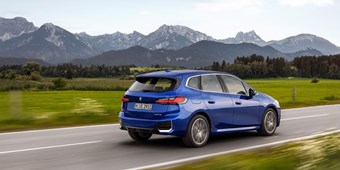 BMW 2 Series Used
Looking for a used BMW 2 Series car? Look no further! We have a wide selection of used BMW 2 Series cars for sale, including the popular BMW 2 Series Coupe, Convertible, Active Tourer, and Gran Tourer models.Whether you're in the market for a BMW 2 Series Coupe with a sleek design and powerful engine, or a more practical BMW 2 Series Active Tourer or Gran Tourer with ample space for passengers and luggage, we have something to suit every taste and budget.
Why Buy a Used BMW 2-Series at Lloyd Motor Group?
All of our used BMW 2 Series cars are thoroughly inspected and come with a detailed report, so you can rest assured that you're getting a quality vehicle. Plus, with our competitive pricing and flexible financing options, buying a used BMW 2 Series has never been easier.So why wait? Browse our selection of used BMW 2 Series cars for sale today and find the perfect car for you.
More About Used BMWs at Lloyd Motor Group
If you haven't found what you're looking for, we also have a wide range of other used BMW models to choose from at Lloyd Motor Group.
Why Buy a Used BMW 2 Series from Lloyd?
Our mission at Lloyd Motor Group is to earn our customers' loyalty through the delivery of market-leading sales and aftersales experiences that continually exceed expectations.
The Full Package
Offering you a full range of services tailored to meet your needs.
We've got History
Founded in 1976, supporting drivers for nearly half a century.
Unique Showroom Experience
The experience of visiting our show rooms is second to none.
Used BMW 2 Series Buying Guide
Discover the joy of driving with a Used BMW 2 Series. Few vehicles deliver driving enjoyment like a BMW 2 Series. These models blend luxury and performance into a compact package that provide exhilarating performance, agile handling, and everyday practicality. Purchasing a used 2 Series allows enthusiasts to own these ultimate driving machines for less. If you're in the market for a used 2 Series, this comprehensive buyer's guide will help you learn more about Generations, Engines, Features and More.
Why Buy the BMW 2 Series?
The BMW 2 Series is a compact, four-seat coupe or convertible that offers the comfort, tech and premium feel of BMW's saloon cars. It's reasonably practical and cost-effective to run so you could use it as your everyday car. It's more fun to drive than most rivals and the high-performance models in particular can make every journey something to look forward to.
BMW 2 Series Range and Updates
The 2 Series range includes the Coupe and Convertible, the Active Tourer and Gran Tourer multi-purpose vehicles and the Gran Coupe saloon. Some models have four-wheel drive and you can choose from lots of different petrol and diesel engines, available with a manual or automatic gearboxes. The diesels give a good balance of performance and economy, which is great if you make lots of long journeys, though the petrol engines are also very efficient. Whichever you choose, you'll enjoy responsive, rapid acceleration. If you want something even faster you should look at the powerful M235i and M240i models or the top-of-the-range M2, which can deliver a lot more power.
Why BMW 2 Series Performance and Handling Are Hard to Beat
The 2 Series prioritises driving dynamics; offering powerful engine options and responsive handling. Turbocharged engine options, perfectly balanced chassis tuning, responsive steering, and more come together to deliver an agile and thrilling experience behind the wheel.
Four trim levels are available – SE, Sport, Luxury and M Sport – all of which are very well equipped. M Sport, which tends to be the most popular, has a sportier look than the other trims.
Schedule Your Used BMW 2 Series Test Drive Today
There's no better way to appreciate a used 2 Series than getting behind the wheel for yourself. Our knowledgeable staff can set you up with a test drive tailored to your preferences. Come in and put a pre-owned 2 Series through its paces. You'll quickly see why driving enthusiasts love the BMW experience. Contact us today to schedule your test drive.


Enjoy £1,000 finance deposit contribution across selected Approved Used BMWs.*
*Terms and conditions apply. Lloyd Motors Limited is a credit broker not a lender. Retail customers only. £1,000 finance deposit contribution available on selected Approved Used BMW models (Excludes BMW iX1, BMW iX3, BMW i4, BMW iX & BMW i7). purchased with BMW Select Finance between 01 November 2023 and 31 December 2023. 12.9% APR Representative.
Frequently Asked Questions about the BMW 2 Series
Is the BMW 2 Series practical?
Performance - The 2 Series offers powerful engine options and responsive handling. This makes it fun to drive.

Features - Higher trim levels add features like leather seats, navigation, parking assists and so on. These add comfort and convenience.

Intended use:
Coupe - With its sleek styling and performance focus, the 2 Series Coupe is best suited as a stylish personal car or weekend cruiser. The compact two-door design delivers an exhilarating driving experience.
Convertible - Like the coupe, the 2 Series Convertible prioritises style and driving enjoyment.
Active Tourer - As a front-wheel drive compact MPV, the 2 Series Active Tourer offers more interior space and versatility. It can accommodate up to five passengers and is a practical daily driver or family vehicle.
Gran Tourer - The largest 2 Series variant, the Gran Tourer is a seven-seater optimised for passenger and cargo capacity. With ample room and flexibility, it serves family duty or as a spacious people mover.
Gran Coupe - The four-door 2 Series Gran Coupe combines coupe-like styling with increased practicality as it offers a middle ground between sportiness and functionality for daily use.
So in summary, the coupe and convertible favor driving enjoyment over utility, while the Active Tourer, Gran Tourer and Gran Coupe trade some sportiness for added interior room and versatility. Test driving each will help determine the best 2 Series model for your specific needs and priorities.

Cost - Starting in the mid range, the 2 Series commands a premium over compact cars

The 2 Series makes sense for buyers wanting a compact BMW for personal use. Test driving one for yourself will help determine if it fits your lifestyle and needs.
What are the different trim levels available for the BMW 2 Series?
The 2 Series is available in SE, Sport, Luxury, and M Sport trim levels. The higher trims add more premium features and a sportier design.
What are the different engine options available for the BMW 2 Series?
Engine options consist of turbocharged 4-cylinder and 6-cylinder petrol engines, as well as 4-cylinder diesels. Power outputs range from 136hp in the 218i to 335hp in the M240i. Both manual and automatic transmissions are offered.
How safe is the BMW 2 Series?
Most used BMW 2 series cars will have standard safety features including antilock brakes, stability control, front side airbags, and side curtain airbags. Driver aids like parking sensors, blind spot monitoring, and lane departure warning are also available.
Lloyd BMW Customer Reviews
Rating based on 5,005 verified reviews

Thank you Jamie, the best customer service. I will buy my next car from this dealer.
Raj Thiru

Bought my first BMW. Could not fault the service from start to finish. Would highly recommend 👌
Mark Dixon
Colne BMW - October, 2023

A very fine car show room. The place in the south Lakes to buy your BMW
George Mackley
South Lakes BMW - February, 2023