Used BMW X1
Enjoy
£1,000

finance deposit contribution across selected Approved Used BMWs.*

If you're in search of a practical yet compact family car that offers a touch of luxury, the BMW X1 should be at the top of your list.
Representative APR
Monthly payment
£288.97 p.m
Amount of credit
£15,995.00
Total amount payable
£26,093.59
BMW X1 Used
Welcome to our page about used BMW X1 cars. If you're in the market for a used vehicle, we understand that the search can be daunting. That's why we're here to help you find the perfect used BMW X1 to fit your needs. We offer a range of options, so whether you're looking for a used BMW X1 with a combustion engine, Plugin-Hybrid or fully electric models we have a variety of options to choose from. Along with Premier and M Sport features to choose from.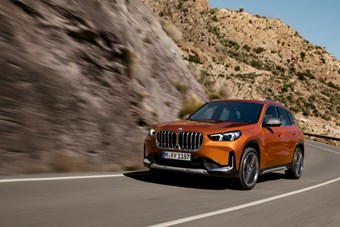 Buying a Used BMW X1 at Lloyd Motor Group
All of our used BMW X1 cars undergo thorough inspections and come with a warranty for your peace of mind. So why wait? With our BMW X1 options, you can easily find a vehicle close to you that suits your needs and budget. You can reserve your dream car online, enquire online for an appointment or a personalised walkaround video or you can phone your local Lloyd BMW retail centre to discuss our used BMW X1 stock.
More About Used BMWs at Lloyd Motor Group
If you haven't found what you're looking for, we also have a wide range of other used BMW models to choose from at Lloyd Motor Group.
Why Buy a Used BMW X1 from Lloyd?
Our mission at Lloyd Motor Group is to earn our customers' loyalty through the delivery of market-leading sales and aftersales experiences that continually exceed expectations.
The Full Package
Offering you a full range of services tailored to meet your needs.
We've got History
Founded in 1976, supporting drivers for nearly half a century.
Unique Showroom Experience
The experience of visiting our show rooms is second to none.
BMW X1 Buying Guide
Discover the reasons why the BMW X1 is a smart choice and explore the world of this premium compact SUV in this comprehensive buying guide.
Why Choose the BMW X1?
The BMW X1 combines practicality and compactness with a dash of sophistication, making it an ideal choice for discerning drivers.
Practical Compact SUV: Enjoy the space and versatility of a compact SUV, perfect for family adventures and daily commutes.
Premium Interior: Enjoy a high-quality interior that exudes luxury and comfort.
User-Friendly Tech: Experience cutting-edge technology that is intuitive and easy to use.
Outstanding Driving Experience: The BMW X1 delivers a dynamic and enjoyable driving experience.
Cost-Effective Ownership: Most X1 models are economical to run, minimising your long-term expenses.
BMW X1 Range and Updates
The current BMW X1 version stands out with its modern design and updated technology. It offers ample interior space, enhancing comfort for passengers.
The BMW X1 range caters to a variety of needs. You can select from petrol, diesel, or plug-in hybrid powertrains, along with manual or automatic transmissions. Some models feature four-wheel drive capabilities and every X1 boasts impressive acceleration
Trim levels include the luxurious xLine and sporty-looking M Sport variants that are very popular choices.
BMW X1 Tech and Features
There's a wealth of features and technology in every version of the current BMW X1:
Standard Equipment: Key features include sat nav, air conditioning, cruise control, and parking sensors.
Infotainment: Some X1 models come with Apple CarPlay as standard, with Android Auto as an optional feature.
BMW X1 Running Costs and Value
The BMW X1 proves to be an economical choice for its class
Petrol Models: Expect fuel economy ranging from 41 to 49 mpg for newer petrol versions.
Diesel Models: Diesel variants offer even better efficiency, with figures averaging 55 to 62 mpg for recent models.
Plug-in Hybrid: The plug-in hybrid X1 boasts a zero-emission electric-only range of up to 30 miles per battery charge*.
Additionally, the BMW X1 typically incurs reasonable car tax and insurance costs, making it an attractive option for cost-conscious buyers.
With its blend of practicality, luxury, and cost-effectiveness, the BMW X1 is a compelling choice in the world of compact SUVs. Explore the wide range of options available and embark on your journey with confidence in the BMW X1. Elevate your driving experience today!

*The figures provided are as a result of official manufacturer's tests in accordance with EU legislation with a fully charged battery. For comparison purposes only. Real world figures may differ. Energy consumption and range figures may vary according to factors such as driving styles, environmental conditions, load, wheel fitment, accessories fitted, actual route and battery condition. Range figures are based upon production vehicle over a standardised route.

Enjoy £1,000 finance deposit contribution across selected Approved Used BMWs.*
*Terms and conditions apply. Lloyd Motors Limited is a credit broker not a lender. Retail customers only. £1,000 finance deposit contribution available on selected Approved Used BMW models (Excludes BMW iX1, BMW iX3, BMW i4, BMW iX & BMW i7). purchased with BMW Select Finance between 01 November 2023 and 31 December 2023. 12.9% APR Representative.
Frequently Asked Questions about the BMW X1
What are the different trim levels available for the BMW X1?
The available trim levels for the BMW X1 can vary by region and model year, but common trim levels often include:

SE: Typically offering a well-rounded set of features and comfort.

xLine: Known for its emphasis on luxury and premium styling, often featuring unique design elements and materials.

M Sport: This trim focuses on enhancing the sporty appearance and handling characteristics of the X1, offering performance-oriented features and styling.

Sport: Some markets offer a Sport trim, which combines sporty elements with practicality.

Trim levels can vary, so it's recommended to check with your local Lloyd BMW dealership for the most up-to-date information on available trims in our used BMW stock.
What are the different engine options available for the BMW X1?
The engine options for the BMW X1 can vary depending on the model year and region, but they typically include a range of petrol, diesel, and hybrid powertrains. Examples of engine options may include:
Petrol Engines: Available in various power outputs, often including three-or four-cylinder options for different performance levels.

Diesel Engines: BMW typically offers diesel engines known for their torque and fuel efficiency.

Plug-in Hybrid: Some markets offer plug-in hybrid variants, combining electric and petrol power for improved fuel economy and reduced emissions.
Specific engines available may vary based on the model year and market.
What are the fuel economy estimates for the BMW X1?
Fuel economy estimates for the BMW X1 can vary depending on the specific engine, transmission, and whether it's a petrol, diesel, or hybrid model. On average, you can expect the following fuel economy ranges in miles per gallon (mpg):
Petrol Models: Typically, they range from around 30 to 40 mpg for newer models, although exact figures may vary.

Diesel Models: Diesel versions often achieve even better fuel efficiency, with figures ranging from 40 to 50 mpg or more, depending on the specific engine and model.

Hybrid Models: Plug-in hybrid variants can offer impressive fuel economy figures, often exceeding 50 mpg thanks to their electric capabilities.
What are the safety features available on the BMW X1?
The BMW X1 is equipped with a comprehensive array of safety features and technologies designed to enhance driver and passenger safety.

These features can vary depending on the trim level and optional packages but commonly include:
Adaptive Cruise Control: Automatically adjusts your speed to maintain a safe following distance from the vehicle ahead.

Lane Departure Warning: Alerts you if you unintentionally drift out of your lane.

Blind-Spot Monitoring: Warns you of vehicles in your blind spots.

Automatic Emergency Braking: Helps prevent or mitigate collisions by automatically applying the brakes.

Pedestrian Detection: Identifies pedestrians and provides warnings or automatic braking to prevent accidents.

Parking Sensors: Assist with parking in tight spaces.

360-Degree Camera System: Provides a bird's-eye view of your surroundings for easier maneuvering.

Head-Up Display: Projects essential information onto the windshield, reducing the need to take your eyes off the road.
Lloyd BMW Customer Reviews
Rating based on 5,005 verified reviews

Good dealership. Really pleased with the purchase of my X3. Very helpful and knowledgeable!
Zak Adam

Firstclass 😃
Melvyn Parker
Blackpool BMW - April, 2023

Very friendly and helpful
Rich D
Newcastle BMW - November, 2023

Excellent service, pleasant staff. Was made welcome and made to feel like our custom mattered! Thank you
Rachel Mandale-Chapman
Blackpool BMW - January, 2023

Lovely staff nice place
Sheena
Cockermouth BMW - July, 2023