Browse BMW Servicing, Repairs and Parts
BMW Service Centres with highly-skilled technicians offering servicing, parts, MOTs and repairs. Keep your BMW performing at its peak with servicing that you can trust, using BMW genuine parts, with a 2-year parts warranty.
Expert BMW Servicing at Lloyd Motor Group
When you buy a new or approved used BMW from us you want the peace of mind that our expertise and training provide. All of our Lloyd BMW retailers offer servicing and repairs to our manufacturers' high standards, ensuring that your BMW gives you miles of trouble-free motoring.
Keep your BMW performing at its peak with servicing and maintenance that you can trust, performed by trained technicians and using BMW genuine parts, with a 2-year parts warranty.
Discover our Lloyd BMW Service Centres in some of the country's top locations, including World Heritage sites and the Lake District National Park. We have service centres in Blackpool, Carlisle, Cockermouth, Colne, Newcastle and South Lakes.
Book your cars regular servicing, general repairs and maintenance at our state-of-the-art BMW workshops and keep your car in perfect condition.
Ready to elevate your BMW experience? Book Your Service For unparalleled care.
Browse Our BMW Service and Repair Options
Why Choose Lloyd BMW Servicing?
Collection and delivery service*
This service eliminates the hassle of bringing your car to the service centre.
Courtesy cars available (booking required)
In cases where your car requires extensive servicing or repairs, having access to a courtesy car ensures that you can continue with your daily activities without interruption.
Your BMW returned to you washed and vacuumed*
Beyond just the mechanical aspect of servicing, we want to return your vehicle in a clean and polished condition.
Only Genuine BMW Parts and oil used (if required)
Using genuine BMW parts and oil during servicing ensures the optimal performance and longevity of your vehicle.
Manufacturer trained technicians
We are committed to employing manufacturer trained technicians so that your vehicle is in the hands of experts who have in-depth knowledge about BMW's intricate systems.
Comfortable waiting area with WiFi
For customers who prefer to wait while their vehicle is being serviced, a comfortable waiting area equipped with WiFi ensures you can stay productive or entertained during your wait.
Complimentary refreshments
Whether it's a quick coffee or a snack, we hope our thoughtful amenities contribute to your comfort and satisfaction whilst you wait in one of our service centres.
Saturday servicing available
Many of you have busy workweeks, making it challenging to schedule vehicle servicing.
Complimentary vehicle quality enhancements where applicable
Keeping your car up-to-date with quality enhancements is crucial for maintaining safety, performance, and compliance with any necessary updates.
Complimentary Vehicle Health Check with all maintenance bookings
A complimentary vehicle health check involves a comprehensive inspection of various systems in your car.
Your own eyewitness
BMW Advanced Eye
Is the security of your BMW on your mind? Well, with new Advanced Car Eye 3.0, you can add an extra layer of surveillance.
Discover More
Lloyd BMW Service Offers
At Lloyd Motor Group we aim to make driving and servicing a vehicle as affordable as possible, with offers and deals to suit a variety of budgets.
Visit Our BMW Service Centres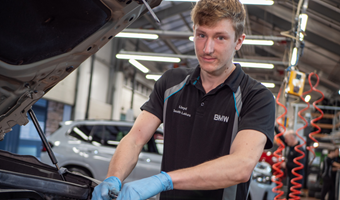 Is your BMW's warranty coming to an end? Take advantage of our complimentary End of Warranty Check.
Your BMW will be thoroughly inspected by one of our BMW trained technicians and in the unlikely event there are any issues, they will take care of it before your warranty expires. Your BMW is eligible no matter how many miles are on the clock. For more information contact your local Lloyd BMW retailer.
Find your local BMW retailer
We can tailor your BMW servicing to suit your needs
How to check my BMW warranty?
Contact your local Lloyd Dealership and their BMW Customer Service department: The easiest and most reliable way to check your BMW's warranty status is to contact the BMW dealership where you purchased the vehicle. They will have access to your vehicle's information and can provide you with details about your warranty coverage. They should be able to provide you with information about your warranty coverage. Find your local Lloyd dealership.

Check the Warranty Booklet: If you have the warranty booklet that came with your BMW, it should contain information about your warranty coverage, including the start and end dates of the warranty. Look for a section in the booklet that provides details about the warranty terms.

Check the VIN: The VIN is a unique identification number for your vehicle. It's located on the lower right hand side of the windshield near where the wiper blade sits, and it's also often found on the driver-side door jamb. You can use this VIN to verify the warranty status on the BMW website or by contacting customer service.

Vehicle Service History: If you've had your vehicle serviced at a Lloyd BMW dealership, we shall have records of your warranty repair history in our service history records.
Can I get a BMW service history check online free?
If you own the vehicle and you have had it serviced with us in the past, then please reach out to your Lloyd BMW dealership that have serviced your vehicle in the past. They shall be able to provide you with a copy of your service history, which could include records of maintenance and repairs performed on your vehicle.
Lloyd BMW customer reviews

Very professional staff. Beautiful location
Erik Skoller
South Lakes BMW - September, 2023

Very professional in every aspect.
Robert Paterson
Newcastle BMW - June, 2023

Staff always very friendly and helpful. Video sent showing what they have checked on your car when in for a service. Excellent.
Mick Whittam
We are Lloyd BMW
We have award-winning BMW service teams across Cumbria, Lancashire and the North East. Family-run for over 40 years, we strive to keep our customers at the heart of everything we do. Learn more about your dedicated team of friendly local experts who are here to meet all of your automotive needs.
Lloyd BMW
Get in Touch
Lloyd BMW Service
Simply fill in your details below and we'll get back to you. Alternatively, you can call your local centre by telephone.