Used BMW 4 Series
Enjoy £1,000 finance deposit contribution across selected Approved Used BMWs.*
Representative APR
Monthly payment
£288.97 p.m
Amount of credit
£15,995.00
Total amount payable
£26,093.59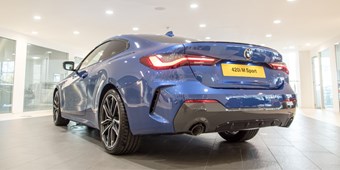 Used BMW 4 Series for Sale
Premium used BMW 4 Series cars for sale that provide a sleek, sporty, and stylish car that offers an exhilarating driving experience. With its powerful engine, sporty handling, and luxurious amenities, the BMW 4 Series is a popular choice among car enthusiasts. Whether you're looking for a coupe, convertible, or gran coupe, the BMW 4 Series offers something for everyone. At Lloyd Motor Group, we have six BMW retailers across Northern England, allowing us to stock a wide range of used BMW 4 Series models, including the sought-after 435i, 428i, and 440i. All of our used BMW 4 Series cars are carefully inspected and serviced to ensure that they meet our high standards of quality and reliability.
Buying a Used BMW 4 Series at Lloyd Motor Group
The BMW 4 Series is designed to provide an exceptional driving experience. The sporty handling and responsive steering make it a joy to drive on winding roads, while the comfortable and well-appointed interior ensures a comfortable ride. Whether you're simply browsing for a variety of BMW 4 Series for sale near you or a specific model like the 4 Series M Sport, 435d, or 440i convertible, we have something for everyone. Browse our inventory today and find the perfect used BMW 4 Series for you. Contact us today to schedule a test drive and experience the thrill of driving a BMW for yourself.
More About Used BMWs at Lloyd Motor Group
If you haven't found what you're looking for, we also have a wide range of other used BMW models to choose from at Lloyd Motor Group.
Why Buy a Used BMW 4 Series from Lloyd?
Our mission at Lloyd Motor Group is to earn our customers' loyalty through the delivery of market-leading sales and aftersales experiences that continually exceed expectations.
The Full Package
Offering you a full range of services tailored to meet your needs.
We've got History
Founded in 1976, supporting drivers for nearly half a century.
Unique Showroom Experience
The experience of visiting our show rooms is second to none.
Buying Guide for the Used BMW 4 Series
Why Choose a Used BMW 4 Series?
If you're in the market for a dynamic two-door coupe or a head-turning convertible with an exceptional blend of sportiness and practicality, the BMW 4 Series is your perfect match.
Here's why:
Space and Comfort: The 4 Series boasts ample space for four adults, ensuring your journeys are always comfortable.
Cargo Capacity: The generously sized boot provides practical storage solutions for your everyday needs.
Fuel Efficiency: Surprisingly good fuel economy ensures that you can enjoy the thrill of driving without constantly worrying about refueling.
Driving Pleasure: The BMW 4 Series offers a gratifying driving experience, and some versions are remarkably quick.
BMW 4 Series Range and Updates
The BMW 4 Series is essentially a sleeker sibling of the BMW 3 Series saloon, sharing engines, electronics, suspension, and much of the interior. The 4 Series lineup includes two-door coupe and convertible models, along with a family-friendly five-door hatchback version known as the 4 Series Gran Coupe.

In 2020, a fresh iteration of the 4 Series was launched. Notable changes included a larger front grille, a switch from a folding metal roof to a fabric convertible top, and an upgrade in on-board tech with BMW's latest features. The 4 Series lineup offers a variety of petrol and diesel engines, ensuring a range of performance options to suit your preferences. Some models feature manual gearboxes, but automatic transmissions are more common, and four-wheel drive is standard on high-performance models.
BMW 4 Series Tech and Features
The latest 4 Series models can come equipped with a host of features, including:
Sat Nav: Always find your way with the built-in navigation system.
Apple CarPlay and Android Auto: Seamlessly connect your smartphone to the infotainment system.
Air Conditioning: Stay cool and comfortable during your drives.
Leather Seats: Experience luxury and style with leather-appointed seats.
Cruise Control: Enjoy effortless highway cruising.
Parking Sensors: Maneuver with confidence, even in tight spaces.
While the older versions share many of these features, it's worth noting that Apple CarPlay became available from 2019, and Android Auto connectivity was introduced later.
BMW 4 Series Running Costs and Value
For a sporty car, the BMW 4 Series excels in fuel efficiency. In the latest models, petrol engines deliver average fuel economy ranging from 34 to 44mpg, while diesel engines achieve an impressive 44 to 60mpg according to official figures. These fuel economy figures remain consistent for older 4 Series models.

When considering running costs, keep in mind that annual car tax for the 4 Series is relatively low.

In short, the BMW 4 Series combines performance, comfort, and style in a package that's hard to resist. Whether you're interested in a 4 Series BMW M Sport or a used BMW 4 Series convertible, explore the range, and embark on your journey of exhilarating driving experiences with the iconic BMW 4 Series.


Enjoy £1,000 finance deposit contribution across selected Approved Used BMWs.*
*Terms and conditions apply. Lloyd Motors Limited is a credit broker not a lender. Retail customers only. £1,000 finance deposit contribution available on selected Approved Used BMW models (Excludes BMW iX1, BMW iX3, BMW i4, BMW iX & BMW i7). purchased with BMW Select Finance between 01 November 2023 and 31 December 2023. 12.9% APR Representative.
Frequently Asked Questions about the BMW 4 Series
What are the different trim levels available for the BMW 4 Series?
The BMW 4 Series typically offers a selection of trim levels, which may vary depending on the model year and region.

Common trim levels for the BMW 4 Series include:
SE: The base trim level often comes well-equipped with essential features.

Sport: Adds sportier styling elements and interior enhancements.

M Sport: Known for its more aggressive appearance, improved handling, and sport-tuned features.

Luxury: Emphasizes comfort and luxury with premium materials and additional amenities.

Gran Coupe: This is a specific trim level for the 4 Series Gran Coupe, which is a four-door variant with similar trim options.
What are the different engine options available for the BMW 4 Series?
The engine options for the BMW 4 Series can vary by model year.

However, you can typically find a range of petrol and diesel engines, including:
Petrol Engines: Offered in various power outputs, including four-cylinder and six-cylinder options.
Diesel Engines: Available for those seeking improved fuel efficiency and torque.
There are also high-performance M models within the 4 Series lineup, such as the M440i and M4, which feature powerful turbocharged engines designed for exhilarating performance.
What are the fuel economy estimates for the BMW 4 Series?
Fuel economy estimates for the BMW 4 Series can vary based on the specific engine, transmission, and model year.

On average, you can expect the following fuel economy ranges in miles per gallon (mpg):
Petrol Engines: Typically range from 25 to 35 mpg in combined city and highway driving.
Diesel Engines: Often achieve higher fuel efficiency, with ranges from 35 to 50 mpg or more, depending on the model.
It's important to refer to the official EPA or regional fuel economy ratings for precise figures on specific models.
What are the safety features available on the BMW 4 Series?
The BMW 4 Series comes equipped with a range of safety features and technologies that may vary by trim level and model year.

Common safety features include:
Adaptive Cruise Control: Adjusts your speed to maintain a safe following distance.

Lane Departure Warning: Alerts you if you unintentionally drift out of your lane.

Blind-Spot Monitoring: Warns you of vehicles in your blind spots.

Automatic Emergency Braking: Helps prevent or mitigate collisions by automatically applying the brakes.

Pedestrian Detection: Identifies pedestrians and warns of potential collisions.

Front and Rear Parking Sensors: Assist with parking in tight spaces.

360-Degree Camera System: Provides a bird's-eye view of your surroundings for easier maneuvering.
BMW typically offers advanced driver-assistance packages that bundle many of these features together for enhanced safety.

Please note that the availability of these features will depend on the used car you have chosen.

If you have specific model-year preferences or want to know more about the exact features of a particular BMW 4 Series, it's recommended to check with your local Lloyd BMW dealership for more information.
Lloyd BMW Customer Reviews
Rating based on 5,005 verified reviews

Top service
Craig Holt
South Lakes BMW - October, 2023

Really nice and friendly staff
Anonymous
Cockermouth BMW - September, 2023

Lovely staff nice place
Sheena
Cockermouth BMW - July, 2023

Great showroom
Grahame Thurkle
Newcastle BMW - September, 2023