Free Volvo windscreen and tyre repairs
Exclusive to Lloyd Volvo Drivers. At the first sign of damage, drop into Lloyd Volvo.
The smallest thing can make the greatest impact.
When a set-back happens, it's what we do next that matters. So whether it's a chip in your windscreen or a fall in tyre pressure, we'll be there for you and your Volvo.
When you arrive, one of our trained experts will assess the damage to your Volvo and agree the conditions of your repair with you. If for any reason we're unable to complete your repair immediately, we'll discuss alternative options with you to help you get back on the road as soon as possible.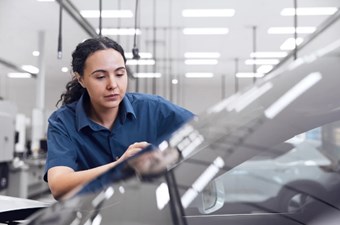 We also do replacements
Windscreen repairs depend on the size and location of the damage, and our retailers will work to the guidelines determined by the Volvo Safety Standards. If your chip falls outside of the necessary requirements, you may need a windscreen replacement – which we can also organise for you.
Read more
A closer look
We aim to repair all punctures that are brought to our retailers. However, we may not be able to offer our complimentary service if there is:* less than 1.6mm of tread across the central ¾ of the tyre * secondary damage caused by the injuring object * ageing/deterioration of the tyre * any bead damage * an exposed cord * a faulty/poor previous repair
Read more
Get in Touch
Lloyd Volvo Service
Simply fill in your details below and we'll get back to you. Alternatively, you can call your local centre by telephone.
Volvo Service
Rating based on 4,960 verified reviews

The team at Lloyd Volvo are so helpful and welcoming. Thank you for arranging everything for my new car!
Zoe
Carlisle Volvo - November, 2023

Very very good service offered drinks and bits 👏 👍 most appreciated
Scott Wylie
South Lakes Volvo - February, 2023

Excellent service - people here care about customer service.
Tom Alston
Carlisle Volvo - August, 2023

Excellent service from pleasant knowledgeable staff. Would have no problem recommending Lloyds Volvo to anyone. Keep up the great work
Ken Chisholm
Carlisle Volvo - April, 2023