Volvo Servicing, Parts & Repairs at Lloyd Motor Group
When you buy a new or approved used Volvo from us you want the peace of mind that our expertise and training provide.
Expert Volvo Service: Unmatched Care for Your Car
Drive with peace of mind - experience the benefits of professional Volvo servicing and maintenance at our authorised service centres. With our expertise and commitment to using only genuine parts, your car will continue to offer you miles of trouble-free motoring.
Our warranties give additional reassurance, but regular scheduled Volvo servicing and maintenance are essential to keep your car running in perfect harmony. We also have Volvo MOT testing facilities, which ensure that any resulting repairs will be done with genuine parts to comply with your warranty. No one knows your Volvo better than we do.

Contact your local Lloyd Volvo centre to enquire about our dedicated servicing options.

ENQUIRE NOW
Browse Volvo Service and Repair options at Lloyd Motor Group
Why Choose Lloyd Volvo Servicing?
Collection and delivery service*
This service eliminates the hassle of bringing your car to the service centre.
Courtesy cars available (booking required)
In cases where your car requires extensive servicing or repairs, having access to a courtesy car ensures that you can continue with your daily activities without interruption.
Your Volvo returned to you washed and vacuumed*
We are dedicated to making sure you feel appreciated as our valued customer, and that's why we will return your Volvo back to you in pristine condition.
Volvo Trained Technicians
We are dedicated to ensuring all of our technicians have manufacturer training, so you have complete peace of mind knowing your Volvo is in the hands of experts.
Only Genuine Volvo Parts and oil used (if required)
Using genuine Volvo parts and oil means your Volvo stays 100% Volvo.
Comfortable waiting area with WiFi
For customers who prefer to wait while their vehicle is being serviced, a comfortable waiting area equipped with WiFi ensures you can stay productive or entertained during your wait.
Complimentary refreshments
Whether it's a quick coffee or a snack, we hope our thoughtful amenities contribute to your comfort and satisfaction whilst you wait in one of our service centres.
Complimentary vehicle quality enhancements where applicable
Keeping your car up-to-date with quality enhancements is crucial for maintaining safety, performance, and compliance with any necessary updates.
Complimentary Vehicle Health Check with all maintenance bookings
A complimentary vehicle health check involves a comprehensive inspection of various systems in your car.
Volvo 2 year warranty
When you choose to bring your vehicle to Lloyd Volvo, you can enjoy peace of mind knowing that we provide a 2-year warranty.
Volvo Service Promise
Volvo Service Promise offers perfect piece of mind. You can drive with complete reassurance knowing that the care doesn't stop after you've bought your Volvo.
Read more
*Subject to availability.
Free windscreen and tyre repairs
Don't reach breaking point.
At the first sign of damage, come in and we'll take care of it.
Discover More
Lloyd Volvo Service Offers
With our aftersales offers at Lloyd Motor Group, we aim to make maintaining and servicing your vehicles as affordable as possible with offers and deals across service, maintenance and accessories to suit every budget.
Visit our Volvo workshops for your servicing needs
Volvo servicing to suit your needs
Volvo Service Plans
We can create a service plan tailored to suit all your vehicle servicing needs.
AdBlue Refills
It is important that your AdBlue levels are maintained, as you cannot start the engine without it.
Volvo Service Plans
We can create a service plan tailored to suit all your vehicle servicing needs.
AdBlue Refills
It is important that your AdBlue levels are maintained, as you cannot start the engine without it.
Where can I purchase genuine Volvo Parts?
Genuine Volvo parts are available to order at your nearby Lloyd Volvo center. Our Parts Managers are always happy to help with any queries you may have. To find out more information and to make an enquiry, contact your Local Volvo Center today.


How do I find out about my Volvo's service history?
If you're the owner and have had it serviced with us before, checking your Volvo's service history at Lloyd Volvo is a straightforward process.

Please reach out to your local Volvo dealership that have serviced your Volvo in the past. Have your Volvo's vehicle information ready, including the registration and VIN, as this helps us locate the information accurately. The team should then be able to provide you with a copy of your service history.

Benefits of regular servicing
Ensuring road safety by highlighting potential issues before they arise
Regular servicing proactively identifies and addresses potential mechanical and safety issues before they have a chance to develop into more hazardous situations.
Maintaining vehicle performance and prolonging the life of your vehicle
Consistent maintenance not only ensures optimal vehicle performance but also extends the lifespan of your vehicle, ensuring reliability and cost-effectiveness in the long run.
Maintaining vehicle value
Showcasing a well-maintained history and assuring potential buyers of its dependable condition is another benefit of regular servicing. Helping with your vehicles resale value.
Lloyd Volvo customer reviews
Rating based on 5,005 verified reviews

Friendly helpful staff
Graeme Smith
Carlisle Volvo - June, 2023

Annual Service and MOT, excellent as usual. Staff all very pleasant, helpful and professional.
Olivia Richardson
Carlisle Volvo - April, 2023

Quick and efficient when we popped in with a faulty sensor. Was reset within 15 minutes and we could continue our journey. Thank you
Les More
Carlisle Volvo - April, 2023

Very helpful staff. Nice to deal with, nothing is too much trouble
William Hughes
South Lakes Volvo - December, 2022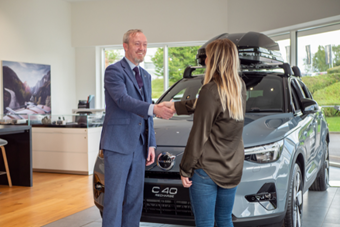 We are Lloyd Volvo
At Lloyd Volvo, our team of experts and manufacturer trained technicians are always on hand to offer you a premium servicing experience. We're dedicated to ensuring that our customers are always our number one focus.
Find out more about Lloyd Volvo
Get in Touch
Lloyd Volvo Servicing
Simply fill in your details below and we'll get back to you. Alternatively, you can call your local centre by telephone.