Electric Vehicle Servicing
You may not have to change the oil, but servicing is still required and essential to keep your electric vehicle in top condition.
One of the many mysteries of Electric Vehicle ownership is how often they need servicing, and what an EV service actually involves. After all, the engine and assorted other parts of the engine have been replaced by an electric motor and a controller.

However, that's not to say your battery powered vehicle won't require a quick once over with the spanners every so often, because like all cars there's more to maintenance than just the engine.

So the experience an owner has servicing it will be more or less the same as they would have had with a petrol or diesel vehicle.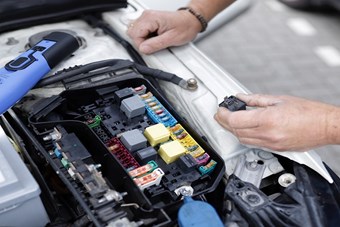 Does my Electric Vehicle need an MOT?
The short answer is yes. It is a legal requirement for any vehicle to have an MOT. Contact us today for more information.
What will be checked on your MOT test?
Brakes
Check they are working correctly and aren't overheating. The brake fluid level should also be checked, as this can become low due to an overuse of regenerative braking - which recharges the battery.
Tyres
Must be in a roadworthy condition with enough tread depth, no cuts or bulges and the correct type of tyre for the vehicle. This test is particularly important for frequent drivers as the condition of your tyres can affect efficiency.
Wheels
Ensure there are no cracks or splits in the wheels (or tyre rims) and that all nuts and bolts are secure.
Bodywork
Look for any signs of corrosion, rust or damage to lights, mirrors and number plates.
Battery condition
You will need to prove that your battery can store enough power to start the vehicle and run at least four headlamps.
Charging equipment
If you have an electric or plug-in hyberid vehicle, we will check the charging port for damage or leaks as this could cause an electrical fault.
Lights
All vehicle lights are tested from hazard lights, to brake lights, and headlights - ensuring they are the right brightness and not causing danger to other drivers on the road.
Seatbelt
One of the key safety features we take for granted. So important in fact that if any part of the seat belt is faulty or damaged it could contribute to failing your MOT.
Windscreen
Safety checks including looking out for cracks in the screen itself, as well as testing that the windscreen wipers are in good working order.
Steering
Testing both the wheel and tyre suspension to ensure the car's steering is in good condition.
Get In Touch
Electric Vehicle Servicing
Simply fill in your details below and we'll get back to you. Alternatively, you can call your local centre by telephone.Simply fill in your details below and we'll get back to you. Alternatively, you can call your local centre by telephone.
Customer Reviews

My car went for a service here today. Excellent service, from booking, to the lovely gentleman that dealt with me. Highly recommended.
Carol Ellison
Cockermouth BMW - March, 2023