Why choose Lloyd Motor Group for a quick, free online car valuation
We are looking for good quality cars and we want to buy yours. If you are considering selling your current vehicle, then please enter your car's registration above and fill in your details. We will be in touch with your free and fair car valuation with no hidden fees.
Start Your Free Car Valuation Here
When is the best time to sell a car? Now is likely to be the best time to sell a car. If you have not checked the value of your car recently, you could be in for a pleasant surprise. High demand for quality used vehicles is having an excellent effect on re-sale values meaning now could be the perfect time to sell your car to us.
What Is My Car Worth?
We will help calculate your car's worth at Lloyd Motor Group, if are looking to sell your current vehicle or if you are considering upgrading your car and would like to calculate the part exchange value. We can buy your vehicle with no obligation to purchase another car from us.

If you are looking to buy another car, we can also help you there. We have over 1,400 new cars and used vehicles in stock at any one time from a number of the world's leading automotive brands. Our experienced team can help you with the part-exchange of your current vehicle and offer a competitive valuation of your current car.
Why choose Lloyd Motor Group for a quick, free online car valuation
At Lloyd Motor Group, we understand the importance of offering competitive prices when it comes to part-exchanging or selling cars. We strive to ensure that our customers receive fair and attractive offers that reflect the value of their vehicles. Here's why you can trust us to pay competitive prices
Expert Evaluation
Our team of experienced professionals conducts thorough evaluations of every vehicle we consider for part-exchange or purchase.
Market Analysis
We stay up-to-date with market trends and industry standards to ensure that our pricing remains competitive.
Transparent Pricing
We believe in transparency and honesty when it comes to pricing.
Convenience
In addition to competitive prices, we offer a hassle-free and convenient experience.
Convenience
In addition to competitive prices, we offer a hassle-free and convenient experience.
How We Calculate Your Vehicle's Value
Finding out the value of your car has never been easier with our quick, easy, and convenient process. Our friendly team of experienced buyers use live market appraisals to value your car, which means you can rest assured that you are getting a fair price. As part of our valuation process, we will ask you to provide some details about your vehicle. These details will include the condition, mileage, and history to ensure that we can provide an accurate valuation. To start the process, enter your car registration below and fill in your details.
How to get a Free Car Valuation
Browse the steps below to see how the process works. Our mission at Lloyd Motor Group is to earn our customers' loyalty through the delivery of market-leading sales and aftersales experiences that continually exceed expectations.
Enter Your Registration
Please enter your details below, and one of our team members will be in touch to provide an accurate car valuation.
Book an Appointment
We will then ask you to book an appointment so we can view your vehicle and talk you through the next steps.
Payment Direct to Account
If you are happy with the valuation and decide to go ahead, we will go through the paperwork and your money will be paid directly to your bank.
Get your free valuation from Lloyd Motor Group today
Why sell your car to us?
With over 40 years' experience of buying cars, our friendly buyers can guide you through the process.
What type of cars do we buy?
We buy any car make and model, financed or owned outright. Find out more about the types of cars we buy.
Common Questions
Discover the answers to some of our most frequently asked questions about your car valuation & selling your car.
Online car valuation: What affects the price we will pay for your vehicle?
The value of your car is influenced by various factors, including its age, mileage, condition, and seasonal variations. Here are the main factors that impact the worth of a car. By considering these factors, we can provide you with an accurate and fair valuation for your car.
Make and Model
Certain car models are more sought after and tend to retain their value better than others. If you own a car that is in high demand, it may be worth more than you realise.
Condition
The condition of your car plays a significant role in determining its value. Any damage, such as scratches, dents, or stone chips, can lower its worth. Conversely, a well-maintained car with no imperfections will hold a higher value.
Mileage
Cars with lower mileage generally retain more of their value compared to those with above-average mileage. A lower mileage suggests less wear and tear on the vehicle.
Service History
A comprehensive service history indicates that the car has been properly maintained, making it more valuable than a car with service history gaps or inconsistent maintenance records.
Number of Previous Owners
Cars with fewer previous owners typically carry a higher value. Multiple owners can raise concerns about potential unresolved issues with the vehicle.
Manufacturer's Warranty
Selling a car with an active manufacturer's warranty provides reassurance to buyers and can increase the car's value.
Current Market Prices
Car values fluctuate based on supply and demand in the market. Our valuations utilise live market data to provide an accurate price based on the current market conditions at the time of valuation.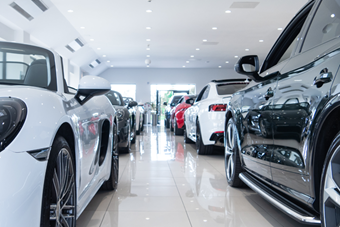 Browse our cars in stock
Are you looking for a new or used car once you've sold your current vehicle? We have over 1,400 new and used premium cars in-stock and available for immediate delivery
Browse Cars Online
Find a Lloyd dealership close to you
We have dealerships across Cumbria, Lancashire, the Scottish Borders, the North East and Yorkshire. Enquire with one of our dealerships in Blackpool, Carlisle, Cockermouth, Colne, Grange-Over-Sands, Kelso, Levans, Morecambe, Ripon or York to discuss your valuation.
Find your local Lloyd dealership
Customer reviews

Great showroom
Grahame Thurkle
Newcastle BMW - September, 2023

Helpful prompt service
David Lythgoe
Carlisle Land Rover - September, 2023

Excellent customer service. Prompt repair of the vehicle.
Mark Pattinson
Carlisle Jaguar - July, 2023

Excellent service, pleasant staff. Was made welcome and made to feel like our custom mattered! Thank you
Rachel Mandale-Chapman
Blackpool BMW - January, 2023

Excellent service and extremely helpful staff and nice coffee
Ron Love
Carlisle BMW - October, 2022