National Fleet
​​​​​​​Fleet for your company - Giving you the tools to run your fleet effectively
Running a large fleet isn't easy, but at Lloyd Motor Group we like to think our dedicated Business Development Managers can make it a whole lot simpler.

We look after a number of national fleet suppliers for big businesses across the UK, supplying hundreds of vehicles per year. We work together to ensure that your business never needs to stand still.

From helping businesses explore financing options, creating bespoke packages or organising extended test drives – there's always a dedicated business specialist ready to help.

Then there's our award-winning range of vehicles from luxury marques, such as BMW, MINI, Land Rover, Jaguar, Kia and Volvo, that prove safety and efficiency need not come at the expense of driving pleasure and comfort.
National Fleet Leasing
What is National Fleet?
A national fleet lease vehicle is a vehicle owned by a leasing company and leased to a business as part of their group of vehicles.
Dedicated Account Manager
Your company will have a dedicated business development manager at Lloyd Motor Group to manage your National Fleet of business vehicles.

Our business development managers provide the most up-to-date expertise on corporate responsibilities relating to your company cars, fleets and company car allowances.
Savings with Discounts and Offers
If you are looking at how you can reduce fleet costs, look no further, we provide excellent corporate offers for businesses that lease multiple vehicles as part of a national fleet contract.

Browse our latest Business Offers or contact your local Lloyd Corporate team member to discuss a personalised quote for your businesses fleet of vehicles.
Positive Company Image
National fleet solutions are a flexible way to affordably keep your employees on the road in premium vehicles, projecting a credible, impressive image to customers and your wider community.
Employee incentives, rewards and retention
Business car leasing provides an attractive proposition for potential new employees and is a great benefit to retain existing members of staff.
Our mission at Lloyd Motor Group is to earn our customers' loyalty through the delivery of market-leading sales and aftersales experiences that continually exceed expectations.
The Full Package
We can offer you the full range of automotive services tailored to meet your needs and requirements.
We've got History
Founded in 1976, Lloyd Motor Group has supported drivers for nearly half a century.
Unique Showroom Experience
The experience of visiting our showrooms is second to none, providing a relaxing environment from state-of-the-art retail and service centres.
National Fleet Offers
Our corporate sales team will be able to provide quotes for business offers on most prestigious manufactures, providing you with some of the best car leasing offers available on premium vehicles.
Browse Business Offers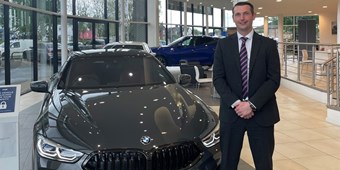 Contact Your Local Lloyd Corporate Team
Our Corporate Team is here to help you identify the right fleet and finance solutions for you and your business.
Lloyd Business Specialists
Frequently Asked Questions
How to manage fleet maintenance
We know that managing a fully leased fleet can be overwhelming for already busy business owners, so we stay on-hand all the way through the life of the vehicle to provide speedy and efficient support with vehicle maintenance and aftercare. So that you can get back to business.

Contact your local Lloyd Corporate team member for further information on how we can help you with all of your fleet servicing needs and requirements.
How to manage fleet efficiency and sustainability
Lloyd Motor Group has a wide range of premium electric vehicles to choose from, and electric cars are generally more cost efficient than petrol cars, and they're cheaper to refuel.

They tend to have fewer parts that need to be replaced, which results in lower maintenance costs for your business.

Electric cars also require less energy than gasoline cars to cover the same distance, resulting in lower energy consumption and fuel usage. This makes them a viable option for fleet management.
Customer Reviews
Rating based on 4,960 verified reviews

Very professional in every aspect.
Robert Paterson
Newcastle BMW - June, 2023

Friendly and helpful
Peter Van Zelst
Ripon Land Rover - November, 2023

Professional and open communication.
Barry Cookson
Carlisle BMW - September, 2023