The XC90 takes luxury to a new level. It's a proud statement of Scandinavian design and advanced engineering. It's beautiful, advanced and sustainable. Shaped by Scandinavian sophistication it radiates refined strength, boldness and elegance. Comfort is at the heart of every journey and intuitive technology and connected services help to keep you in control, making it every inch a luxury SUV.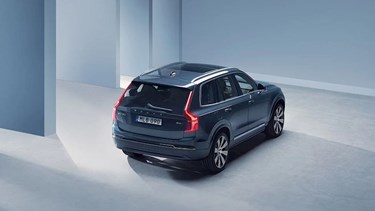 Volvo XC90
Right here. Right now. Stylish. Spacious. Something special.
Customer Reviews

Fabulous and knowledgeable staff for everything Volvo, highly recommended.
Gary Coombes
Carlisle Volvo - February, 2023

Great service and a great hot chocolate
Margaret Blackburn
Carlisle Volvo - July, 2023

Fantastic dealer, great service department.
Ian Podmore
Carlisle Volvo - March, 2023

Very nice and friendly people, very professional. Excellent service.
Ancuta
South Lakes Volvo - January, 2023

Great service from Mike again. Really helpful. Great after sales service also. Wouldn't go anywhere else for a Volvo
Dorinda Warwick
Carlisle Volvo - August, 2023

Excellent service from pleasant knowledgeable staff. Would have no problem recommending Lloyds Volvo to anyone. Keep up the great work
Ken Chisholm
Carlisle Volvo - April, 2023