Browse Kia Motability Cars at Lloyd Motor Group
Introducing Lloyd Kia on Motability
Kia Cars on Motability
At Lloyd Kia, we're proud to offer a wide selection of Kia models for you to view and choose as part of the Motability scheme, with a choice to suit every lifestyle.

If you're eligible for the Motability scheme, you can exchange your mobility allowance for an affordable, three-year lease from our Kia collection.

A selection of Motability Kia cars are available to view in our showrooms, with a host of convenient adaptations available to make driving and living with your Kia easier and more comfortable, often at no extra cost to you.

Our range includes the Kia Sportage on Motability, as well as the Kia Sorento and Kia Stonic – with a variety of options available, you're sure to find a Kia Motability car that's perfect for you.
Free home charge point installation for your first fully electric car*
Choose an electric car worry-free with the Motability Scheme. If you're leasing your first fully electric car on the Motability Scheme, they will arrange and cover the cost of a home charge point and a standard installation. You'll have to pay extra if you need a non-standard installation. For example, if your parking space is not next to your home or your electrical equipment needs to be upgraded. *Terms and conditions apply. Funded by Motability Operations Ltd.
Why choose a new Kia Motability Car from Lloyd Motor Group?
Wide Range of Kia Models - We have a diverse range of different Kia cars on Motability, from hatchbacks like the Kia Ceed, to versatile SUVs like the Kia Sportage. With a wide range of models available, including Kia Motability automatic cars, we're confident that we have a Kia on Motability that will suit your preferences.

Motability Expertise - At our Lloyd Kia locations in Carlisle and South Lakes, we have extensive experience in handling Motability vehicles, so you can rest assured that you're in the best hands with our team.

Aftersales Services and Support - We're dedicated to providing excellent aftersales support for Kia Motability vehicles, including servicing, MOTs and repairs.

Excellent Customer Service - Our Lloyd Kia teams strive to deliver market leading sales experiences that exceed our customers' expectations. When purchasing a Kia Motability car with us, you can expect nothing less than exceptional customer service and support.

Reliability and Features - Kia vehicles are known for their reliability, quality, and impressive features. With advanced technologies and efficient powertrains, a Kia Motability car is sure to give you a comfortable and enjoyable driving experience.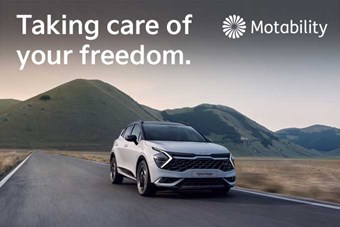 New Vehicle Payment Increased to £750
In February 2022 Motability introduced a £250 New Vehicle Payment for car and Wheelchair Accessible Vehicle (WAV) customers. From 1 March 2023, they increased this payment to £750. If you already received a New Vehicle Payment of £250, you'll get an extra £500. This will make your total payment £750. If you added your bank details in your Motability Scheme online account by 28 February 2023, they'll pay this by bank transfer. If not, they'll send a cheque. They will send all of these payments by 31 March 2023. You can only get the New Vehicle Payment once – you will not receive another payment for your next lease.
How does the Motability Scheme work at Lloyd Kia?
Choosing a Kia as part of the Motability Scheme is easy and with everything, apart from fuel, provided as part of the leasing package you can enjoy worry-free driving.
Typical leasing package includes:
Insurance for up to two named drivers.
Full breakdown cover.
Annual Car Tax.
60,000 mileage allowance over a three-year lease.
Servicing, maintenance and repairs.
Plus, many more benefits.
If you have any questions about how the Motability scheme works, or you'd like to arrange a test drive, don't hesitate to contact the Lloyd Kia Carlisle or Lloyd Kia South Lakes teams today.
Frequently Asked Questions
What is Motability?
The Motability Scheme enables disabled people to lease a new car, scooter or powered wheelchair, using their Government funded mobility allowance.
If you or your child receives one of the following allowances and has at least 12 months remaining on the award, you are eligible to lease a car from Motability:
Higher Rate Mobility Component of the Disability Living Allowance

Enhanced Rate of the Mobility Component of Personal Independence Payment

War Pensioners Mobility Supplement

Armed Forces Independence Payment
Our Motability experts are on hand every step of the process and can also support you in finding out whether you're eligible for the Motability Scheme. We're here to help seven days a week across Cumbria, Lancashire and Southern Scotland.
What adaptations are available?
All of our friendly team have undergone extensive Motability training and are on hand to help you choose the right vehicle to suit you and your needs.

When you choose Kia, there are many modifications available to make life easier, and most of these are available at no extra cost to you. You can also benefit from hi-tech features to increase your independence, such as parking sensors and satellite navigation to enhance your onboard experience further.

Adaptations include:
Steering Aids
Mechanical hand controls
Wheelchair stowage – in-car systems
Pedal modifications
Wheelchair swivel seats
Person Hoists
Which Kia models are included on the Motability Scheme?
At Lloyd Kia, we offer a wide selection of Kia models for you to view and choose.

Our range of available Kia models includes the innovative and practical Kia Sportage and the economic family-friendly Kia Ceed family. These vehicles offer a generous amount of space internally and in the boot, meaning there is plenty of room for additional equipment.

If you are in the market for a stylish vehicle, has excellent fuel economy and is low on emissions, there's the Kia Niro Self-Charging Hybrid. With a roomy and refined interior and packed full of technology, it makes the driving experience easier and more enjoyable for the whole family.
Find a New Kia Motability Car near me: Our Locations
At our Kia dealerships in Carlisle and South Lakes, we're proud to serve Cumbria, Lancashire & Southern Scotland. Our Motability specialists strive to provide the highest level of customer service, and are dedicated to helping you find the perfect Kia Motability car. Find your nearest Lloyd Kia location, and start your journey with us today.
Our Kia Locations
Buying a New Kia Motability Car: Find out More about our new Kia models
Kia offer a wide range of high-quality vehicles that cater to a variety of needs and lifestyles – from stylish Kia Rio, to the spacious Kia Sportage. Whether you're looking for a versatile family car, or an eco-friendly vehicle, Kia have a new car to suit you.
Explore the New Kia Range
Motability at Lloyd Motor Group
Find out more about the Motability scheme at Lloyd Motor Group
Browse Motability