12 July 2022
INEOS Grenadier receives newcomer award from 4x4 experts at Off Road magazine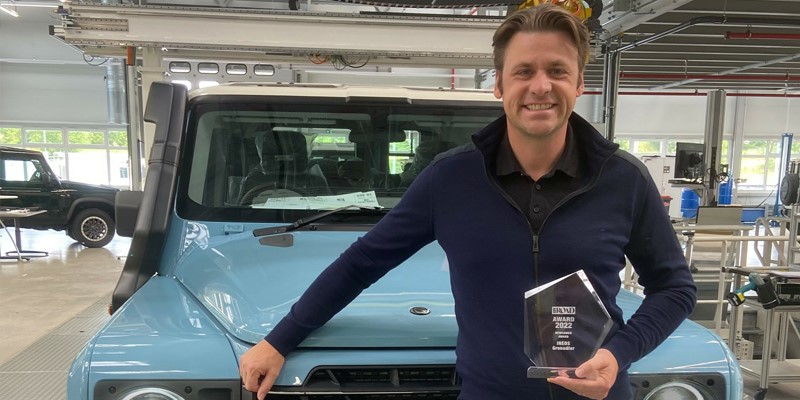 Image source: https://media.ineosgrenadier.com

The INEOS Grenadier has received the 2022 'Newcomer Award' from a panel of off-road experts at the German 4X4 magazine OFF ROAD. The prestigious accolade, agreed upon unanimously by the judging panel, underlines the growing reputation of the Grenadier, which is attracting the attention of awards programmes around the world.

Accepting the trophy, Dirk Heilmann, CEO of INEOS Automotive, commented: "It is my distinct pleasure to accept this award on behalf of everyone at INEOS Automotive, and also on behalf of all our partners. The INEOS Grenadier is the result of the hard and passionate work of a big team."

Production of the Grenadier is set to commence soon at INEOS's facility in Hambach on the French-German border, with first deliveries following later in the year.

Heilmann added: "This award win comes at a very exciting time, with our order books now open and final preparations underway for the start of series production of the Grenadier. We look forward to seeing more of the OFF ROAD community as we continue our journey through the rest of this year and into the future."

Established in 1978, OFF ROAD magazine is a leading 4X4 media outlet in Germany. When bestowing the 'Newcomer Award' accolade on the Grenadier, the editorial staff of OFF ROAD magazine shared their belief that the rugged Grenadier will set new standards for off-road vehicle capabilities.

In passing judgment, OFF ROAD magazine editor Andreas Milkutat said: "It is not often the case that an editorial prize by OFF ROAD is awarded with such a sense of unanimity as has occurred with the INEOS Grenadier. Conceived over a beer at The Grenadier pub in London, this concept of a robust, powerful and functional off-roader combining everything that real 4X4 enthusiasts could wish for: all-wheel drive with a two-stage transfer case, three locking differentials, robust rigid axles, powerful in-line six-cylinder engines and an exterior that is functional and allows a good view. We predict that the Grenadier will be the new benchmark for off-road vehicles."

In preparation for the start of production, INEOS Automotive has already appointed more than 200 sales and service points around the world. The online configurator and full information on pricing, specification and the ordering process, is available at: ineosgrenadier.com.

---
ABOUT INEOS GRENADIER

In 2017, INEOS Chairman Jim Ratcliffe, a car enthusiast and experienced adventurer, identified a gap in the market for a stripped back, utilitarian, hard-working 4x4 engineered for modern day compliance and reliability. INEOS Automotive Limited was formed and a senior team of automotive professionals assembled to bring the vision to reality with a fresh perspective of 4x4 development and manufacturing.
Combining rugged British spirit and design with German engineering rigour, the Grenadier will be a truly uncompromising 4x4 built from the ground up. Engineered to overcome all conditions, it will provide best-in-class off-road capability, durability, and reliability to those who depend on a vehicle as a working tool, wherever they are in the world.
INEOS Automotive is a subsidiary of INEOS Group (www.ineos.com), a leading manufacturer of petrochemicals, speciality chemicals and oil products. It employs 26,000 people across 36 businesses, with a production network spanning 194 manufacturing facilities in 29 countries. From paints to plastics, textiles to technology, medicines to mobile phones, materials manufactured by INEOS enhance almost every aspect of modern life. In 2019, INEOS had sales of circa $61bn.
To find out more about Grenadier, visit www.ineosgrenadier.com.