08 July 2022
Meet Jonny, our new MINI Sales Executive at Lloyd Carlisle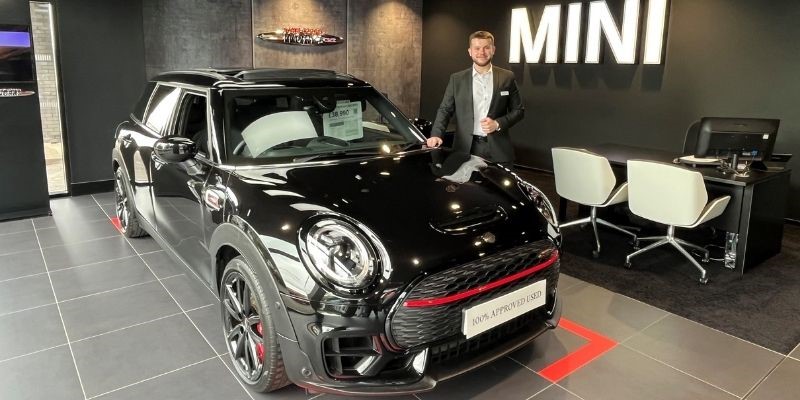 Jonny was born and raised in Carlisle and has been involved in the motor trade since he was 16. He's loved cars since he was young and always dreamt about a role in the industry but wasn't sure which route to take.

After perusing a career in photography and social media he realised sales was the career he wanted to chase. We caught up with him at Carlisle MINI to find out more about him, his career at MINI, a day in the life and what attracted him to this role.

How long have you worked in the motor industry? Tell us a bit about your background.

I've worked in the motor industry for over 6 years now, which almost seems scary how quickly it's gone! I originally started taking photographs and doing social media before moving to trainee sales. Eventually I progressed to prestige car sales alongside a Lotus franchise, which I can say as a young lad, this was incredibly fun. Over the years I've sold new Mazda, Lotus & Peugeot alongside a whole variety of used cars from Fiat to Ferrari.

Take us through a typical day in your role.

Like most, a good cup of coffee is essential on a morning! I'll then look over my diary for the day, which will show me all appointments and any new email enquires that have come in overnight. We focus on getting an iLloyd TV over to these customers first thing, this gives them the ability to have a full in-depth look over the car from the comfort of their own home. Then I'll look at follow up calls to existing customers and people that are actively interested in buying from us at Lloyd MINI.

We speak to our customers regularly at Lloyd Motor Group, to make sure everyone is fully satisfied with their experience and vehicle, this also gives us the opportunity to answer any questions or discuss a change.
Why did you want to work for Lloyd Motor Group?

Having bought cars from Lloyd Motor Group in the past, I was always impressed with the experience and the standard of quality of the cars. Working for a family-run business was one of the most appealing aspects, alongside their fantastic reputation. I have a lot of friends who work within the group who have always rated them 10/10, so for me Lloyd Motor Group was the only option.
What do you love about the MINI brand?

MINI is an iconic brand, and they make some fantastic cars. The current product range is in my personal opinion the best it's ever been! Being a petrol-head, the John Cooper Works is un-mistakable however the modern technology going into the MINI Electric is simply fantastic.
Electric cars offer a huge opportunity for motoring. What are your thoughts on the future of electric driving?

The savings and advantages of switching to electric are really appealing for people in all aspects of business, and life. I think technology is moving really fast these days and the range, charging ability and availability will only get better likely in a very small-time frame. If you haven't tried one yet, I would definitely recommend it.

Last but not least, what's your favourite MINI?

I might be a bit biased, but I love my MINI Clubman S.
If you are looking for a new or approved MINI, why not contact Jonny on 01228 404505.