Used Kia Picanto
The Kia Picanto sets a high standard for compact cars, offering comfort and performance in one neat package.
1 Filters selected
Clear all
SELECT FILTERS
Before you can select a model, please select a make
Showing 1 to 5 of 5 vehicles
Sort By
Representative example
Monthly payment
£288.97 p.m
Amount of credit
£15,995.00
Total amount payable
£26,093.59
Used Kia Picanto for Sale
The Kia Picanto is a popular compact car known for its affordability, fuel efficiency, and sleek design. We understand that finding the right used Kia Picanto for sale can be a daunting task, which is why we have an extensive selection of used Kia Picanto cars to choose from, including Kia Picanto 3, Kia Picanto X Line S and more. Whether you're searching for a second-hand Kia Picanto, or a nearly new Kia Picanto, we have you covered.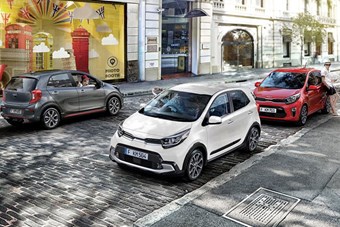 Enquire on Your Chosen Kia Picanto
Our inventory includes a range of approved used and Kia Assured used cars, ensuring that you get a quality vehicle that has been thoroughly inspected and approved. Our team is always available to answer your questions about the used Kia Picanto or the car-buying process, and we also offer financing options to help you get the best deal possible. Enquire online today, and our sales teams will be happy to help you in your car buying journey.
More about Used Kia Picantos at Lloyd Motor Group
If you haven't found what you're looking for, we also have a wide range of other used Kia models to choose from at Lloyd Motor Group.
Why Buy a Used Kia Picanto from Lloyd?
Our mission at Lloyd Motor Group is to earn our customers' loyalty through the delivery of market-leading sales and aftersales experiences that continually exceed expectations.
We've Got History
Starting their journey in 1976, Lloyd Motor Group have been supporting drivers for almost half a century.
The Full Package
In addition to our wide range of Kia cars, both of our Lloyd Kia centres offer a comprehensive range of aftersales services, including servicing, parts, MOTs and repairs.
Unique Showroom Experience
Whether you're looking for a new or an Approved or Assured Used Kia, our dedicated Lloyd Kia teams are here to help you find exactly what you're looking for.
Kia Picanto Buying Guide
Are you on the hunt for a used Kia Picanto? The Kia Picanto is well-known for its compact yet dynamic design, making it an excellent option for city drivers and those seeking a reliable and efficient car.

This guide will help you to confidently choose the perfect used Picanto that aligns with your preferences and budget.
New or Used Kia Picanto?

When considering purchasing a Kia Picanto, think about your budget and priorities. A new Picanto has the benefit of being able to configure and select features according to your taste, while a used one may offer better value. Factor in your preferences to determine whether a new or a used Picanto would suit you best.

Used Kia Picanto Model Generations

The Kia Picanto has undergone multiple generations, each bringing unique updates and enhancements. Explore our diverse inventory of Kia Picanto used cars to find the one that aligns with your budget and preferred features.

Trim Levels and Options
Familiarise yourself with the different trim levels and available options. The Kia Picanto is available with a variety of different trim levels including:
Familiarising yourself with the different features of each trim level will ensures you select a Picanto that aligns perfectly with your preferences and lifestyle.
Test Drive at Lloyd Motor Group

Once you've found a used Kia Picanto that suits you, book a test drive with us at Lloyd Motor Group. This hands-on experience will allow you to feel how the Picanto handles, assess its comfort, and experience its features firsthand. Find your local Lloyd Kia dealership today and explore our Kia Picanto second hand cars.
Frequently Asked Questions about the Kia Picanto
How does the Kia Picanto compare to other subcompact cars?
Efficiency: The Picanto often offers good fuel efficiency, making it an economical choice for daily commuting or driving through cities.

Compact Size: It's the smallest car from Kia range, which makes it handy for manoeuvring, and easy to park in crowded urban environments.

Affordable Pricing: The Picanto is often competitively priced, offering good value for its features and capabilities.
Is the Kia Picanto good for city driving?
Yes, the Kia Picanto is well-suited for city driving and is a practical and convenient choice for urban drivers. Its compact size makes it easy to manoeuvre through traffic and park in tight spaces. Additionally, it offers good fuel efficiency, making it cost-effective for commuting. Its responsive handling further enhances its suitability for navigating city streets.
What are the advantages of purchasing a used Kia Picanto?
One of the most significant benefits of owning a used Kia Picanto is its cost-effectiveness in comparison to purchasing a new car. By purchasing a used Kia Picanto instead of new, you can save a considerable amount of money while still getting a quality car.

Another benefit of owning a used Kia Picanto is its fuel efficiency. The Kia Picanto is known for its good fuel economy, making it an ideal car for those who want to save money on fuel.

Kia is known for producing reliable cars, and the Picanto is no exception. For extra peace of mind, all of our used Kia Picantos come with a warranty.
What are the safety features available in the Kia Picanto?
The Kia Picanto comes with a range of built-in safety features, that may vary by trim level and model year. Features can include forward Collision-Avoidance Assist (FCA,) ABS with Electronic Brakeforce Distribution, and Electronic Stability Control.
Lloyd Kia Customer Reviews
Rating based on 5,005 verified reviews

The best people with me to help me out with my new car, always there for you.
Linda Harper
South Lakes Kia - May, 2023

Excellent service and experience from Curtis Bennett and all the team at Lloyd Kia in Carlisle.
Matthew Shearer
Carlisle Kia - August, 2023