Used Kia Rio
The Kia Rio is a compact car that combines a modern design with practicality, making it an ideal choice for commuting and beyond.

Representative example
Monthly payment
£288.97 p.m
Amount of credit
£15,995.00
Total amount payable
£26,093.59
Used Kia Rio for Sale
As a top-performing hatchback, the Kia Rio has long been praised for its exceptional value, impressive fuel efficiency, and spacious interior. We have a range of used Kia Rio's for sale to meet your needs and budget, including the Kia Rio 2 and Kia Rio Automatic. Whether you're looking for a nearly new Kia Rio or a second-hand option, you can easily browse and reserve the Kia Rio of your choice for just £99 with our user-friendly online platform.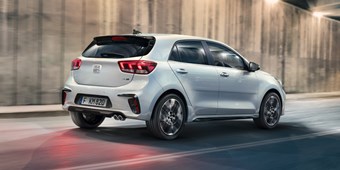 Enquire on your chosen used Kia Rio
As an approved Kia dealer, we stand by the quality of all our used Kia Rio vehicles. Each one undergoes a rigorous inspection process to ensure that it meets our high standards of safety and reliability. Plus, we offer a range of finance options to help you secure your Kia Rio at a price you can afford. If you're searching for a used Kia Rio near you, look no further, you're sure to find the perfect car for your needs in our inventory. Browse our used Kia Rio's for sale today and take the first step towards owning a reliable and affordable car that you'll love to drive.
More about Used Kia Cars at Lloyd Motor Group
If you haven't found what you're looking for, we also have a wide range of other used Kia models to choose from at Lloyd Motor Group.
Why Buy a Used Kia Rio from Lloyd?
Our mission at Lloyd Motor Group is to earn our customers' loyalty through the delivery of market-leading sales and aftersales experiences that continually exceed expectations.
We've Got History
Starting their journey in 1976, Lloyd Motor Group have been supporting drivers for almost half a century.
The Full Package
In addition to our wide range of Kia cars, both of our Lloyd Kia centres offer a comprehensive range of aftersales services, including servicing, parts, MOTs and repairs.
Unique Showroom Experience
Whether you're looking for a new or an Approved or Assured Used Kia, our dedicated Lloyd Kia teams are here to help you find exactly what you're looking for.
Used Kia Rio Buying Guide
Have you been considering purchasing a used Kia Rio? The Kia Rio boasts a reputation for reliability, efficiency, and a modern design. Our guide below will ensure you navigate the process of buying a used Kia Rio with confidence, and will help you to find a car to suit your preferences and budget.
Research the Different Model Years
When starting your search, it's a good idea to understand the different generations of the Kia Rio. Each iteration offers varying features, technology, and safety enhancements. Browse our selected of used Kia Rios for sale above, and find the one that best suits your needs.

New or Used Kia Rio?
While a new car can offer the latest features, a used Kia Rio can provide fantastic value. When starting your search, consider whether a new Kia car or a used car aligns better with your needs and budget.

Features and Trim Levels
Familiarise yourself with the various trim levels and available features. This ensures you select a Rio that matches your lifestyle and preferences. Kia Rio trim levels include Rio 1, Rio 2, Rio 3, and GT-Line S, all of which come with a variety of different features, from standard options to top-of-the-range.

Features Available on Kia Rios
The Kia Rio comes with a variety of features and options, including safety technology and infotainment systems. Take note of the available features, and prioritise based on your preferences and needs.

Test Drive Your Chosen Kia Rio
Be sure to take a test drive so you can experience the Kia Rio firsthand. You can schedule your test drive at your local Lloyd Kia dealership today. By following these steps, you'll be well-prepared to choose a used Kia Rio that suits your preferences and budget.
Frequently Asked Questions about the Kia Rio
What are the different trim levels available for the Kia Rio?
The Kia Rio is available in a variety of trim levels, including Rio 1, Rio 2, Rio 3 and Rio GT-LINE S. Whilst features can vary between model year and trim level, the Kia Rio 1 has the more basic features such as air conditioning, front electric windows and infotainment display, and the GT-LINE S trim can offer top-of-the-range features such as 17" alloy wheels, sports steering wheel, keyless entry and front parking sensors.
What are the advantages of buying a used Kia Rio?
There are several advantages to purchasing a used Kia Rio rather than a new one:

Lower price: Used Kia Rios are generally more affordable than new ones, which can be a major advantage if you're on a budget.

Less depreciation: Used cars depreciate more slowly than new cars, so you will lose less money if you decide to sell the car in the future.

Reliability: The Kia Rio is well-known for being reliable car, and offers a variety of safety features to keep you and your passengers safe on the road.

Warranty coverage: All of our used Kia Rios come with a warranty to give you piece of mind.
Is the Kia Rio good for city driving?
The Kia Rio is a small car that is easy to maneuver in tight spaces, making it a great choice for city driving and for commuting drivers. It also gets good fuel economy, which can save you money on fuel.
What is the interior like in the Kia Rio?
The Kia Rio has a spacious interior for a subcompact car, with comfortable seats and a great amount of legroom. The interior offers a clean and simple design, and can offer features such as air conditioning, door pockets, centre console storage and premium cloth upholstery.
Lloyd Kia Customer Reviews
Rating based on 5,005 verified reviews

Brilliant service
Bernadette Barnes
South Lakes Kia - August, 2023

The most friendly and knowledgeable team, always create a warm welcome!
Laura Benson
Carlisle Kia - November, 2023

Overall experience was very good. Excellent service from sales executive Harry Mak.
Mike. C
South Lakes Kia - May, 2023

Lloyd Kia South Lakes made the process of buying a car easy with minimal stress. Recommended!
Jack McCall
South Lakes Kia - July, 2023