Used Kia Sorento
Discover our selection of quality and reliable used Kia Sorentos.
Representative example
Monthly payment
£288.97 p.m
Amount of credit
£15,995.00
Total amount payable
£26,093.59
Used Kia Sorento for Sale
If you're looking for a used Kia Sorento for sale, look no further than Lloyd Motor Group. We have a wide selection of pre-owned Kia Sorentos from various model years, offering features like third-row seating, advanced safety systems, Apple CarPlay and Android Auto integration, and available all-wheel drive. No matter what you're looking for in your next SUV, Lloyd Motor Group has a used Kia Sorento that will fit your preferences and budget.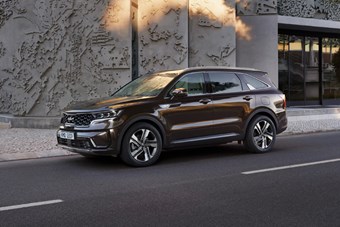 Enquire on Your Chosen Used Kia Sorento
As an approved Kia dealer, we stand by the quality of all our used Kia Sorento vehicles. Each one undergoes a rigorous inspection process to ensure that it meets our high standards for safety and reliability. Plus, we offer a range of finance options to help you secure your Kia Sorento at a price you can afford. If you're searching for a used Kia Sorento near you, look no further - you're sure to find the perfect car for your needs in our inventory. Browse our used Kia Sorento's for sale today and take the first step towards owning a reliable and affordable car that you'll love to drive.
More about Used Kia Cars at Lloyd Motor Group
If you haven't found what you're looking for, we also have a wide range of other used Kia models to choose from at Lloyd Motor Group.
Why Buy a Used Kia Sorento from Lloyd?
Our mission at Lloyd Motor Group is to earn our customers' loyalty through the delivery of market-leading sales and aftersales experiences that continually exceed expectations.
We've Got History
Starting their journey in 1976, Lloyd Motor Group have been supporting drivers for almost half a century.
The Full Package
In addition to our wide range of Kia cars, both of our Lloyd Kia centres offer a comprehensive range of aftersales services, including servicing, parts, MOTs and repairs.
Unique Showroom Experience
Whether you're looking for a new or an Approved or Assured Used Kia, our dedicated Lloyd Kia teams are here to help you find exactly what you're looking for.
Used Kia Sorento Buying Guide
The Kia Sorento is a popular midsize SUV that offers a comfortable drive, lots of passenger and cargo space, and available four-wheel-drive. When shopping for a used Kia Sorento, there are a few key things to consider to help you find the perfect one for you.
Use Kia Sorento Model Generations
When shopping for your perfect used Kia Sorento, consider the model generation you'd like to go for. Each generation of the Kia Sorento brought advancements in design, technology, and performance. The current Sorento generation showcases a bold design, with a range of powertrain options, including hybrid and plug-in hybrid variants. It emphasizes modern technology, improved interior space, and increased focus on efficiency and versatility.
New or Used Kia Sorento?
Deciding if you should buy new or used comes down to your budget and how much the latest features matter to you. Buying new gets you the latest Sorento innovations in performance, comfort, connectivity and active safety features. However, buying a used Kia Sorento provides great value, with used models only a few years old providing nearly the same experience at a much lower price.
Features Available on the Kia Sorento
Features on used Sorentos vary by model year and trim levels. Depending on the model year and trim chosen, features can include heated seats, Head Up Display, power panoramic sunroof, navigation, premium audio and more. Safety tech can also include collision avoidance assist, blind spot monitoring and rear cross traffic alert. Compare features when used Sorento shopping to find the right match of capability, technology and value for your preferences.
Test Drive Your Chosen Kia Sorento
Be sure to take a test drive so you can experience the Kia Sorento firsthand. You can schedule your test drive at your local Lloyd Kia dealership today. By following these steps, you'll be well-prepared to choose a used Kia Sorento that suits your preferences and budget.
Frequently Asked Questions About the Kia Sorento
What are the advantages of buying a used Kia Sorento?
There are several advantages to buying used Kia Sorento over a brand-new one:

Savings - Used Sorentos can offer huge savings over buying new.

Proven Reliability - The Kia Sorento has an excellent reputation for reliability and durability. Choosing a well-maintained used model from Lloyd Motor Group means years of dependable driving.

Features for Less - You can often get higher trim packages on used Sorentos that might be out of budget on a new model. This allows for more luxury features at a more affordable price point.

Lower Depreciation - Buying used avoids that initial new car depreciation.
What fuel types are available for the Kia Sorento?
The Kia Sorento is available as a petrol hybrid, Plug-In Hybrid or Diesel.
Is the Kia Sorento Practical?
Yes, the Kia Sorento is generally considered a practical choice among midsize SUVs. It offers several features that contribute to its practicality:

Spacious Interior: The Sorento typically has ample passenger space, including a comfortable second row and, in newer models, a third-row seat, accommodating up to seven passengers.

Cargo Capacity: The Sorento offers a good amount of cargo space, especially with the third-row seats folded down, providing enough room for luggage or shopping.

Safety Features: Kia equips its vehicles with a range of safety features. The Sorento includes advanced driver-assistance systems and safety technologies that contribute to a safe driving experience.
Lloyd Kia Customer Reviews
Rating based on 5,005 verified reviews

Fantastic service - very friendly and honest. Would recommend this team if you need a new car.
Anonymous
South Lakes Kia - July, 2023

1st class service, courteous and professional received from Stuart Lynch and other staff
Deborah Braithwaite
South Lakes Kia - October, 2023

Throughout the process Brian was very helpful and everything went smoothly. Would highly recommend.
Alan Postlethwaite
South Lakes Kia - May, 2023

Excellent customer service.
Joanne Brown
South Lakes Kia - November, 2023

Faultless service, highly recommend
Kate Brown
Carlisle Kia - November, 2023