Used Nissan Cars
Our inventory of used Nissan cars has something to suit every taste and lifestyle.
Representative example
Monthly payment
£288.97 p.m
Amount of credit
£15,995.00
Total amount payable
£26,093.59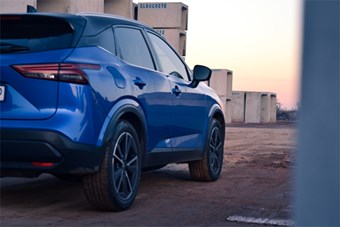 Used Nissan
If you're in the market for a used Nissan, we offer a wide range of models to suit every need and budget and Lloyd Motor Group. From a compact and sporty used Nissan Juke to a versatile and practical used Nissan Qashqai, our range of used Nissan cars is sure to have something that meets your requirements. Whether you're looking for a city car like a used Micra, a family-friendly vehicle like a used Nissan X-Trail, or an eco-friendly option like a used Nissan Leaf, we have a wide selection to choose from. 
Enquire on You Chosen Used Nissan
At Lloyd Motor Group, we're committed to providing exceptional customer service and ensuring that all of our customers are pleased with their used car purchase. We take great care in ensuring that each of our used Nissans is thoroughly checked over and in excellent condition - Our highly trained technicians inspect every part of the vehicle to ensure that it meets our rigorous standards.
More About Used Cars at Lloyd Motor Group
Why Buy a Used Nissan from Lloyd
Our mission at Lloyd Motor Group is to earn our customers' loyalty through the delivery of market-leading sales and aftersales experiences that continually exceed expectations.
The Full Package
We can offer you the full range of automotive services tailored to meet your needs and requirements.
We've got History
Founded in 1976, Lloyd Motor Group has supported drivers for nearly half a century.
Unique Showroom Experience
The experience of visiting our showrooms is second to none, providing a relaxing environment from state-of-the-art retail and service centres.
Used Nissan Buying Guide

Nissan offers a range of reliable models that hold their value well – If you're considering purchasing a used Nissan car, here are some key points to consider before you make your decision.
Why Choose Nissan?
Nissan is known for its exceptional blend of reliability, innovation, and style. With a diverse model range, including popular options like Micra, X-Trail, and Leaf, there's a Nissan for every type of driver and lifestyle.

Nissan Model Range
At Lloyd Motor Group, our inventory of used Nissan cars features models such as used Nissan Qashqais for sale, dynamic used Nissan Jukes and more. Whether it's the efficiency of the Nissan Leaf or the versatility of the X-Trail, we have a used Nissan to match your preferences.

Why Buy a Used Nissan at Lloyd Motor Group?
At Lloyd Motor Group, we take pride in offering a curated selection of top-quality used Nissan cars. Each vehicle is meticulously inspected to ensure reliability and performance, providing you with peace of mind in your purchase.

Features of Nissan Cars
Nissan cars are known for their advanced technology, comfortable interiors, and impressive safety features. Whether you're eyeing the Nissan Qashqai Tekna trim or considering a Nissan Juke automatic, you can expect a host of innovative elements that elevate your driving experience.

How to Buy a Used Nissan at Lloyd Motor Group
Start by browsing our online listings or visiting your local Lloyd dealership to see the Nissan cars we have available.
Request a personalised walkaround video of the car you're interested in.
Once you've found a used Nissan that catches your eye, schedule a test drive with us at your local Lloyd retail centre to experience it firsthand.
Reserve your chosen used Nissan online for just £99.

For those searching for a "Nissan near me," Lloyd Motor Group is your trusted destination. Our selection of used Nissan cars ensures you'll find the perfect match for your needs. Browse our range of used Nissan cars for sale today.
Customer Reviews
Rating based on 5,005 verified reviews

A really good experience with good communication and successful repair
Simon Barnes
York Jaguar - August, 2023

Very friendly and helpful. A modern up to date dealer and garage with good old fashion values
Ian Brocklehurst
Carlisle Honda Motorcycles - November, 2023

Excellent place to buy a BMW
Kayser Tomal
Newcastle BMW - September, 2023