20 November 2023
Ellis is one of the best Service Client Advisors in the country.
Ellis proves she is one of the best!
On Thursday 9th November, Jaguar Land Rover hosted their annual Retailer Colleague of the year awards at Leamington Spa. The prestigious night brings together some of the finest talents of the UK service industry to recognise and celebrate achievements of individuals who delivered exceptional customer service. Ellis Conder, our resident Service Advisor at Lloyd Land Rover Leyburn triumphed. Placing runner up, she becomes one of the top 6 JLR Service Client Advisors in the UK. We caught up with Ellis to ask her about the big day.
1: How do you feel about your achievment?
Its hard to comprehend that I am one of the top 6 service advisors for JLR in the UK. I am extremely proud of how far I came in the competition, especially considering I come from possibly the smallest JLR centre in the UK. Since winning, I've definitely felt the community spirit with customers bringing me in cakes, homemade brandy snaps, I've been treated like royalty!

2: Did you enjoy the experience of the awards ceremony? Tell us all about it.
The whole experience from start to finish was incredible. We arrived at the hotel on the Wednesday and was shown to our room. There, a goody bag had been left for us full of JLR merchandise such as phone chargers, books and clothing.

At the JLR academy, the red carpet had been laid out for us and we were met by a crowd of employees applauding. It was really quote "overwhelming". The evening was very glitz and glam and I even managed to wear heels for the first time!

From start to finish, the whole experience was flawless. All being well, I will be trying again for 2024.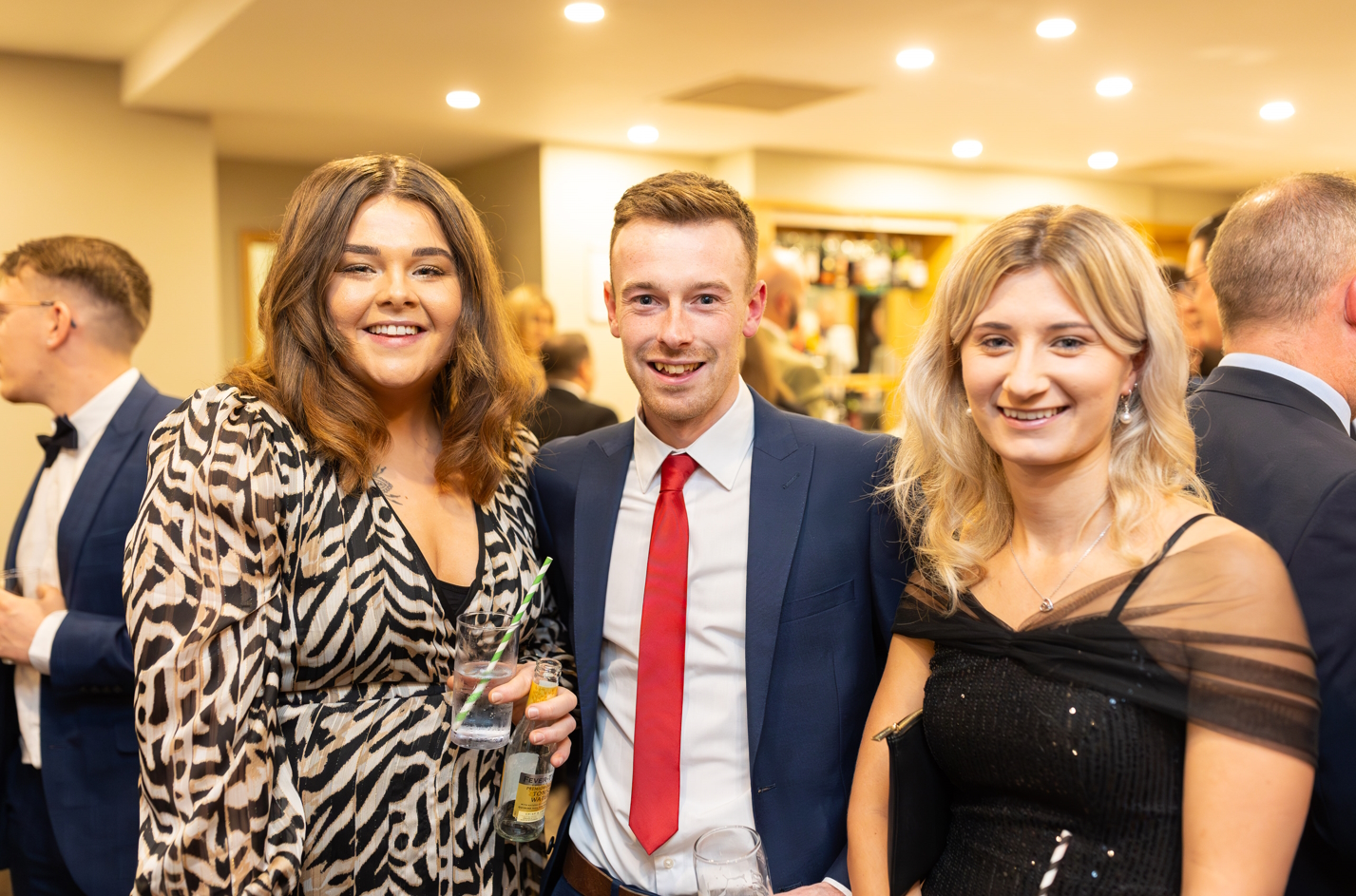 Ellis with her colleague from Lloyd Land Rover Leyburn, Peter Walker and his partner on the awards evening.
3: Whats your favourite thing about the role?
I have been a service advisor for six years now and I can't see myself doing anything else. I love the variety of people I get to meet daily and work hard to build a strong rapport with them all.

My role differs slightly to your typical service advisor as I also help with parts. This helps to keep my role different and interesting. I particularly enjoy booking a client in, pricing up their VHCs and showing them back out. I like to feel involved with every client that comes in the door.

My team at Leyburn are the best. There are currently only 9 employees at our site, and we are all very close, making every day enjoyable. We like to go out as a team for meals, day trips on weekends, I wouldn't change any of them for the world.

4: Why did you want to work for Lloyd Motor Group?
I joined Lloyd in July 2021. Looking for a new job opportunity, I happened to see the advertisement for a service advisor position at Leyburn. I have always lived within 10 miles of Leyburn so a closer job made a lot of Sense. Luckily, I already knew two members of staff who worked here, and we got talking.

After hearing about the tight knit team, I knew Leyburn was the place for me. I applied for the job, had an interview the same day and got the job the following day!

Best decision I have ever made, I love working here.

5: Tell us 2 truths and 1 lie about yourself
I once appeared on an episode of the chase. Granted I did not win anything, but my comment "If I won some money today, I would buy a Volvo" has been a running joke for the past 5 years!

I'm fluent in German, Spanish, French and Welsh

My nana's Christmas tree has been up for 12 years. It was starting to sag slightly so we tied it to the roof, once a year it gets a good dusting.

On behalf of all Lloyd Motor Group, we want to congratulate Ellis on her amazing achievement. Well done!



The Lie is: Ellis is not fluent in 4 languages!