Used Ford Kuga
The Ford Kuga offers exceptional comfort and next-gen connectivity.
Representative example
Monthly payment
£288.97 p.m
Amount of credit
£15,995.00
Total amount payable
£26,093.59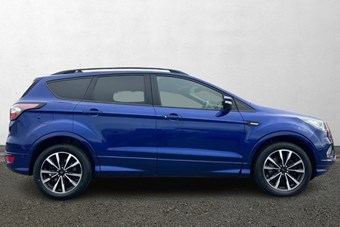 Used Ford Kuga
Looking for a used Ford Kuga for sale? A practical crossover SUV with a spacious interior and a large boot, the Ford Kuga is ready for whatever life has in store. It offers reliability and room alongside the consistency of performance that Ford is renowned for. If you are in the market for a used Kuga, you can use the search filters on the left-hand side to narrow down your options by budget, fuel type, mileage and more.
Enquire on your chosen Kuga
When you find a used Ford Kuga for sale that you're interested in, you can request a personalised walkaround video, book a test drive or appointment and reserve online for £99. Lloyd Approved is the smartest way to buy an Approved Used Ford. When you buy a used Ford Kuga from Lloyd Motor Group, you can be sure you're getting a high-quality car that has been fully checked and tested by our expert team. Every car comes with 12-month unlimited mileage warranty, MOT test cover, and over 150 checks by our trained technicians.
Browse similar models to the Ford Kuga
If you haven't found what you're looking for, we also have a wide range of other used Ford models to choose from at Lloyd Motor Group.
Why Buy a Used Ford Kuga from Lloyd
Our mission at Lloyd Motor Group is to earn our customers' loyalty through the delivery of market-leading sales and aftersales experiences that continually exceed expectations.
The Full Package
We can offer you the full range of automotive services tailored to meet your needs and requirements.
We've got History
Founded in 1976, Lloyd Motor Group has supported drivers for nearly half a century.
Unique Showroom Experience
The experience of visiting our showrooms is second to none, providing a relaxing environment from state-of-the-art retail and service centres.
Ford Kuga Buying Guide
A used Ford Kuga might be just what you need if you require a reliable car which doesn't forsake performance. As a world renowned car brand, Ford is renowned for its reliability, performance, and attention to detail. The Kuga is no exception, as it combines performance and practicality into the complete package of this compact SUV . Here are some benefits of owning and driving a used Ford Kuga:
The Affordable Price of a Used Ford Kuga
One of the main advantages of buying a used Ford Kuga is that you can save money. Since it's inception in 2008, the Ford Kuga and has been a mainstay on British roads so there are a number of options available at competitive prices. Whether you're looking for a basic model or a fully loaded one, you can find a used Ford Kuga that fits your budget and preferences.
Used Kuga's High-Quality Build
Ford is known for its high-quality construction and attention to detail, and the Kuga is certainly no exception. Even as a used car, it offers a solid and reliable build that will certainly hold its own as you put it through its paces. With its advanced features, such as Active Park Assist - once engaged, shift into reverse, take your hands off the wheel and the system will steer your vehicle into a parallel parking space as you control the speed.
Advanced Technology on a Kuga
As a modern car, the Kuga comes with a range of advanced technologies that will certainly enhance your driving experience. Depending on the model and year, you can find features like the FordPass Connect is a connected car system which affords compatibility with the FordPass app, adaptive cruise control, traffic sign recognition, B&O Play premium audio and much more.
Ford Kuga's Fuel Efficiency
The Ford Kuga is available in various engine options including a plug in hybrid drive train which is capable of dramatically increasing your MPG return.
The Kuga is a supersized Ford. With its impressive stature and powerful presence, the Kuga is a Ford like no other. Inside, the Kuga offers a very spacious and comfortable cabin for driver, passengers and plenty of cargo.
Test Drive your chosen Used Kuga
Finally, schedule a test drive with your local Lloyd Dealership to experience the Ford Kuga firsthand. Get to know this Ford and ascertain whether or not it's the right one for you. Whatever your needs and preferences, a used Ford Kuga will provide you with a safe, reliable, and stylish ride that you'll enjoy for years to come.
Frequently Asked Questions about the Ford Kuga
What are the trim levels on a Ford Kuga?
Zetec: The Zetec trim level is the base model, but it still comes standard with a number of features, including SYNC 3, a rearview camera, and air conditioning.
Titanium: The Titanium trim level adds features such as 18-inch alloy wheels, a panoramic sunroof, and a heated steering wheel.
ST-Line: The ST-Line trim level adds a sporty touch to the Kuga, with features such as 19-inch alloy wheels, a body kit, and red stitching throughout the interior.
Vignale: The Vignale trim level is the top-of-the-line model, and it comes standard with features such as 20-inch alloy wheels, a premium sound system, and leather seats.
What size engines are available on the Ford Kuga?
1.5L EcoBoost: The 1.5L EcoBoost engine is a turbocharged petrol engine that produces 147hp or 179hp of power. It's a fuel-efficient engine that can deliver up to 42.8 mpg on the combined cycle.
2.0L EcoBoost: The 2.0L EcoBoost engine is a turbocharged petrol engine that produces 187hp or 246hp of power. It's a more powerful engine than the 1.5L EcoBoost engine, but it's also less fuel-efficient.
2.0L EcoBlue: The 2.0L EcoBlue engine is a turbocharged diesel engine that produces 144hp or 187PS of power. It's a fuel-efficient engine that can deliver up to 51.4 mpg on the combined cycle.
Plug-in hybrid: The plug-in hybrid engine is a combination of a 1.5L EcoBoost petrol engine and an electric motor. It can deliver up to 34 miles of all-electric driving range.
What are the safety features of the Ford Kuga?
Awarded a 5 Star Euro NCAP rating. Safety options available on a Ford Kuga vary depending on the trim level and model year. However, some of the most common safety features available on the Kuga include: Lane departure warning system which alerts if you start to drift from your lane, Blind Spot Monitoring system alerts you of any vehicles in your blind spot whilst Automatic Emergency Braking will automatically apply the brakes if the car senses that a collision is imminent.
What is the interior of the Ford Kuga like?
​Inside the Ford Kuga you'll find a cabin which is similar to the Focus hatchback, which means a good level of quality and a dash layout that is simple and easy to navigate. Newer models feature a 12 inch central touchscreen which runs Ford's SYNC 3 infotainment system. Sleeker, smarter and with lots of on-board tech, the Kuga is well equipped for family life.
Customer Reviews
Rating based on 5,005 verified reviews

First class dealership.
Dennis Riggins
South Lakes BMW - May, 2023

Great service and a great hot chocolate
Margaret Blackburn
Carlisle Volvo - July, 2023

Great staff, great service
Dave Turner
Blackpool BMW - March, 2023