22 October 2023
Lloyd Blackpool Business Development Manager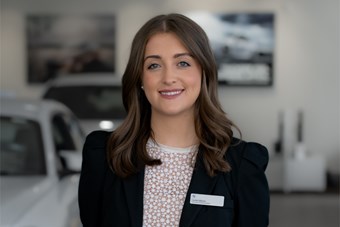 Meet Local Business Development Manager, Lauren!
Lauren has worked for the BMW and MINI brands for almost 6 years now, starting her role as a product genius and working her way up to her current role. As our Lloyd Blackpool Local Business Development Manager, Lauren has the expertise to guide you through the various car and finance options available for you and your business. Read on to find out more about Lauren and her passion for the brand, or contact her directly using the button below.
Contact Lauren via Email
Let's start at the beginning! Tell us a little bit about yourself.

I'm Lauren, I am 25 years old and I have worked for the BMW and MINI brand for just shy of 6 years. My journey began as a BMW Product Genius, later transitioning to the role of a BMW Sales Executive, which I embraced for about four years before stepping into my current role as the Local Business Development Manager at Lloyd Blackpool BMW & MINI, starting last October.


What drew you to Lloyd Motor Group and your position as Business Development Manager?

My parents had BMWs when I was growing up, so for me working with BMWs was only a natural decision. I saw Lloyd Motor Group from a customer perspective and seeing the way they look after their customers and staff was what really drew me to want to work for Lloyd Motor Group. When I was a Sales Executive, I started speaking to more customers who wanted to purchase and lease cars through their businesses, and it just so happened that when the position for Business Development Manager arose, I had my own portfolio of business customers to bring to the table.


How long have you been in the role, and what qualities do you believe make a good Business Development Manager?

I have been a Business Development Manager for a year now and I am thoroughly enjoying it. You must be very driven and self-disciplined. Most importantly, a genuine passion for the brand and a willingness to exceed customer expectations are fundamental.


What do you love most about your job?

I have many loyal customers that I can happily say are more like friends than customers now. It is such a great feeling knowing that you have done the job well enough to help nourish that relationship into a friendship. It definitely makes selling cars much easier!


What has been the highlight when working with Lloyd Motor Group?

A memorable highlight for me was in March 2021 when my colleague and I created a New Model Launch video for the BMW M3 and M4 Competition. The video received an overwhelming response, gaining 12,500 views within just 24 hours.


What is your favourite car?

Within the BMW range, choosing a favourite is a challenge. For BMW, I find myself torn between the i4 and the X5, both remarkable in their own right. As for MINI, the Convertible JCW is a personal favourite.


What do you love about the BMW Brand?

BMW, to me, epitomizes the perfect fusion of luxury and performance, all while prioritizing sustainability. The expansive range of models they offer ensures there's a car for every driver.


What do you love about the MINI Brand?

MINI exudes a sense of trendiness and style. Aside from the amazing cars, I love that MINI has partnered up with Dogs Trust UK. MINI is the first Dogs Trust Supported, Dog friendly car retailer. MINI UK are committed to help the nations dogs travel happier, and as a dog mum myself, this adds another layer of pride for the brand I represent.


Do you drive an EV? If so tell us about your experience?

I have had the privilege of driving electric vehicles for the past few years. I began with the BMW i3, subsequently transitioning to the i4, and presently, I have had the opportunity to experience two IX3s. EVs offer a seamless and comfortable driving experience while aligning with my concern for the environment. What's not to love?


What are you most looking forward to for the next 12 months?

I'm eagerly looking forward to witnessing the latest BMW & MINI models hitting the market. Additionally, I'm excited about creating engaging videos that showcase these new models and further engage our audience. It promises to be an exciting journey!

Lloyd BMW Business Offers
We always have an extensive selection of exclusive offers and deals across our BMW range, to ensure that you and your employees can get behind the wheel of a vehicle you'll love.
Lloyd MINI Business Offers
With our new MINI business offers, we aim to make driving a new car as affordable as possible for your business, with deals to suit a variety of budgets.