17 October 2023
Lloyd Cockermouth Business Development Manager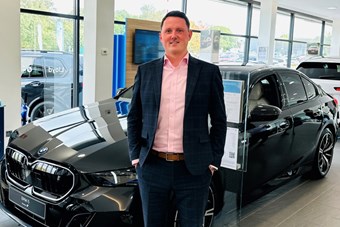 Meet Alex, Our Business Development Manager at Lloyd Cockermouth!
This month, we've been catching up with our Lloyd BMW and MINI Corporate Team, getting to know more about them and their roles. Today, we're shining the spotlight on Alex Cronin at Lloyd Cockermouth! Whether you're a company car driver or have a national fleet, Alex is here to help you identify the right car and finance solution for you and your business. Read on to find out about what Alex loves about his job and the BMW & MINI brands, or contact him using the button below.
Contact Alex Via Email

Let's start at the beginning! Can you tell us a little bit about yourself?
"I'm Alex, lucky enough to live in West Cumbria and have been in the motor trade for a total of around 8 years across two different manufacturers. I owned my first BMW in 2011 - it was my second car and I absolutely loved every minute with my 120d M-Sport, and have had a passion for the BMW brand ever since.

"On the rare occasion you'll find me away from the office, you tend to find me embarrassing myself on the golf course!"

What drew you to Lloyd Motor Group and your position as Business Development Manager?
"I started in the motor trade with a different manufacturer in Cockermouth which was a great introduction to the trade, but always had one eye on the BMW Showroom across town. Lloyd Motor Group is the very best when it comes to the industry in Cumbria and the North of England, so when an opening arose my application was in and I pestered the management team through LinkedIn to get my foot in the door. I haven't looked back since.

"I was asked to take on the role of BDM a little earlier this year and have found big differences between this role and the Sales Executive role. The ability to get away from the showroom and speak with clients in their own location allows me to get talking and share my passion for the brand with more and more people, which is great".

How long have you been in the role, and what qualities do you believe make a good Business Development Manager?
"I've now been a BDM for about four months and enjoying the new challenges it offers. I believe a lot of the traits I used as a Sales Executive in a Premium Sector have been transferable into this new role. When working with a brand like the BMW Group, you have to have the ability to constantly deliver an exceptional service, be highly organised and always go above and beyond for your clients. A genuine passion for the brand and the direction it is taking always helps in conversation".

What do you love most about your job?
"The people I've had the pleasure to work with at Lloyd Motor Group have been brilliant and have made friends for life over the 5, 6 years (so far!) I've been here. I've also been lucky enough to have a great support group and management team that have been a huge help in my development. But who am I kidding, I get to spend A LOT of time with a brilliant product doing a job I love".

What has been the highlight when working with Lloyd Motor Group?
"There's been a few things. I've been incredibly lucky in my time with the group. Having the opportunity to travel down to Silverstone to drive the M3, M4 and M5 Competitions around the world-famous track for the day was definitely a highlight.

"I've also just returned from the BMW PGA Championship at Wentworth where I got to experience the 'Best Seat in the House', a seat inside the BMW i5 tucked away within the 18th Grandstand, as well as rubbing-shoulders with the worlds-best golfers. That was a great experience. But sitting at home one night and getting a call from a football player who plays for my favourite Premier League team was a surreal moment – Just goes to show, if you look after everybody to the highest standard you never know who you'll get referred to".

What is your favourite car?
"Wow, what a question; it seems to change with every new model release.

If we're talking iconic, the BMW 507 Roadster immediately comes to mind. Hard-top/soft-top, it doesn't matter. At the moment I love what BMW have done with the M3 Competition M xDrive Touring but… Having now seen and spent some time with the i5 M60, that is a brilliant car BMW have done exceptionally well with".

What do you love about the BMW Brand?
"BMW have always been at the forefront of innovation and technology, they're an iconic brand that everyone knows. The history of BMW and their models is fantastic and its vision for the future is something I'm really excited about".

What do you love about the MINI Brand?
"MINI are just a fun brand. The cars have always had and still have a load of character and I really like the fact, although slightly bigger, they're still distinctly connected to the original concept. The new models coming through towards the end of this year look brilliant and I think they're going to prove very popular".

Do you drive an EV? If so tell us about your experience?
"I've been very lucky to have had several EVs now, the BMW i4 eDrive40 M-Sport has been a particular favourite thus far and I can honestly say my experience with them has only been positive. Having carried out both short and long journeys through all-four seasons I'm fully-converted to the switch and will now always look at taking up another EV as my demonstrator vehicle, my next again being exactly that".

What are you most looking forward to for the next 12 months?
"There's a lot coming our way, the new MINIs coming towards the end of this year and next year look a really good and progressive upgrade from the current model. BMW will also be closing in to their Neue Klasse range being available and the list of several new models expected through are going to pique interest from customers both new to the brand and old. An exciting time to be working with the BMW Group as a whole!"

Lloyd BMW Business Offers
We always have an extensive selection of exclusive offers and deals across our BMW range, to ensure that you and your employees can get behind the wheel of a vehicle you'll love.
Lloyd MINI Business Offers
With our new MINI business offers, we aim to make driving a new car as affordable as possible for your business, with deals to suit a variety of budgets.