07 March 2023
Nick's promotion from Technician to Assistant Service Manager
Everyone meet Nick Allen!

Nick has worked for Lloyd Cockermouth for nearly 3 years after relocating from London to Cumbria. Nick worked as a technician until recently being promoted to Assistant Service Manager. This is an unconventional route for a technician to take and Nick has been able to use his years of extensive Technician experience to assist customers and use his knowledge of the workshop environment to help boost productivity.

We had a catch up with Nick to see how he is finding his new role.

Tell us a bit about your

career here at Lloyd Motor Group.
I transferred to Lloyd Cockermouth from BMW Park Lane after relocating from London to Workington, I have worked here as a technician until recently becoming Assistant Service Manager.

What are you enjoying most in your new role?
The new role has very different challenges to being a technician, along with that though is very different rewards. The rewards you get are far greater than that of a technician in my opinion, when everything goes right and the customer can't praise you more, is there a greater reward than that? Ultimate job satisfaction.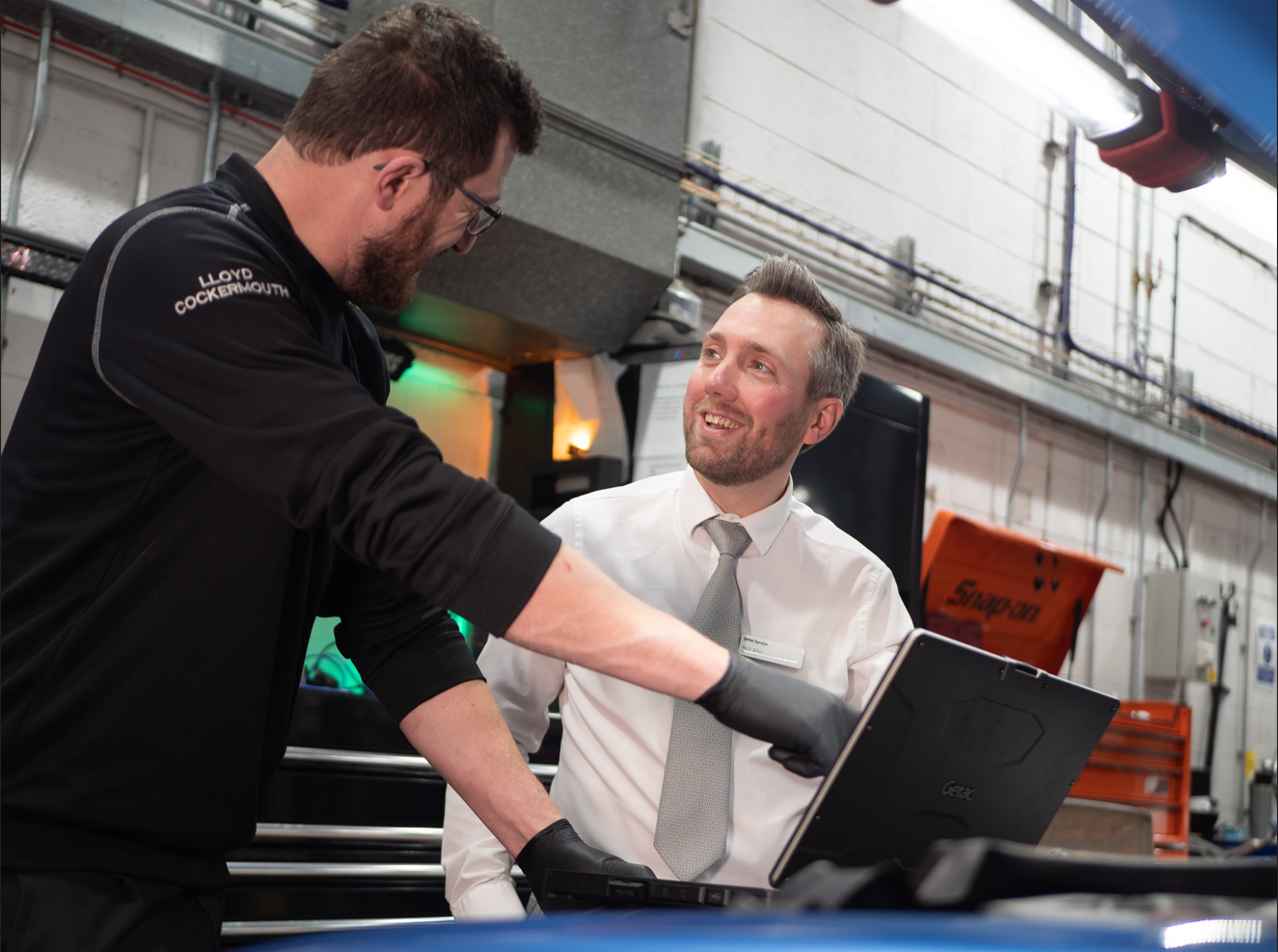 Talk us through a typical day in your role.

Daily tasks involve checking booking for any additional information that may be required once the customer arrives. Having a technical background extracting the right information can ensure that customer issues get resolved more efficiently. Assisting our service advisors when more technical questions are being asked about a issue or repair is another key element of my day. Being able to accurately relay diagnosed faults back to the customer ensures everyone is on the same page as to what is being repaired and why.
What do you like about working for Lloyd Motor Group?

Here at Lloyd everyone works together to ensure the ball is not dropped and that you are supported when you need it. The people here always do whatever they can to help.


Tell us 2 truths and a lie about yourself?*

I ran a Marathon with only 1 week training
I have visited every continent
I used to be a woodwork teacher
If you could invite 4 people to a dinner party, dead or alive, who would it be?

First would be Sir David Attenborough, he has seen so much of the world and how its changed. The stories would be incredible and I imagine inspiring.
Sir Lewis Hamilton as although a multimillionaire his values seem to be very similar to mine, would be interesting to hear all he does and why.
I think it would be very interesting to have one of our Kings or Queens at the table. Queen Elizabeth II or maybe Henry the VIII. Both would shed some light on what goes on and why.

Would be great to have a table that seats 6, 8 or even 10 people though.


This or That?
Phone call or text? Phone, I think. Much quicker but text can be more convenient

Music or Podcasts? Music although do enjoy a podcast for getting motivated

Cardio or Weights? Cardio for sure, that's what gets me up the mountains

Dogs or Cats? Dogs for me, have an Alaskian Malamute who is our little fur baby

Night Owl or Early Riser? Early riser, I struggle to stay awake after 10pm

Coffee or Tea? Got to love a pot of tea. I don't actually like coffee.

City or Countryside? Countryside, lived in London for most of my life and would not move back now.

Smartest person in the world or richest person in the world? Smartest person as hopefully I wouldn't need money.

Take away or Meal out? Meal out, saves the washing up.

Films or Series? I do love a good film. Series take up so much time, still like getting into a good series but its takes up days of your life.





*I have visited every continent is the lie.