Audi Q2 for Sale
Audi's Q2 compact SUV offers luxury interiors and diverse engine options.
1 Filters selected
Clear all
SELECT FILTERS
Before you can select a model, please select a make
Showing 1 to 5 of 5 vehicles
Sort By
Representative example
Monthly payment
£288.97 p.m
Amount of credit
£15,995.00
Total amount payable
£26,093.59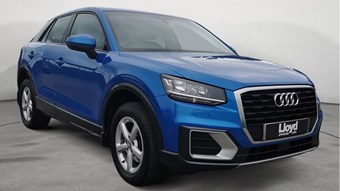 Looking for a used Audi Q2?
Known for its stylish crossover design, comfortable and high-quality interior and responsive handling. The compact SUV offers a balance of fuel economy and performance, making it great for both city driving and longer trips. The Q2's small dimensions make it easy to maneuver through tight spaces, while still providing ample cargo room. If you're in the market for a pre-owned Q2, use the filters to narrow your search by budget, engine, mileage and more to find the right model for you. Test drive one at your local Lloyd dealership, to experience the luxury feel for yourself.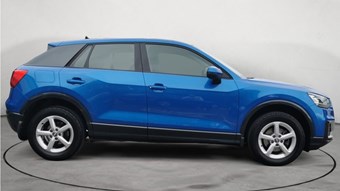 Enquire on your chosen Q2
When you find a used Audi Q2 that you're interested in, you can request a personalised walkaround video, book a test drive or appointment and reserve online for £99. The Lloyd Approved Programme is the smartest way to buy an A1, every car comes with 12-months warranty, MOT Test Cover, Breakdown cover and extensive vehicle safety checks.
More About Used Audis at Lloyd Motor Group
If you haven't found what you're looking for, we also have a wide range of other used Audi models to choose from at Lloyd Motor Group.
Why Buy a Used Audi Q2 from Lloyd
Our mission at Lloyd Motor Group is to earn our customers' loyalty through the delivery of market-leading sales and aftersales experiences that continually exceed expectations.
The Full Package
We can offer you the full range of automotive services tailored to meet your needs and requirements.
We've got History
Founded in 1976, Lloyd Motor Group has supported drivers for nearly half a century.
Unique Showroom Experience
The experience of visiting our showrooms is second to none, providing a relaxing environment from state-of-the-art retail and service centres.
Used Audi Q2 Buying Guide
The Audi Q2 is a great option in the compact SUV segment, renowned for its blend of sophisticated design, premium features, and agile performance. Whether you're seeking a luxurious SUV or an entry point into the esteemed Audi lineup, this short guide will help you to make an informed decision when considering a used Audi Q2.
Why Buy a Used Audi Q2?
The Audi Q2, known for its sleek design and dynamic performance, offering a blend of SUV practicality with Audi's luxury elements. Opting for a used Audi Q2 can provide a more budget-friendly entry into the Audi brand without compromising on style, quality, or features. Used models can offer excellent value, allowing buyers to access higher trim levels or additional options at a lower price point.
Features and Options on the Audi Q2
The Audi Q2 typically comes with a range of features that cater to comfort, convenience, and safety. Depending on the model year and trim level, you can expect options like Audi's infotainment system, advanced driver-assistance systems, luxurious interior materials, panoramic sunroof, various engine choices including efficient diesel or petrol options, and Quattro all-wheel-drive for enhanced traction.

Our selection of used Audi Q2 stock includes a range of model years and trim levels to suit different budgets and needs. Looking for the sporty SQ2? We have some low-mileage models in stock. Prefer cloth seats over leather? Check out our Attraction and Sport trim Q2s. Need extra cargo space? Opt for a Q2 with fold-flat rear seats.
Book a Test Drive at Lloyd Motor Group
At Lloyd Motor Group, we offer a great selection of quality used Audi Q2 models. All of our pre-owned Q2s undergo a rigorous inspection and reconditioning process so you can be confident in their condition. We have a variety of exterior colors and interior upholstery to choose from as well.

To experience the Audi Q2 firsthand, schedule a test drive at your nearest Lloyd dealership. This will allow you to eget a feel for the Q2's responsive handling and luxurious cabin.
Use the filters on our website to narrow your search by age, mileage, fuel type, price, transmission and many more features. Our used car experts can also help you explore finance and payment options to suit your personal finance needs.
Can't find what you're looking for on our website? Reach out and we can help find the right used Audi Q2 for your needs. Contact us to find our more about our Lloyd Approved stock available today.
Frequently Asked Questions about the Audi Q2
What are some of the standout features of the Audi Q2?
The features of the Audi Q2 can vary depending on the model year and trim level chosen, but can include Audi's MMI infotainment system, advanced driver-assistance systems, optional Quattro all-wheel-drive for enhanced traction, and a variety of engine choices catering to efficiency and performance.
Is the Audi Q2 suitable for city driving?
Yes, the Audi Q2 is well-suited for city driving. Its more compact size makes it manoeuvrable and easy to navigate through city streets and parking spaces. Additionally, the Q2's comfortable seating, good visibility, and available driver-assistance features contribute to its city-friendly nature.
How does the Audi Q2 compare to other compact SUVs?
The Audi Q2 is deinfitely a stand-out among other compact SUVs, offering Audi's premium design, a quality interior, and a wide range of available technology and safety features.

While it competes in a highly competitive segment, the Q2 distinguishes itself with its dynamic driving characteristics, and the brand's reputation for luxury and innovation, making it a fantastic option for those searching for a premium compact SUV experience.
Customer Reviews
Rating based on 5,005 verified reviews

Top service from Danny and the team as always, very approachable, friendly and helpful. An excellent experience could not fault anyone!
Will Smith
Blackpool BMW - November, 2023