20 September 2022
Lloyd Cockermouth Technician's week with the BMW i4
Recently, one of our technicians at Lloyd Cockermouth, Nick Allen had a week driving the BMW i4, the first all-electric Gran Coupé of the BMW 4 Series. Read below how Nick found his experience with the BMW i4 and if he made it all the way from Cockermouth to Reading in just one charge!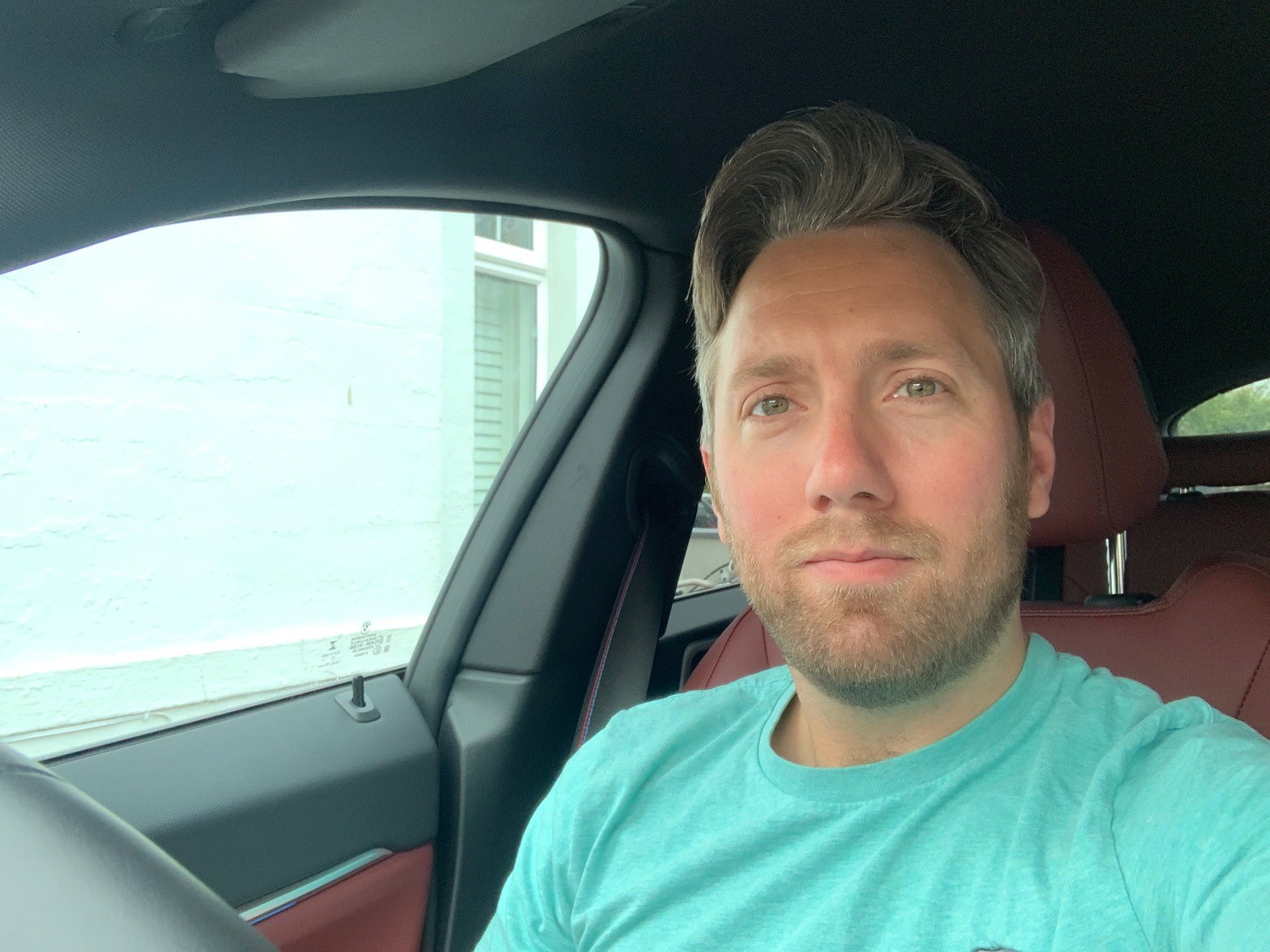 Since my plunge into the EV world almost a year ago with a 2014 BMW i3, BMW, along with pretty much all the other car manufacturers have upped their electric car game. With more car models available and offering bigger and better batteries…Well, I've developed a bit of car envy. So when given the opportunity to take the BMW i4 to a training course over 300 miles away, I snapped it up!

Before I start, I should probably state that in my youth I was very much a petrol head. Nothing too extreme but some definitely had loud 'go' pedals and pretty poor fuel consumption. Somehow, you had bragging rights if you had more CC and achieved less mpg than your friends. How things have changed for me. Now I have to say, I've absolutely loved my move to an EV! I have had to change my mind set on how I approach driving, mainly because the model I bought has a range between 60-90 miles. Managing the batteries charge was the challenge, which actually has become enjoyable as it has become a driving game, a game which I get to play daily! With the i4s' range of up to 365 miles, I wonder what effect this will have on my driving game, or if the game will even exist at all?

Getting Comfortable

As I'm working on these new cars daily the car itself was nothing new to me, but living with one, even for a short period of time is completely unknown territory. Setting up the car so I could use all the available features was quite exciting as well as educational, using the opportunity to gain some more product knowledge on functions the workshop doesn't get to see or use all to often. Assistance from our product genius made setting up a breeze and I was ready and raring to go. I got home, loaded my stuff and set the departure time to ensure the car was prepped for maximum range and efficiency. With 100% charge the car had calculated 304miles. Not bad but door to door my journey was 329 miles, but I still felt confident I'd easily achieve the 365 miles BMW claimed the car was capable of.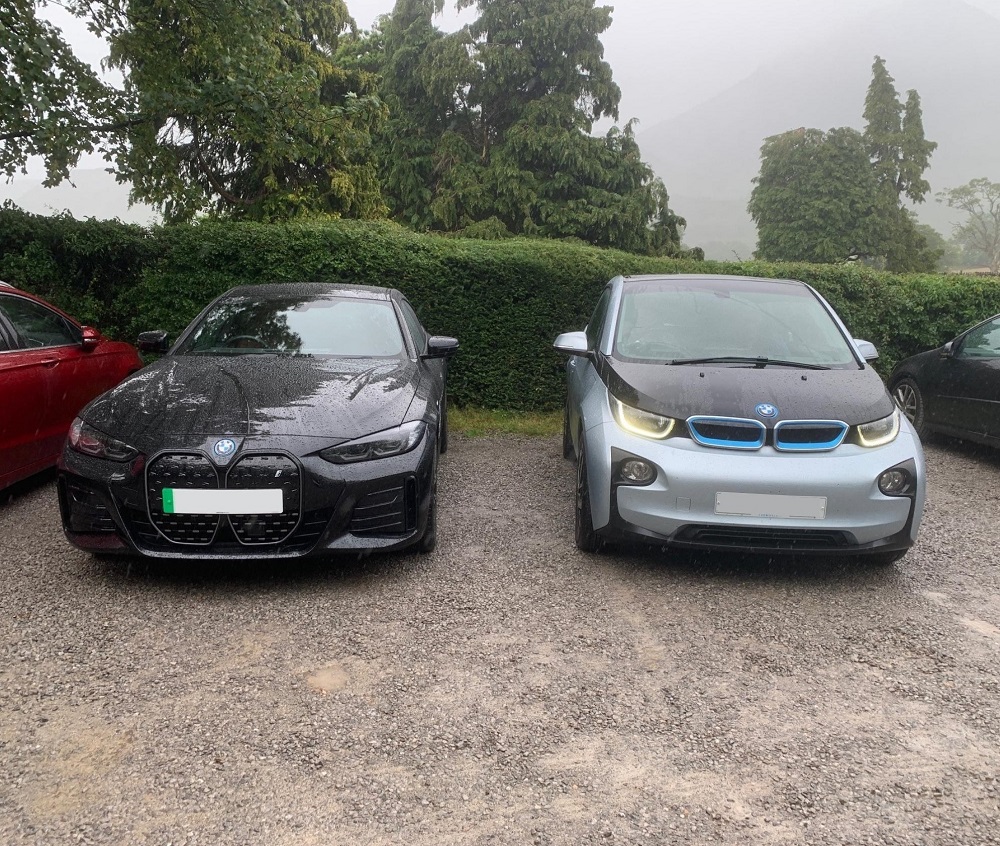 The journey and results

This part was obviously the most exciting and enjoyable as it was clear after just an hour or two that I'd make it to Reading. Making small adjustment to the seating position I find the sweet spot, I sit back, relax, and watch the miles rack up. As the miles continue to rack up I notice the range doesn't drop at the same rate, this is exactly what I was hoping for! It doesn't take to long before the covered mileage and range remaining are getting close to being near… the 400 mile mark! I maintain my speed around 60mph. With no need to worry about changing lanes or overtaking my only problem is deciding what to listen too! I select another playlist and keep trundling down the M6. As a song comes to an end you'd be greeted with near silence, only the rumble of the tyres on the ground being audible, a subtle reminder of the build quality BMW has designed into their cars. No engine noise, no vibrations and very little outside noise. I arrive at my destination, having covered 325.6 miles, 20% battery remaining, but more importantly with 78 miles remaining. I decided I wanted to keep going. Was it accurate? What was it capable of? I plug in my brothers address and find a return journey being 80 miles. Perfect to find maximum range.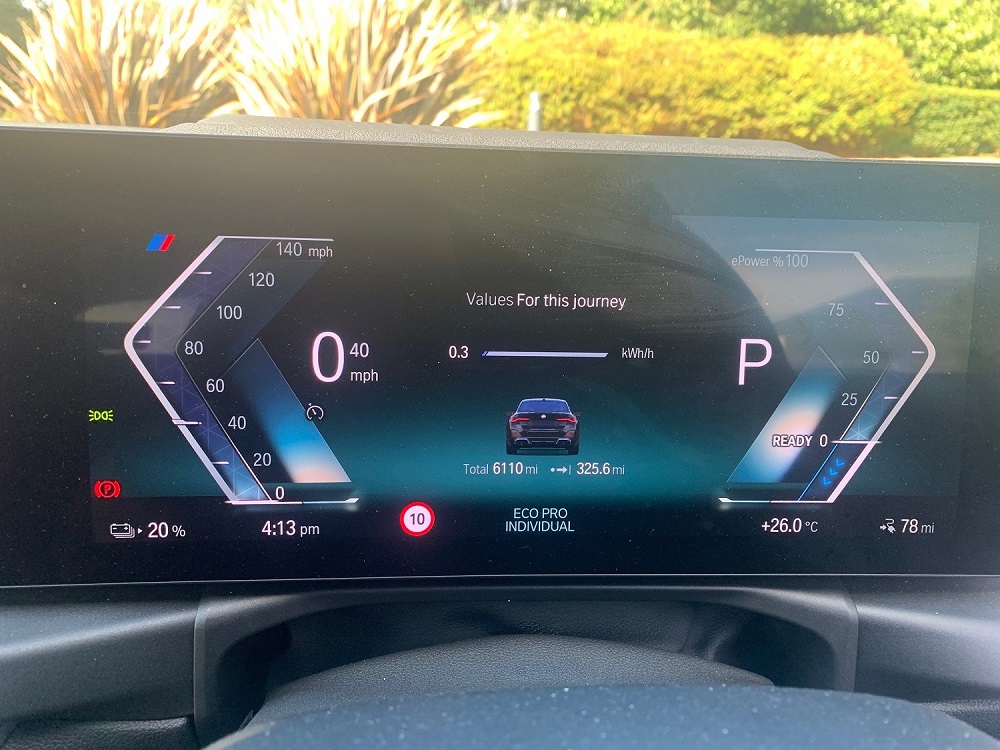 400 miles and almost game over

I drive to my brothers with the aim of using 10% of the remaining battery. If I could do it then it made sense that the remaining 10% would see me back. I pull onto the drive at my destination just as the battery percentage changes to 10%. Perfect!

I enjoy the company of family for a couple of hours then say goodbye and head back to the academy. It's now dark. I only have 10% battery. I used 10% to get there, but that was in daylight, now I start to think to myself maybe I should just charge up at the next available charging point. I convince myself I'll charge once I reach 400 miles so continue on.
400 miles ticks over on the display and the challenge has been completed. The sense of completion is shortly followed by, "I'm not gonna make it". The distance to destination and range left in the battery are not equal! I find a shorter route but it's more rural, so no charging points. I gamble and take the shorter route. Almost exactly half way into my new route (the rural single lane route) a sign comes into view "road ahead closed".

Trying my best to stay calm I find a route around the road closure. Adding more miles! 5% battery hits and the car politely lets me know it's coming to an end "Battery charge low, power reduced". Now since I was driving sensibly anyway I can't say I felt any difference in power, which was nice. I guess I was doing a good enough job of conserving power on my own.

Just as the academy comes into view the battery percentage drops to 1%. All worry and anxiety built up from the late night road closure disappear instantly, what was I even worried about? Even with 1% battery remaining the cars range was still reading 5 miles.

A grand total of 417 miles with a mixture of motorway, single carriageway, city and country roads. Absolutely brilliant! 400 mile marker accomplished. Training ends several days later and I set off back with a full charge. Having completed what I set out to do, I leave the car in comfort settings. Once I hit the motorway I set the cruise control at 70mph. I still make it back on one charge. Only this time enjoying the i4s sportier characteristics, once again just brilliant!