27 April 2023
Lloyd Kia Carlisle temporarily relocates to undergo major refurbishment
These are exciting times at Lloyd Kia Carlisle as they prepare for the refurbishment of their premises to a new state-of-the-art facility at Kingstown, Carlisle.

The new building will reflect Kia's latest brand evolution and style and will offer an impressive and welcoming environment for all aspects of choosing, servicing, and accessorising your vehicle, and supports Lloyd Motor Group's commitment to Kia as one of the world's fastest emerging automotive manufacturers. The move will also see an increase in staff numbers in sales, service and parts departments as well as seeing the capacity of the service workshop double to 12 bays.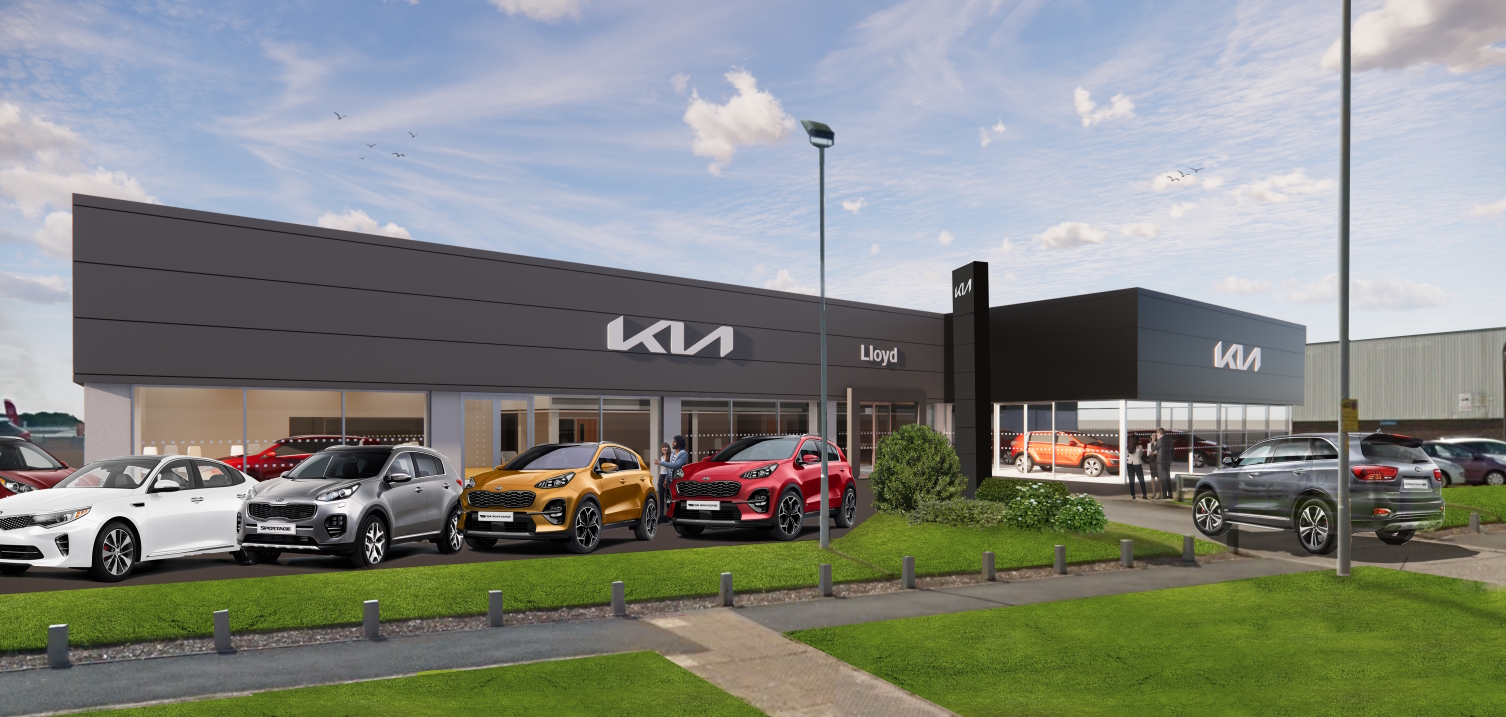 This artisit's impression gives an exciting glimpse of how the new Kia Carlisle showroom will look upon completion.


Roy Holliday, Head of Business for Lloyd Kia Carlisle said:
"Last year Kia achieved more than 100,000 sales for the first time in its 32-year UK history, making it the sixth best-selling car brand in the UK.
Kia has ambitious growth plans, and this redevelopment of the Lloyd Kia Carlisle showroom allows us the opportunity to create a unique showroom experience in which to showcase Kia's expanding and award-winning range of vehicles. This transformation will also comply with Kia's new corporate identity"

Roy added: "The plans of how the finished facility will look are amazing, and I can't wait for our customers to see the site when it is completed. I'm confident that any disruption whilst the work is being undertaken will definitely be worth it in the end."

The current Kia Carlisle site, on Grearshill Road, Kingstown will be closed from 10th May. As a result, they will relocate their sales & parts operations for new and used vehicles 200 meters down the road to their Lloyd Used Car Centre site to enable them to provide our high standard of customer service with minimal disruption. In turn, the Lloyd Used Car Centre operation will be temporarily relocated to the Lloyd INEOS Grenadier building opposite.

The service reception will also move approximately 200 meters down the road from the current Kia site and will be based in the brand-new Lloyd INEOS Grenadier building – directly opposite where Kia Sales will be. This contains a state-of-the-art workshop, so all customers can have peace of mind that their Kia will, as always, be in the safest of hands in a modern, purpose-built facility.



Kia customers will temporarily need to travel approximately 200 meters across Kingstown for all of their Sales, Servicing and Parts needs.

Sam Lloyd, Lloyd Motor Group's Managing Director commented:
"This is an exciting development for us all at Lloyd Motor Group and further illustrates our commitment to reinvesting into our retailers. The Kia brand has grown from strength to strength in recent years and our Carlisle site is one the leading Kia operations in the UK. We will also be delighted to welcome new members of staff at the site, further increasing our employment numbers in the Carlisle area.

Sam added: "We would like to assure all customers that despite the temporary relocation, it is very much still business as usual."

There will be regular updates on their Facebook page (search Lloyd Kia Carlisle) to keep customers informed of progress and timescales.

In the meantime, if you have any questions or queries, Lloyd Kia Carlisle have asked customers to contact them on their usual number of 01228 658821.