27 October 2023
Meet Key Account Manager, Cameron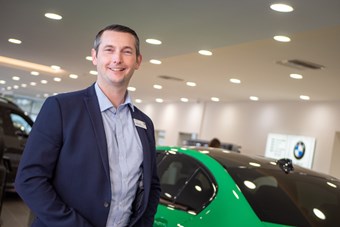 Meet our Key Account Manager, Cameron!
Cameron has been in the motor trade for 13 years, and has a wealth of expertise to help find the right car and finance solution for you and your business - whether you're a company car driver, small business owner, or have a national fleet. Read on to find out more about Cameron's experience in the motor trade, and his favourite thing about the BMW and MINI brands. Alternatively, contact Cameron directly using the button below.
Contact Cameron via Email
Get to Know Cameron

Tell us a bit about yourself!

"Most of my time outside of work is spent looking after my family, but I try to get out once a week to my safe space (golf course) and try and watch as many Rangers & Manchester City games as I can!

"As for work, I joined the motor trade 13 years ago and for 11 years I worked directly with the public and businesses in retail sales. Six and a half of those years were spent as a 'Professional in Sales' and 'Electric Vehicle Specialist' within Lloyd Motor Group".


What drew you to Lloyd Motor Group and your position as Key Account Manager?

"Lloyd Motor Group has a great reputation for being a caring and friendly family business, who do not treat staff or customers as a number. Every member of staff is made to feel an important part of the team, and every member of management, from the CEO to the Sales Managers, are extremely approachable.

"Lloyd Motor Group also represent some of the best vehicle manufacturers in the world and are trusted by those manufacturers to represent their brands with the utmost care and professionalism. I joined the group nearly nine years ago to represent a brand. Today, I represent Lloyd Motor Group with the benefit of providing several of the most recognised brands in the world to our valued customers.

"In my previous role, I got a real insight into how business customers' needs & requirements are different to that of a retail customers & I learnt all about the phenomenal benefits of funding electrified cars through a business. I caught the eye of our Group Corporate & Business Manager through my successes and the rest is history!"


How long have you been in the role, and what qualities do you believe make a good Key Account Manager?

"I have worked for the Lloyd Corporate Department for two and a half years and was promoted to the role of Key Account Manager in March. My new role provides our customers with a single point of contact which is proving to be very popular, particularly with large fleet managers".

"One of the prominent qualities I feel makes a good Key Account Manager is a deep knowledge of the financial benefits of funding certain vehicles through a business. When a business customer has to speak to their accountant for advice, they incur a hefty invoice for the accountant's time. If a BDM is confident in their knowledge, they can save the customer time & money and the customer need only seek final advice from their accountant before proceeding. This in turn helps create a long-lasting trusting relationship between the BDM & their customer".


What do you love most about your job?

"The people. I get to supply some great people with their business vehicles and meet & speak to fascinating people from all walks of life and industries. At Lloyd Motor Group, the teams rally round to help each other & when things are going well, we celebrate together as teams of people, not individuals".


What is your favourite car?

"The BMW M3 Touring, and the MINI Electric (a road legal go-kart!)"


What do you love about the BMW Brand?

"I'd have to say the diversity of the range. They provide options all the way from the BMW 1 Series hatchback to the monstrous BMW XM with a whole host of saloons, coupe's, SUV's and MPV's in between. BMW have taken the electric bull by the horns & have produced some exceptional fully EV options with more coming".


What do you love about the MINI Brand?

"The incomparable branding. If I see a MINI on the road from a distance, I know it is a MINI right away. I can't not mention, MINI's are awesome to drive! And not forgetting the recently announced future range of MINI's (due 2024 and being previewed Q4 2023) which I cannot wait to get my hands on & show off to our customers".


Do you drive an EV? If so tell us about your experience?

"Sadly, I am not currently in an EV but I'm privileged to have had several electric vehicles in the past. I used to love driving an electric car every day - Today, the charging network in the UK & Europe is outstanding. I would be overjoyed to drive the new BMW i5 as my next company car!"


What are you most looking forward to for the next 12 months?

"As I become more proficient in my new role, I look forward to providing more large fleets with their vehicles by promoting our brands, services and Lloyd Motor Group.
As far as cars go, I cannot wait to see the new BMW i5 Touring (which we will hopefully see by the middle of 2024)".

Lloyd BMW Business Offers
We always have an extensive selection of exclusive offers and deals across our BMW range, to ensure that you and your employees can get behind the wheel of a vehicle you'll love.
Lloyd MINI Business Offers
With our new MINI business offers, we aim to make driving a new car as affordable as possible for your business, with deals to suit a variety of budgets.