24 August 2023
Meet Sunny at Lloyd Colne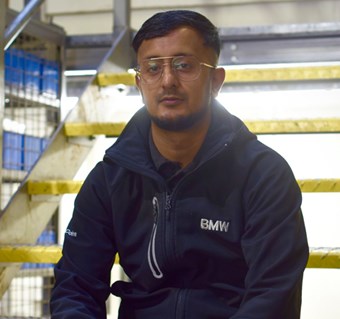 Meet Our Parts Advisor, Sunny!
At Lloyd Motor Group, we're committed to proving our people with opportunities for progression throughout their careers with us, and we take pride in highlighting their success stories. One fantastic example of career progression within Lloyd Motor Group is the journey of our Parts Advisor, Sunil "Sunny" Khan, at Lloyd Colne! Since starting his career journey in the valet bay 3 years ago, Sunny has progressed to his current role in the Parts office. We caught up with Sunny to get to know more about his career at Lloyd Motor Group so far.
Tell us a little bit about your background.
Hi! My name is Sunil Khan - I am 28 years of age, and I have lived in Blackburn all my life.


Why did you want to work for Lloyd Motor Group?
The company's overall reputation is what drew me in, and I have enjoyed all my job roles throughout my career at Lloyd Colne so far.


How long have you been with the company?
I began working at Lloyd Colne in 2019 at 24 years of age.


What has your career journey been like throughout your time at Lloyd Colne?
My first job role was as a Service Valeter, and I thoroughly enjoyed this role. During this time, I was able to get to know the company, and enjoyed getting to meet new people and customers.

My second role was as a Parts Delivery Driver. My responsibilities consisted of ensuring the parts van was loaded with parcels and delivered to the correct destination on time.

My current role is a Parts Advisor - I am really enjoying getting to learn new things in this role.


Where Do You See Yourself 3 Years from Now?
In three years' time, I see myself still working with Lloyd Colne and achieving new goals, and furthering my knowledge and experiences.


What advice would you give to someone looking to start their career in the automotive industry?
I would say to anyone wanting to enter the automotive industry to go for new opportunities, and enjoy the experience.



At Lloyd Motor Group, we're dedicated to providing training and supporting our staff along their careers within the motor trade. If you're ready for a career that drives you forward, browse our current vacancies.