25 August 2022
Proud Sponsors of Cumbria County Tennis Championships 2022
Lloyd Motor Group has announced its support for the Cumbria County Tennis Championships 2022, after confirming it will be sponsoring the community event, taking place from Sunday 21st August to Sunday 28th August.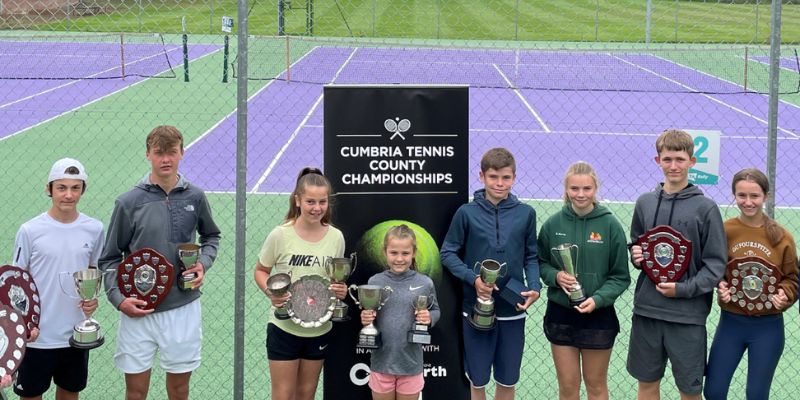 The championships will take place at Chatsworth Tennis Club on St Aidan's Road, Carlisle, and will consist of 41 separate events, including under 8 boys' and girls' singles, men's over 50 doubles and wheelchair doubles. The tournament has been a core occasion in the local tennis calendar for the county since it began in 1977.

Jack Askew, this year's tournament referee, said,
"We are looking forward to another great week of competition at Chatsworth TC, host of this year's County Championships. We have over 150 entries with ages ranging from 6-74 years old, with players from across Cumbria battling it out over 8 days of competition to be crowned County Champion on finals day Sunday 28th August. We are very grateful to Lloyd Motor Group for their continued support of this fantastic community event, allowing us to put on the best possible competition for the players to compete in and have fun".

Craig Kirkpatrick, Head of Marketing at Lloyd Motor Group, added,
"We are thrilled to be supporting the Cumbria County Championships this year and excited to see the dedication and enthusiasm all participants will bring to both the sport and the tournament. It is a privilege to support the county-wide event".
This year's tournament hopes to see the return of Katherine-Lee Lukas, who became both the Women's County Champion and the Under 18 Girls' County Champion last year, as well as Freddy Blaydes, who became last year's Men's County Champion and Under 18 Boys' doubles County Champion alongside Billy Blaydes.
On Finals Day, Sunday 28th August, Chatsworth Tennis club will be hosting a BBQ at 1pm, with the trophy presentation shortly following.

Lloyd Motor Group are one of the leading independent retailers in the UK, representing some of the world's most esteemed automotive manufacturers - BMW, Jaguar, Land Rover, MINI, Volvo, and Kia, as well as BMW Motorrad and Honda Motorcycles.

Founded in 1976, the company remains owned and managed by the Lloyd family and continues to grow, currently employing over 1,100 people. Supporting local communities, staff and customers is at the forefront of Lloyd Motor Group's culture, and they are dedicated to earning customer loyalty through the delivery of market-leading sales and aftersales experiences.