28 July 2022
40 years of dedication to his trade for Jimmy Renwick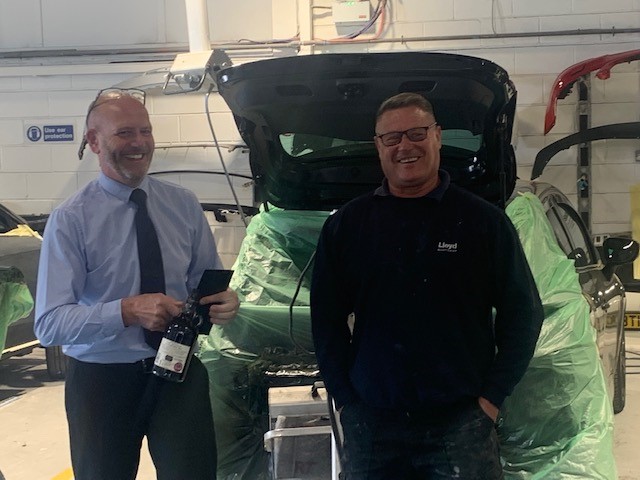 Lloyd Newcastle Bodyshop Manager, David Brewis, presenting Jimmy with his long service award
From all of us here at Lloyd Motor Group, we would like to congratulate Jimmy Renwick for his incredible 40 years of service. Jimmy started his 40 Year stint with Winlaton Garage back in 1982. Lloyd Motor Group purchased the business in 2009 and Jimmy has been a permanent fixture at the Hunters Road site throughout.

We are going to take a trip down memory lane, with Jimmy telling us his beginnings as a 16 year old YTS trainee to modern times when he is regularly contacted for advice by everyone from his peers to paint companies!

Tell us a bit about yourself:
I started work at 16 as a YTS Apprentice at Winlaton Garage in Blaydon-upon-Tyne. I knew immediately that this was the job for me, I loved it. I also loved the money. I started on £19.50 per week which was OK but I was able to make more than double that by doing overtime! That and my abscent minded boss never asked for his change from the daily butty run. I was rolling in it! The butty run also had other advantages as at the local shop is where I met my wife. We were married 4 years later and had 2 children and this year celebrate our 36th year wedding anniversary. I do everything in long stints!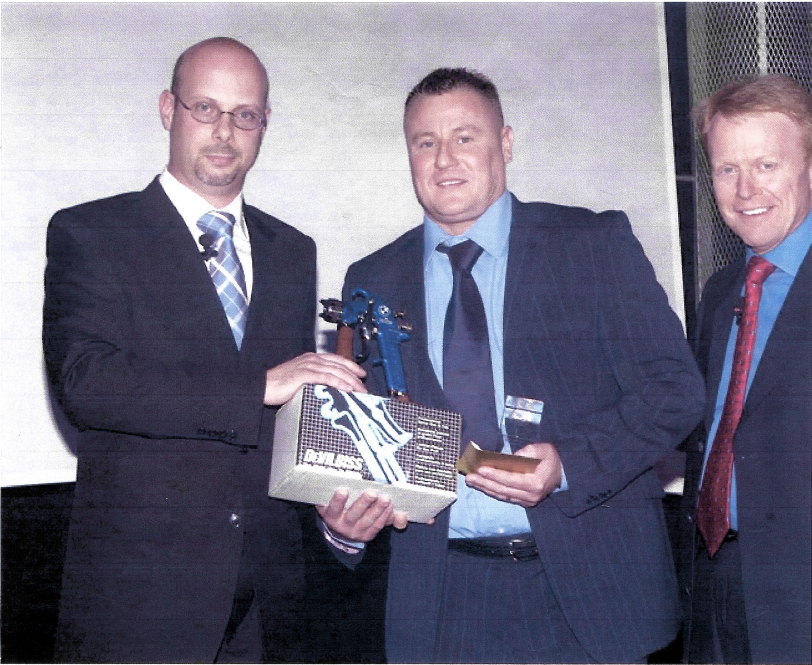 Jimmy with his 'Painter of the Year' award from BMW in 2004

Tell us about your career development:
After 6 months at Winlaton Garage I was offered an interview, which consisted of "Have you got a cup and a pair of overalls?" "Good, you start on Monday". In 1985 the business relocated to Newcastle. I like to muck in and even helped with the building of the current site on Hunters Road. It's an incredible facility, which has literally seen tens of thousands of vehicles repaired over the years. We've worked on every vehicle you can think of in the last 40 years, from BMW to Mercedes and Porsche to Bentley. In 2004 I was awarded 'Painter of the year' for BMW - number one out of the whole BMW network. With my experience of being Head Painter, I am often asked for advice from colleagues for technical and colour information. I even get calls from paint companies asking for advice or to draw from my knowledge.

More to celebrate in the BMW National Bodyshop of the Year awards in 2004

What has been the biggest change in the motor industry since you started?
The concept of paint and dent repairs have not changed massively over the years but the technology definitely has. Material changes, going to water bourne products was a huge industry change. The material development is a continueous change as it is always looking to be more environmentally friendly with a reduced carbon footprint. Also, Infa Red technology and now UV drying and air dry products are normal practices and with the increased speed of repair, we are further reducing that carbon footprint.

Jimmy with the team at Lloyd Newcastle Bodyshop

What have been your favourite projects to work on?
Over the years there have been so many that it is hard to mention them all. One of the most memorable repairs was an old English Jaguar e-Type in white that was a complete rebuild. Alot of pride and passion went into that job and the customer was absolutly delighted. I was also involved in a full restore project on a Porsche 356 which was amazing to see be brought back to life.


The amazing Porsche 356 before and after restoration

What does the future hold for the motor trade?
Technology is changing so quickly, I've noticed massive changes in even the last 5 years. Electronification and autonomous driving will prevent a percentage of accidents, reducing the need for bodyshop repairs. But as with all industries, training is key to keep up-to-date with new technology. I have been fortunate that Lloyd have never put off any training and we are always ahead of the curve in that respect. There is also contstant training from the manufacturer, with a required 3 yearly assesment to retain a senior graded ATA technician.

How do you relax when not at work?
I like to keep fit, training 4 days a week including weight lifting and cardio. I also like to spend time socialising with friends but most weekends are now looking after my grandchildren, energy sapping stuff!

In my future plans, I would love to achieve 50 years at the same company which would be something to be proud of. I am grateful to Lloyd Motor Group, a company that has supported my lifestyle and given security to myself and my family.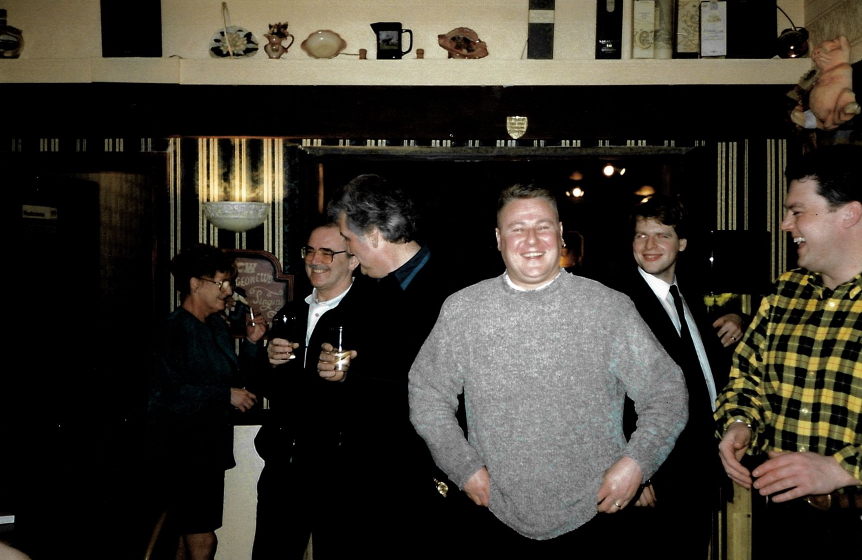 Jimmy on one the legendary Newcastle Bodyshop nights out.