22 September 2023
Why Choose an Approved Used MINI Electric?
Only Approved Used MINIs come with our stamp of approval and that legendary MINI spirit. And thanks to the passion, support and care from our team, you can be sure that every Approved Used MINI we have here in Lloyd Group stock is the very best it can be.

And it's no different when it comes to switching to electric, find out below why you can buy electric cars with confidence through MINI Approved Used. Because lets be honest, where else would you buy a MINI from than, well, MINI?



EXPERT APPROVED.
Every one of our used cars are given a 360-degree check by our expert MINI technicians - including over 100 tests that are specific to electric cars! - covering everything from battery health to essential cabling. Only once a MINI has passed with flying colours does it earn our tried and trusted Approved Used guarantee.
And if any refurbs or repairs are needed, they'll always be carried out by MINI-trained technicians using Genuine MINI parts – most of which have a two-year warranty. You'll also receive your car's full service history which must have met the sky-high MINI standards.
RIGHT HERE, RIGHT NOW.
If you've made the (super exciting) decision to make a MINI Electric your own, you'll naturally want to get driving as soon as possible. Luckily, when you choose an Approved Used MINI, there's no waiting around. In fact, you could be away the very same day!
WE'VE GOT YOU COVERED.
Start your electric adventures with pure peace of mind. Every Approved Used MINI comes with the remaining balance of the three-year unlimited mileage warranty and eight-year battery warranty that were issued when the car was new. That's on top of a new minimum 12-month unlimited mileage warranty when you drive away!
And that's not all. We also throw in 12-months MINI Roadside Assistance cover, which offers 24/7 support when you need it most.
GET MORE FOR LESS.
If you opt for a used MINI Electric, you'll likely get a higher spec for a lower price when compared to our brand new cars. That being said, the oldest MINI Electrics we have available were only registered in November 2019 (with many newer than that) so they've still got miles of fun ahead of them.
Speaking of affordability, switching to electric in general can save you a good few quid. That's because it costs less to charge up with electricity than fill up with petrol or diesel, plus you're exempt from paying road tax and ULEZ charges. The lack of engine means you'll likely pay less for maintenance too - so it's a win win!

So, are you ready to find your dream Approved Used MINI Electric? Click below to browse our current stock. Or, if you still have a few questions, carry on reading for our FAQs about used electric ownership.

BROWSE APPROVED USED ELECTRIC
Frequently Asked Questions
Are used electric cars reliable?
Absolutely – especially if you buy your used electric car from MINI. That's because every single Approved Used MINI Electric has been checked from bonnet to battery to bumper by our trained technicians, who know our cars better than anyone. You'll also always be given the car's entire service history and full mileage checks.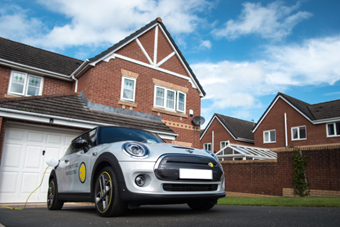 Can you get electric car grants for used cars?
From tax relief to charging allowances, there's a variety grants and benefits for owners of electric cars, most of which apply if they're second-hand too. Check out the grants available and how to claim them by visiting our electric hub by clicking below.
Find out more
How do you buy a used electric car?
It's simple. Just click here to search the used MINI Electrics we have available right now. You can filter by model, mileage, age, location and price to find your perfect MINI match. Or get in touch with your local Lloyd MINI Centre and our friendly team will be happy to help. Click below to find your local centre and all the contact information you need.
Contact us
What is the average price of a used MINI Electric?
The average price of a used electric car all depends on its spec, age and mileage. Our current used electric cars start around £19,000 and go to just over £33,000, with plenty of options to pay monthly. However this varies daily depending on the current stock available. Click below to see the currently available cars and prices.
Browse stock
WHAT IS THE AVERAGE RANGE OF A USED ELECTRIC CAR?
The range of an electric car also varies based on its age, usage and how/when you drive it. Luckily, the batteries of all our Approved Used MINI Electrics have been thoroughly tested by our expert technicians to make sure they're working as they should. And as our used MINI Electrics are no older than three years, their batteries are still well within their eight-year warranty. Want to find out just how far a MINI Electric can take you? Click below - we've done the maths for you!
Find out more
Do used electric cars come with a warranty?
Ours sure do! A 12-month unlimited mileage warranty to be precise. This provides protection against breakdown and repair costs for a minimum of 12 months, including for the exhaust and battery. Our used MINI Electrics are also covered by the remaining balance of the three-year unlimited mileage warranty and eight-year battery warranty that were issued when the car was new. So you can drive away without a worry.

Still have some questions? Then please do not hesitate to get in touch. All of our MINI Sales Executives have gone through extensive training when it comes to making the switch to electric - so they really are the experts and are happy to answer any concerns you may have. To contact us, you can call you local Lloyd MINI centre using the details below. Or, should you wish to contact us digitally, please fill out the form at the bottom of this page and a member of our team will be in touch within the next 24 hours.

Lloyd Blackpool MINI
Whitehills Business Park
Lytham St Annes Way
Blackpool
FY4 5PQ
01253 921643
Lloyd Carlisle MINI
Kingstown Broadway
Kingstown Industrial Estate
Carlisle
Cumbria
CA3 0HA
01228 319120
Lloyd Cockermouth MINI
Laithwaite Low Road
Cockermouth
Cumbria
CA13 0HH
01900 267074
Lloyd Colne MINI
Crown Way
Colne
Lancashire
BB8 9NP
01282 219193
Lloyd Newcastle MINI
Fenham Barracks
Barrack Road
Newcastle Upon Tyne
NE2 4LE
0191 908 1667
Lloyd South Lakes MINI
Kendal Road
Lindale
Grange-over-Sands
Cumbria
LA11 6QR
01539 232696
Get in Touch!
Lloyd MINI
Simply fill in your details below and we'll get back to you within 24 hours. Alternatively, you can call your local retail centre by telephone.