16 November 2021
Celebrating Gary Horn, Lloyd Volvo's Head of Business, after an incredible 35 years in the business
From all of us here at Lloyd Motor Group, we would like to congratulate Gary for his exceptional service. Gary started his automotive career in 1986 as an apprentice Sales Executive, he has since seen Lloyd Motor Group grow, from its humble beginnings in Cockermouth, to its now 20 plus sites.

After playing such a huge part in the family business success story, he shares his career highlights with us, from where it all began, his key to success and some of his favourite company cars from the early 90's!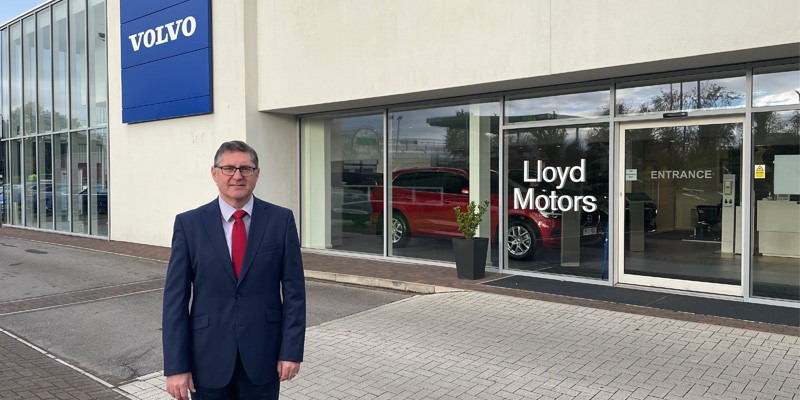 Tell us a bit about yourself:
I was born and brought up in Gosforth, West Cumbria, before moving closer to Carlisle where I live with my wife Judith and together, we share two daughters Kimberley 32 and Ella 14, and two Grandchildren Logan 12 and Lacey 10.

I began my career with Lloyd Motor Group as an Apprentice Sales Executive in December 1986 in Derwent Street, Cockermouth and am now Head of Business at Lloyd Volvo Carlisle. My whole working career has been in the motor trade and with Lloyd Motor Group.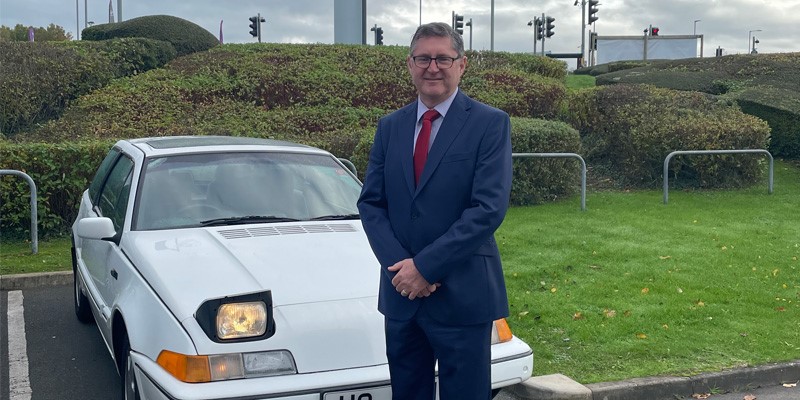 Tell us about your career development:
After starting as an apprentice in the roaring 80's, my efforts were rewarded in 1990 with a promotion to Sales Manager. After taking over the Carlisle territory for Volvo, I was promoted to General Sales Manager in 1996, where I helped set up the Lloyd Volvo business firstly at Border Court, Scotland Road then to its current site in 1997 at Chandler Way, Parkhouse. I received a further promotion in 2006 to Head of Business at Lloyd Volvo which is my current role.

Throughout my career there has always been an unbroken link with Volvo Cars, plus an involvement with Lloyd Honda Carlisle 2011-2013 as a Dealer Principal. As a stoic supporter of Volvo's values of safety, quality and the environment, I am proud to remain loyal to the brand.

I have seen Lloyd Motor Group grow from its humble beginnings in Derwent Street, Cockermouth to its now 20 plus sites, and I take great pride in being part of the Lloyd family success story.

Talk us through your day-to-day job:
It is all about people from first thing in a morning to last thing at night. Our focus is always customers first and trying to deliver a truly reliable and consistent first-class personal service to all customers, new and existing alike. As with all businesses, a manager needs to help and encourage all staff along the way, ensuring the company's objectives are their objectives and together it works both for customers and the business itself.

As the person responsible for representing the site for Lloyd Motor Group, it is important to instil the company culture into all new employees and to remind the current staff. We have strong values and they are key to the success of the business both short term and long term. As Lloyd Motor Group represents Volvo Cars UK, I have worked with a number of their directors and managers to ensure we comply with all their Franchise standards and link with their goals and ambitions.

Today's goals include the transition from internal combustion engines through to full electrification by 2030. This has to be the biggest change in the life of the motor trade and will be a full evolution over the next few years. We all know the legislation is coming and we all will have different needs and requirements from our motor car, but I am pleased to know that the sales team is fully up to speed with all the latest technical detail and can offer honest feedback on what car suits an individual and why.

Personal experience over two months running a fully electric car has shown me that there is a bright and clean future for electric (BEV) cars. As technology advances, cars will become more efficient and costs will be reduced in the full cost of ownership.
What are your ambitions?
Business success is our daily goal, ensuring we achieve all the targets and goals set by our directors and franchise alike. We are delighted that, for as far back as I can remember, we are always ranked in the top 25 dealers in the country, and for the last three years have climbed up to 6th in the National awards. A highlight from previous years was becoming Volvo UK Used Car Dealer of the Year and runner up to overall Volvo National Dealer of the Year.

A personal ambition of mine is yet to be achieved as it was cancelled due to the Coronavirus pandemic. My dreams of a family fly drive tour of the west coast of America will have to wait for a little longer yet.
What is your key to success?
Success always starts at a point and that point at Lloyd Motor group is its owner, Bryan Lloyd, who has never steered away from his values and his determination to succeed by always looking for the marginal gain. With a consistent approach across the group, all employees coming into the business soon pick up the mantle and follow the same road map. A long-term commitment to staff training and welfare provides a positive workplace and an enjoyable destination for customers alike.
What has been your favourite company car?
I have had many company cars over the years, my first being a 240 GL saloon car, which I remember selling to a farmer from Silecroft, in cool white with doors which when closing sounded like a medieval trebuchet firing!

My stand-out cars include the following three;
In 1997 I had a Saffron metallic V70 R which was fantastic to drive, stunning to look at the perfect 30th birthday present from my manager and mentor.


In 1991 it was the 480 Turbo, full of technology of the day and great to drive and so different to my previous 340 GL's!

3. Recently, the XC90 T8 hybrids are the stand out modern car for me. So versatile, spacious and all my commuting is done on electric so good for the environment.

What does the future hold for the motor trade?
As with many industries alike, we are all riding the perfect storm at present with us just coming out of the COVID pandemic, and this year, unprecedented demand for our new and used cars in a time where supply is at its lowest due to parts availability across the industry.

The future of the motor trade is electrification, and this journey has already begun for Volvo Cars, who are now producing two models the XC40 SUV and the new C40 hatchback which should start arriving with customers early 2022. The electric car market is booming with interest and orders are now really starting to accelerate with over 15% of retail car orders being electric.

Many will be sceptical and worry about range and how to charge but these vehicles all come with two charging cables for use on the super quick DC chargers at filling stations or you can just plug in at home on a normal 3-pin plug. There is currently support from the government to install charging points at home with an upgraded 3 or 7 kWh charger for slightly quicker charging. So, for anyone with a private drive and easy access within 7 meters to a plug your car will be charging from as little as 5 p/kw* on electric car tailored energy deals or circa £4 for a complete charge for 200 – 250 miles.
*Specific BEV designed contract from EDF.
Do you have any technical ability?
I am limited to the basics but I don't need to know much more when I have a fantastic team of fully trained technicians, available 7 days a week!
How do you relax?
It's remarkable what a nice glass of red on a Friday night can do! I enjoy spending time in the garden and trying to stay as far away from shops with my daughter as possible!