28 April 2023
Helen Completes the London Marathon
Our Lloyd Volvo Carlisle Accountant Helen Cupac has worked for Lloyd Motor Group for over 20 years and lately, she has been very busy training for the London Marathon. She was very lucky and got a ballot place but she decided to raise some much-needed funds for the Great North Air Ambulance, a fantastic charity!

We caught up with her post-marathon to find out how she got into running and any tips she has for someone looking to run a marathon!

Congratulations on this fantastic achievement, Helen! What made you first get into running?
I joined a local running club, DH Runners, on their first beginners session in Oct 2014, I'd signed up to Born Survivor and couldn't run, and also to lose weight!
How many times a week do you go for a run?
I try to run for times a week, Tuesday, Thursday, Parkrun on Saturday and a long run on Sunday.
Do you prefer to run by yourself or are you a member of a running group?
I always prefer to run with friends, it certainly makes the miles go quicker when you are chatting! The support of my running club DH Runners is amazing and you end up doing so much more than you thought would.
Have you participated in organised runs before? E.g. half marathons?
I have done lots of 5K and 10K races, 3 triathlons, 20 half marathons, 1 half Ironman and now 2 marathons. I have done a run where you have wine every 3 miles and I have run in the middle of the night and dressed up as Santa, all in the aid of charity!
Is this your first marathon?
I did Manchester marathon in 2017 and said I would never do another! You soon forget!
How did you prepare for the marathon?
I followed a 16-week training plan which definitely helped me!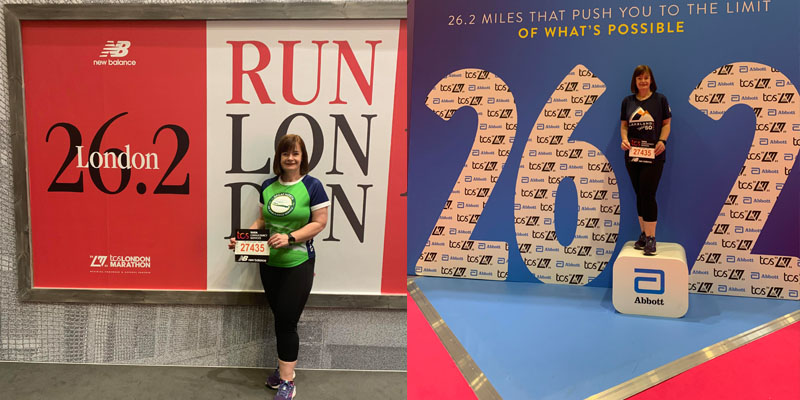 Did you always know you wanted to take part in a marathon?
The London Marathon was always on the bucket list. It is ballot entry and really hard to get into though. You enter every year never expecting you'll receive the "You are in!" email. 2023 was the year for me!
What was the atmosphere like on the day?
The London marathon is about the atmosphere more than anything. I was amazed at how many people had lined the streets to cheer us on. The noise coming from the crowds was so uplifting.There were banners, children lining the street for high fives, pubs blaring out music and people playing music from their flat windows. The 13 mile mark was Tower Bridge which was incredible, running on the bridge was an experience in itself. Miles 23-26 were tough!! I just kept thinking I can do this. Coming round the last corner onto the Mall I was in a complete daze, I couldn't believe after so many hours of training, so many donations, the messages of support and encouragement, I'd finally crossed the finish line. The medal is amazing and it is something I will cherish for the rest of my life.
How much money did you raise?
£1,371 to date. If you would like to donate, the link to Helen's JustGiving page can be found at the bottom of this page.
What was your time on the day?
5 hours 17 minutes.
What did you eat to fuel your body for the run?
I have banana on brown bread before and during eat malt loaf and haribo sweets. I don't get away with gels. I always crave salted chips or crisps when I finish.
What advice would you give to someone looking to get into running?
Give it a go! When I started, I couldn't run to the end of the road, it's all about doing a little bit more than you did before. If I can do it, anyone can!
Will you do another?!
On Monday the answer was definitely NO, but somehow I have entered the London marathon ballot again for next year…….. thinking I can't be lucky twice in a row?!?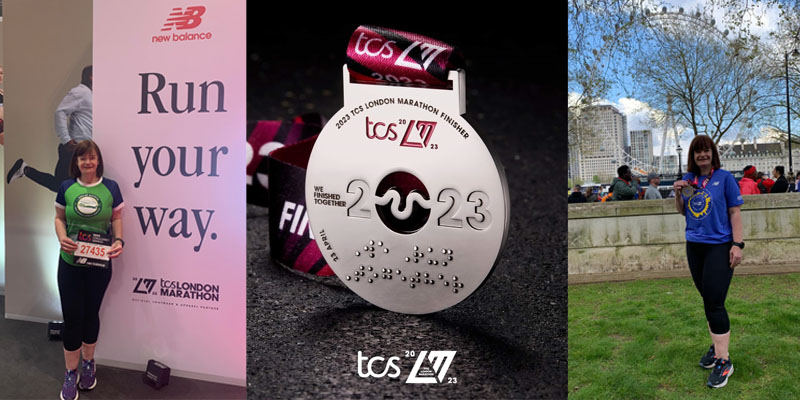 The Great North Air Ambulance Service (GNAAS) rescues hundreds of severely injured or ill patients every year throughout the North East, North Yorkshire and Cumbria. Their doctor-led critical care teams deliver life-saving treatments at the scene of the incident whether that is on a fell top, a roadside or in a city centre. The charity responded to 1,640 call outs last year* alone, via their helicopter and emergency response vehicles, where they performed treatments and procedures which can mean the difference between life or death.

If you would like to donate to this fantastic service, please visit the link below.

I'D LIKE TO DONATE