21 May 2021
Meet Cameron, our new Business Development Manager at Lloyd Carlisle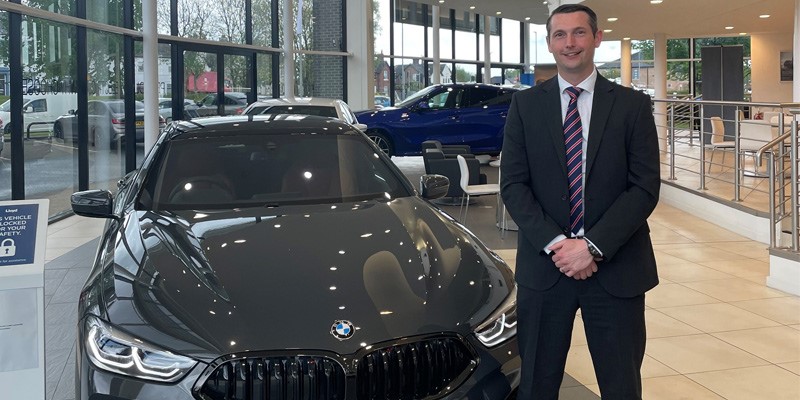 Meet Cameron Tyler. Having joined Lloyd Motor Group six and a half years ago, he is now the Business Development Manager for our BMW and MINI Corporate Team. Based in our Carlisle centre, representing both Carlisle and Cockermouth. We caught up with Cameron to find out more about how he's settling in and what a typical day in his role looks like…

How long have you worked in the motor industry? Tell us a bit about your background.
I joined the motor trade 11 years ago and until now, I have worked directly with the public and businesses in retail sales. Six and a half of those years have been spent as a 'Professional in Sales' and 'Electric Vehicle Specialist' for another prestige brand within the Lloyd Motors group.

For the past 11 years I have worked industriously in retail sales and have enjoyed every minute. My new role allows me to continue to do the job I love, for the company I care for representing, whilst allowing me to spend more time with my family and friends and maybe play a bit more golf!

Take us through a typical day in your role.
Having just joined the Corporate Team, my current day to day duties are focussed on becoming competent with the multiple systems we use to order, fund and supply our customer's vehicles.

Being a knowledgeable expert about the products and services we provide is extremely important to me and our customers, therefore a lot of my time is being spent on expanding my familiarity with BMW and MINI.

Once I feel competent that I can provide sound, adept advice I plan to introduce myself and Lloyd Motors to the business community in West Cumbria, Carlisle and the South of Scotland who aren't already in our customer base. Initially I'll be contacting businesses through various media channels and will work closely with our fantastic marketing team.

I'll also be travelling the length and breadth of the areas to formally introduce myself and see how I can streamline our customer's vehicle procurement processes, allowing them to concentrate on their own businesses.

What do you like most about your role and why Corporate sales?
Although I've only been in the Corporate Team for a week I have been made to feel part of the team since day one. My colleagues have been extremely supportive, patient and they have gone out of their way to help me settle in. I look forward to working with these great people for a very long time to come and can't wait to build my own customer base.

Why did you want to work for Lloyd Motor Group?
Lloyd Motors has a great reputation for being a caring and friendly family business, who don't treat staff or customers as a number. Every member of staff is made to feel an important part of the team and every member of management from the CEO to the Sales Managers are approachable.

Lloyd Motors represent some of the best vehicle manufacturers in the world and are trusted by those manufacturers to represent their brands with the utmost care and professionalism. I joined Lloyd Motors six and a half years ago to represent a brand. Today I represent Lloyd Motors with the benefit of providing two of the most recognised brands in the world to our valued customers.

What do you love about the BMW brand?
BMW have a staunch reputation for building solid, safe, functional and reliable cars.
Most importantly for me, they are real drivers cars providing superb feel, feedback and fun when driving conditions allow.

BMW have a diverse range of vehicles, engines and powertrains which provides an excellent selection for nearly every lifestyle. They have arguably the best infotainment system in the world and carry a host of clever technology and driver aids. Every BMW cabin feels familiar, making changing from one BMW to another seamless.

Likewise, what do you love about the MINI brand?
MINI have always been a fun brand. The cars are built to the same standard as their BMW counterparts but provide a completely different perspective to driving. MINI cars are immediately identifiable and stand out from every other car in their segment.

I am most excited by the electric MINI which is built on the MINI Cooper S platform making it a brilliant driving car but with the additional benefit of the immediate torque response, the cost saving of an electric powertrain, along with the iconic MINI style. They are also extremely well priced for an electric car.

Electric cars offer a huge opportunity for company car drivers and fleet managers. What are your thoughts on the future of electric driving?
Having previously been an EV (Electric Vehicle) Specialist, I have an extensive knowledge and a passion for electric cars. I have had the pleasure of driving one of the best electric cars on the road today, for over a year. Electric cars bring a whole new driving experience and a host of financial, ecological and business image benefits. The current government business benefits are extremely generous and every business should be considering adding an electric car to their fleet.