18 August 2023
Ultimate Guide to Used SUVs
Why Used SUVs are an Ideal Choice for Your Next Vehicle
Used SUVs have emerged as a prime option, offering a blend of versatility, comfort, and practicality. If you're considering making a smart investment in a reliable vehicle, this is your compass to navigate the world of used SUVs. Here we'll delve into the benefits of used SUVs, reasons to choose one, highlight the best models in the UK, and address your burning questions to make your decision-making process smooth and informed.
Discover the Ultimate Value in Used SUVs
Enjoy Premium Features and Capabilities Without the Premium Price Tag - Ready to upgrade your drive but don't want to break the bank? Used SUVs offer the perfect solution. You can enjoy the cargo space, performance, tech features and more that come with an SUV, without taking the depreciation hit of buying new.
These road warriors offer ample space for passengers and cargo, advanced safety features, and an array of driving capabilities.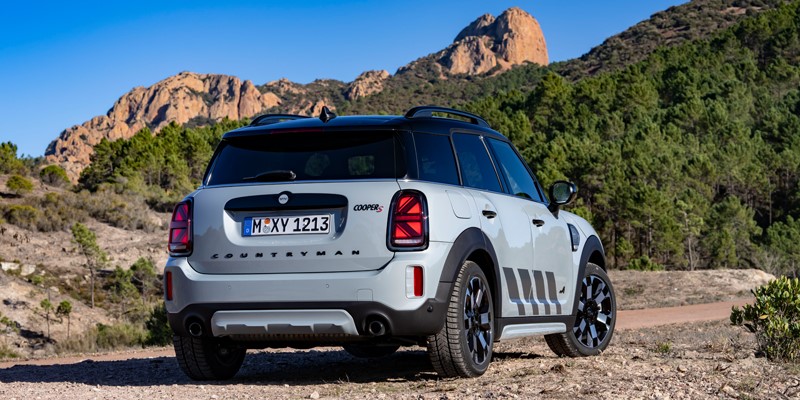 Versatility: Picture this: from daily commutes to cross-country road trips, a used SUV adapts effortlessly, ensuring your comfort and convenience no matter the destination.

Safety: Safety first, always. Used SUVs often come equipped with cutting-edge safety technologies, to protect you and your loved ones on the road.

Off-Road Capability: For the adventurers at heart, certain used SUV models are designed to conquer off-road challenges, giving you the freedom to explore the unexplored.

Technology and Comfort: Modern used SUVs are equipped with technology that guarantees a comfortable and convenient journey. Stay connected, entertained, and in control while on the road.


Why Choose a Used SUV?
Cost-Effective: Used SUVs offer premium features at a fraction of the cost of new ones. Enjoy luxury without the price tag, giving you more bang for your buck.

Depreciation Advantage: New cars lose value in the first few years, but used SUVs have already navigated that steep depreciation curve, allowing you to save without compromising quality.

Verified Performance: With used SUVs, you benefit from real-world performance reviews and a history of reliability, making your choice an informed and intelligent one.

Lower Insurance Costs: The financial perks continue. Used vehicles generally come with lower insurance premiums, reducing your overall ownership expenses.


Are used SUVs fuel-efficient? Yes, modern SUVs come with improved fuel efficiency, catering to eco-conscious drivers without compromising performance.

How can I ensure a used SUV's condition? We leave no stone unturned. Our used SUVs undergo meticulous inspection and reconditioning, and you can also request a vehicle history report for added peace of mind.

Are warranties available for used SUVs? Absolutely. Many of our used SUVs can come with extended warranties, offering the same security as new purchases. Our team will be happy to guide you through the details.

Can I trade in my current vehicle? Of course! We offer competitive trade-in values, simplifying the transition to your dream used SUV. Simply enter your car registration number into our Value Your Vehicle tool which will guide you through 7 simple questions to complete our 3-step process; Enter your registration, Book your appointment, Payment direct to your account.
We have many choices of used cars and used SUVs provide the trifecta of versatility, cost-effectiveness, and verified performance sets that really sets used SUVs apart. From the sleek lines of the BMW X3 to the opulent experience of the Range Rover Evoque, the UK's best models are ready to be explored. We understand your queries and concerns, and we're here to provide answers that empower your decision-making. Embark on your next journey with confidence—your ideal used SUV awaits:
For those looking for SUV capability and flexibility in a smaller package, compact models like the BMW X1, X2, MINI Countryman and more provide nimble handling with ample room. These sporty yet practical used SUVs are ideal for zipping around town or loading up for a quick getaway.
The Best Used Compact SUVs
Volvo XC40 - One of the best compact yet luxury SUVs, with smart storage solutions and appealing Scandinavian styling inside and out.
BMW X2 - This fun-to-drive crossover injects style and excitement into the compact segment with its brisk acceleration, sharp handling, eye-catching looks, and BMW's latest tech features. Perfect for those seeking flair and functionality from their used SUV.
MINI Countryman - This spacious crossover retains MINIs go-kart handling with ALL4 all-wheel drive capabilities added. A standout choice for a premium-feeling SUV that's still compact enough for urban use.
BMW X1 - Blends sports sedan handling with SUV practicality. This nimble crossover, for drivers seeking a premium SUV experience without the bulk, the pre-owned X1 delivers agile performance and luxury at an attractive value.
Spacious, Stylish and Full of Surprises
Premium used SUVs from brands like BMW, Land Rover and Volvo offer upscale interiors, powerful performance and the latest tech—all for thousands below their original sticker price. Whether you need a stylish daily commuter or a weekend adventure rig, there are lots of luxury used SUV options that fit the bill.
Why We Love These Used SUV Models
BMW X3 - A thrill ride combining sports sedan handling with SUV versatility. You can save big on a gently used X3.
Land Rover Evoque - This sculpted SUV turns heads with its sleek silhouette and refined cabin. Used Evoques retain plenty of luxury and character.
Kia Sportage - A crossover SUV that delivers style, versatility, and the latest tech in an affordable package. With a comfortable ride and abundant passenger and cargo space.
Range Rover Sport - Muscular looks, AKTIV driving tech and a pampering interior make the Sport a magnificent used buy.
Kia Niro - This affordable hybrid crossover delivers excellent fuel economy without sacrificing interior room or features.
The best part about buying used? Someone else has already put the miles on to work out any kinks, to provide added peace of mind. SUV models like the Nissan Qashqai, Kia Sportage and Volvo XC60 have longstanding reputations for dependability.
Still Not Convinced? Here's Why Used SUVs Are a Brilliant Option for You and Your Family
Save money - Avoid the depreciation of a new vehicle
Established track record - Learn from previous owners' real-world experience
More features for less - Get great tech and options for thousands off original MSRP
Certified models available - Used SUVs include warranties for added coverage
Lower insurance premiums - Insure a used vehicle for less
Find Your Perfect Used SUV Today
The reasons are clear - you can get more SUV for less money when buying used compared to new. With such an expansive selection of models available, you're sure to discover an option that perfectly fits your needs and budget. The adventure awaits!


Browse Used Cars