30 January 2023
Lloyd Motor Group Take Home 4 Wins at the BMW & MINI Retailer of the Year 2022 Awards
For Lloyd Motor Group, 2023 has gotten off to a brilliant start, having taken home 4 wins at the BMW & MINI Retailer of the Year 2022 Awards.

These prestigious awards celebrate BMW and MINI retailers across the network, acknowledging their dedication and performance across categories including Sales, Marketing, and Sustainability. Lloyd BMW and MINI were recognised for their hard work and achievements throughout 2022, being nominated for a total of 9 different awards.

On the evening, Lloyd Carlisle BMW were presented with the award for Aftersales. Craig Bowers, Head of Business at Lloyd BMW & MINI Carlisle, said "The BMW Aftersales award is one of the most sought-after awards amongst BMW centres in the UK. It includes customer feedback and service performance indicators that are measured throughout the year, so receiving this award is a tremendous honour. Our team in Carlisle have shown just how talented and hard-working they are. We are especially grateful to all our customers who shared positive feedback about their experiences at Lloyd Carlisle BMW".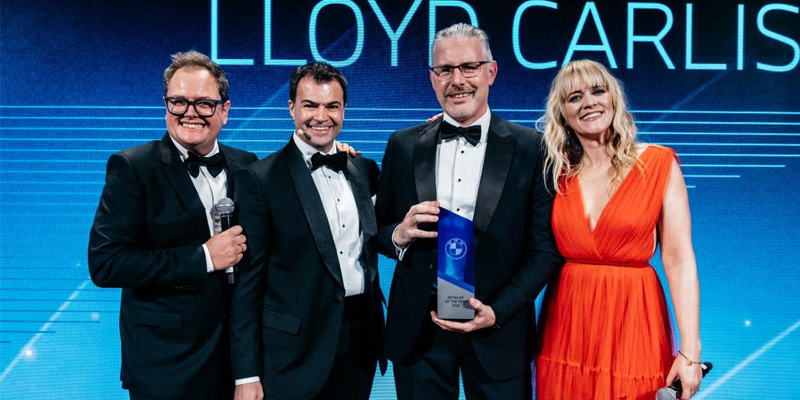 Craig Bowers, Head of Business at Lloyd BMW & MINI Carlisle, collecting the BMW award for Aftersales.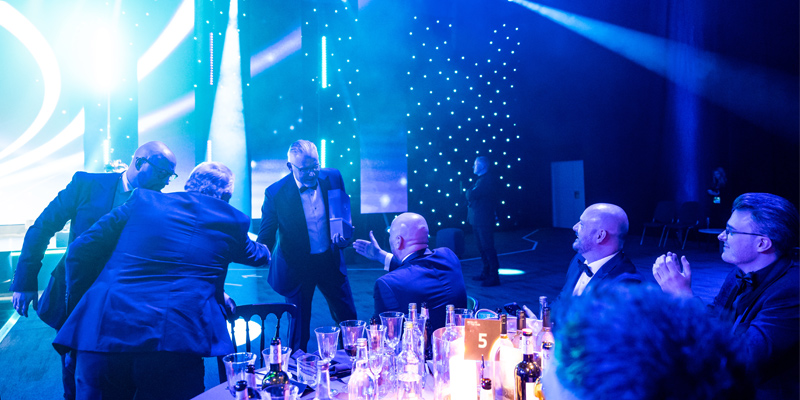 Craig Bowers, Head of Business at Lloyd BMW & MINI Carlisle, being congratulated by Gary Bingley, Lloyd BMW & MINI Group Franchise Director, and Russ Lambert, MINI Brand Manager at Lloyd South Lakes.
Lloyd Blackpool BMW won the Regional Retailer of the Year in Region 5, and, for the second year running, the Lloyd MINI marketing team were presented with the MINI Marketing award. Craig Kirkpatrick, Head of Marketing at Lloyd Motor Group, commented on the second-time win, saying "We're delighted to have been recognised by MINI for the quality of our marketing last year. The award is a testament to the talent and passion of the marketing team in striving to deliver some of the best local marketing campaigns in the industry. The award also recognises the effective teamwork across marketing, sales and aftersales in delivering events and campaigns that our customers genuinely valued and enjoyed".


Georgina Sedgwick, Lloyd MINI Marketing Manager, collecting the MINI award for Marketing.
Lloyd South Lakes' Head of Business, Andrew Robinson, also bagged the BMW Newcomer award, saying "It was a fantastic night for Lloyd Group, and to even be in the mix for the newcomer award was a lovely surprise on the night. It is great to see all the effort that everyone has made over the last 18 months at South Lakes BMW and MINI. I am extremely proud of the team and the results, and hopefully we can continue to build on this in 2023".


Andrew Robinson, Head of Business at Lloyd BMW & MINI South Lakes, collecting the BMW Newcomer award.

As well as these accolades, Lloyd South Lakes BMW, Lloyd South Lakes MINI, and Lloyd Carlisle MINI were all nominated for the Aftersales award, and Lloyd Carlisle BMW were nominated for the Used Cars award. Having won Regional Retailer of the Year in Region 5, Lloyd Blackpool BMW went on to be nominated for the coveted National Retailer of the Year award.

Chris Brownridge, Chief Executive Officer at BMW Group UK said, "Last year our Retail Network delivered best-in-class customer service whilst successfully launching a range of innovative new models. I'm incredibly proud of all our retailers as their agility and passion for our brands means that BMW starts 2023 as the fastest-growing brand for pure electric vehicles in the UK and every fourth MINI Hatch registered is a MINI Electric. Tonight, we say thank you to each team for their hard work and dedication and we are delighted to celebrate their achievements with them".

Lloyd Motor Group have 6 BMW and MINI centres across northern England, located in Blackpool, Carlisle, Cockermouth, Colne, Newcastle and the South Lakes. Starting their story in 1976, Lloyd Motor Group have been operating for almost half a century, and pride themselves on second to none customer service and care. Due to the group's continued success and acquisitions, they are always looking for new talent to join their growing team, and are dedicated to providing their people with opportunities for training, growth and career progression.